Union takes legal action over Boris Johnson's decision to clear Priti Patel of bullying
Prime minister overruled independent adviser to declare matter 'closed'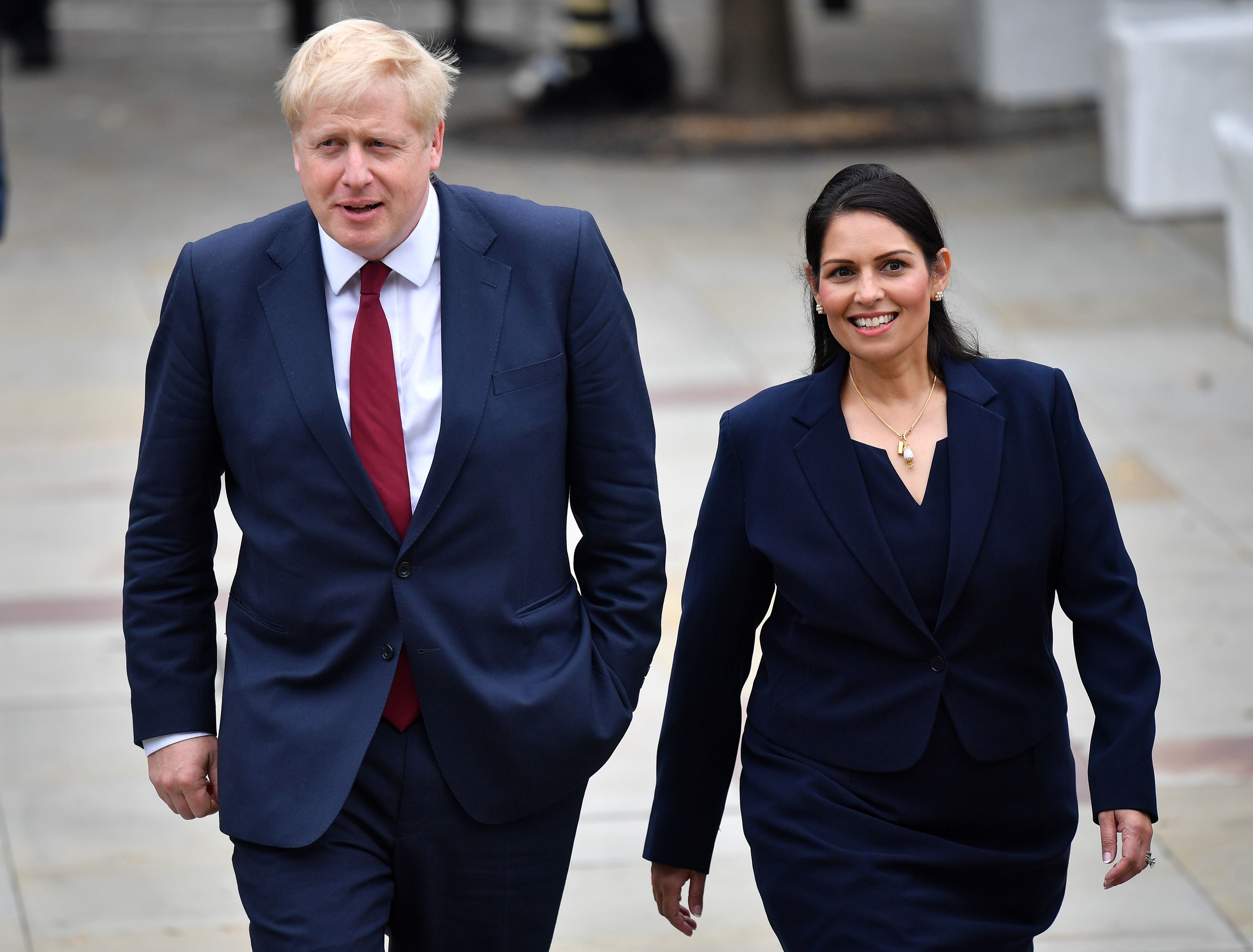 Boris Johnson is facing legal action over his decision to clear Priti Patel of bullying staff at the Home Office and other departments.
The prime minister caused a wave of anger in Whitehall when he cleared the home secretary of misconduct last month despite a lengthy inquiry finding that her behaviour, including shouting and swearing at staff, amounted to bullying.
Lawyers acting for the FDA senior civil servants' union have issued a pre-action notice to Downing Street, accusing the prime minister of acting unlawfully by overruling the findings of his own independent adviser Sir Alex Allan, who quit after Ms Patel was cleared.
The notice, which is the first step towards a judicial review of the decision, stated: "If the prime minister's decision stands, it sets a damaging precedent which gives carte blanche to the kind of unacceptable conduct which the home secretary was found to have committed.
"Civil servants in the Home Office and beyond will rightly object to their conduct being measured against a standard of conduct and unacceptable bullying which, it seems, does not apply to the home secretary or other ministers."
The government now has a fixed time within which to offer a response before a decision on whether the case will go forward to the courts.
The FDA represents 18,000 senior officials, including more than 500 civil servants at the Home Office.
It is representing Sir Philip Rutnam, who resigned as permanent secretary in the department in February, complaining of a "vicious and orchestrated" campaign against him from Ms Patel's office. He is taking action for constructive dismissal.
The ministerial code states: "Harassing, bullying or other inappropriate behaviour wherever it takes place is not consistent with the code and will not be tolerated."
Extracts from Sir Alex's report released by the government showed that he concluded: "The home secretary has not consistently met the high standards required by the ministerial code of treating her civil servants with consideration and respect.
"Her approach on occasions has amounted to behaviour that can be described as bullying in terms of the impact felt by individuals."
In their letter to the government, FDA lawyers said: "No reasonable decision-maker, having accepted the findings of Sir Alex, could have decided that the home secretary was not in breach of the code.
"The prime minister, as the person responsible for regulating the civil service, should be acutely aware of these wider detrimental effects of his decision."
FDA's general secretary, Dave Penman, said: "As the media focus on Priti Patel's political future, while ministers and Conservative backbenchers alike tweet their support for the home secretary, very little thought has been given to those civil servants who have been bullied by one of the most powerful people in the country.
"This has always been our focus and we will always challenge the government, through whatever means are available to us, when they fall short on protecting civil servants from this kind of behaviour.
"We have spent years campaigning for a new process to deal with complaints of bullying and harassment and the prime minister's response to Sir Alex Allan's findings has proven, beyond a shadow of a doubt, that the current process is simply not fit for purpose.
"This is not a decision we have taken lightly but Boris Johnson's insistence on ignoring the facts in front of him has left us no choice. We have issued a pre-action protocol letter setting out where we believe the prime minister erred in law, asking him to reverse the decision and also seeking further details of any facts he relied on in making his decision.
"We are not seeking to interfere with his power over ministerial appointment or dismissal; the consequences of breaching the ministerial code are rightly a matter for the prime minister alone. Our challenge rather centres on his decision that the home secretary did not breach the ministerial code, despite the facts that were established and which he did not challenge."
The Cabinet Office said that it would not comment on a legal matter, but added: "The PM now considers the matter closed."
Join our commenting forum
Join thought-provoking conversations, follow other Independent readers and see their replies