Food poverty in UK has reached level of 'public health emergency', warn experts
The Government may be covering up the extent to which austerity and welfare cuts are adding to the problem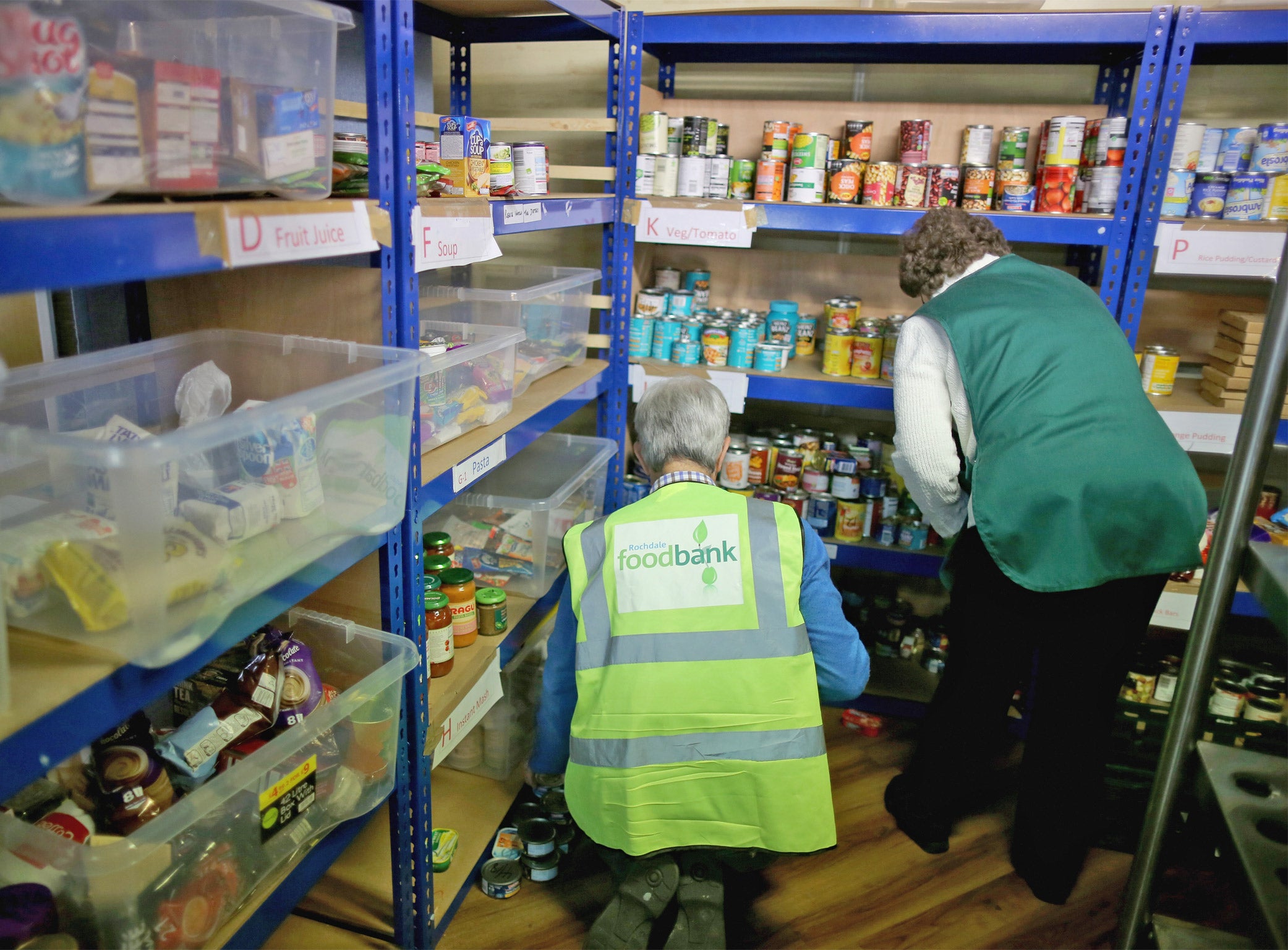 Hunger in Britain has reached the level of a "public health emergency" and the Government may be covering up the extent to which austerity and welfare cuts are adding to the problem, leading experts have said.
In a letter to the British Medical Journal, a group of doctors and senior academics from the Medical Research Council and two leading universities said that the effect of Government policies on vulnerable people's ability to afford food needed to be "urgently" monitored.
A surge in the number of people requiring emergency food aid, a decrease in the amount of calories consumed by British families, and a doubling of the number of malnutrition cases seen at English hospitals represent "all the signs of a public health emergency that could go unrecognised until it is too late to take preventative action," they write.
Despite mounting evidence for a growing food poverty crisis in the UK, ministers maintain there is "no robust evidence" of a link between sweeping welfare reforms and a rise in the use of food banks. However, publication of research into the phenomenon, commissioned by the Government itself, has been delayed, amid speculation that the findings may prove embarrassing for ministers.
"Because the Government has delayed the publication of research it commissioned into the rise of emergency food aid in the UK, we can only speculate that the cause is related to the rising cost of living and increasingly austere welfare reforms," the public health experts write.
The authors of the letter, who include Dr David Taylor-Robinson and Professor Margaret Whitehead of Liverpool University's Department of Public Health, say that malnutrition can have a long-lasting impact on health, particularly among children.
Chris Mould, chief executive of the Trussell Trust, the largest national food bank provider said that one in three of the 350,000 people who required a food bank hand-out this year were children.
He called the BMJ letter a "timely warning" and criticised the Department of Work and Pensions (DWP) for keeping its report into the problem "under wraps".
The report was commissioned by the Department for Environment Food and Rural Affairs (Defra) in February, and was completed by an academic at Warwick University. However, publication has been stalled.
"We've sought to engage with the DWP in order to share our data and share our experience, with a view to exploring what practical action could be taken to ease the problem," Mr Mould told The Independent. "We've had refusals, letters saying they do not want to talk to us. We find that deeply disappointing."
"We want to see that research. It was commissioned by Government, pulled together by a highly reputable academic and we want to see what it says. We understand that the reason it has not been published is that DWP has queried aspects of the data in it and has been preventing its publication for months. That, we think, is not acceptable."
In their letter, Dr Taylor-Robinson, Professor Whitehead and colleagues cite figures recently released by the Government which revealed a surge in the number of malnutrition cases diagnosed at English hospitals since the recession – up from 3,161 in 2008/09 to 5,499 in 2012/13. They also draw attention to reports from the Institute for Fiscal Studies which found a decrease in the number of calories purchased by families, as well as "substitution with unhealthier foods, especially in families with young children".
"Malnutrition in children is particularly worrying because exposures during sensitive periods can have lifelong effects, increasing the risk of cardiovascular diseases and other adult chronic diseases," they write. "Access to an adequate food supply is the most basic of human needs and rights."
A government spokesperson said that the Coalition had "help[ed] families with the cost of living [by] increasing the tax-free personal allowance to £10,000, freezing council tax and freezing fuel duty."
A Defra spokesperson said that the food aid report would be published after a "necessary review and quality assurance process" was complete.
But Luciana Berger, Labour's shadow minister for public health, said that it was a "national scandal" that people were suffering from malnutrition in the UK.
"This shouldn't be happening in 21st century Britain," she said. "With hundreds of thousands having to access emergency food aid, it's sadly unsurprising that people are both eating less and eating less healthily. David Cameron needs to listen to what the experts are saying and tackle the cost of living crisis driving people into food poverty."
50,000 people sign petition launched by former food bank user
More than 50,000 people in have signed a petition calling for Parliament to hold a debate on the causes of food poverty in the UK.
The petition was launched on Monday by the writer and former food bank user Jack Monroe.
In her appeal on the Change.org website, Ms Monroe called on supporters to "make politicians confront what is happening."
"I don't think this is acceptable in the seventh richest country in the world – and I'd really like to know the reasons why it's happening so we can stop it…" she said. "We need to stop turning a blind eye."
The petition has been backed by the Unite union and the national food bank charity the Trussell Trust.
Join our commenting forum
Join thought-provoking conversations, follow other Independent readers and see their replies