Former Ukip MEP Godfrey Bloom quits party because it is too 'politically correct'
He called women 'sluts' and complained about aid to 'Bongo Bongo Land'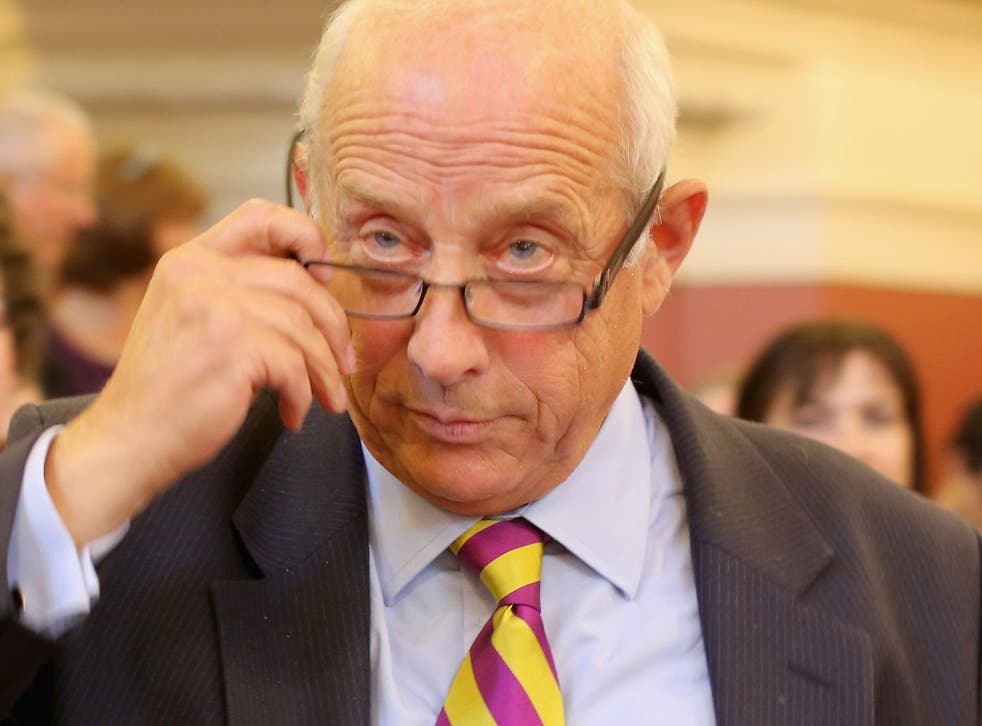 The former Ukip MEP who called women "sluts" and complained about aid being sent to "Bongo Bongo Land" has quit the party because it is becoming too "politically correct".
Godfrey Bloom, who stood down as MEP after provoking national outrage last year, had remained a member of Nigel Farage's party despite being banned from speaking at events.
He announced his resignation on Monday, telling Ukip's newly elected first MP Douglas Carswell to "watch his back".
"(Ukip) were supposed to be something new, but now we seem to be drifting towards the political correct mainstream just like everyone else and that's not the reason people voted Ukip," he told LBC radio.
"Instead of it being the libertarian party of common sense, I've been banned from speaking. I don't know where the party has gone astray, but it seems to have gone astray."
Mr Bloom, who once shared a flat with Mr Farage, caused several controversies after being elected as a Ukip MEP for Yorkshire and Humberside in 2004.
Soon after being appointed to the European Parliament's women's rights committee, he told journalists: "No self-respecting small businessman with a brain in the right place would ever employ a lady of child-bearing age."
In July last year, he caused outrage by using the term "Bongo Bongo Land" in at a public meeting in the Midlands.
"How we can possibly be giving a billion pounds a month when we're in this sort of debt to Bongo Bongo Land is completely beyond me, to buy Ray-Ban sunglasses, apartments in Paris, Ferraris and all the rest of it that goes with most of the foreign aid," he said.
He was initially unapologetic, claiming the term referred to a type of antelope, but later apologised for "possibly causing offence" under pressure from party officials.
In his LBC interview, he complained about the behaviour of Ukip chairman Steve Crowther, who had ordered the apology.
Mr Bloom survived in his post until losing the whip in September last year when he called female Ukip supporters "sluts" at a conference.
Being banned from speaking at an event in Weardale appears to have been the final straw.
"I've always been very popular with the membership and indeed with the electorate so quite what's going on I couldn't say but I've had enough," he said.
Mr Bloom, a Ukip member for 16 years, said he would not be joining another party, claiming he was sick of "party politics".
He had a message for Tory defector Mr Carswell, who took his seat in the House of Commons on Monday.
In pictures: The rise of Ukip

Show all 8
"I would just say to Douglas: stick to your sort, you believe in libertarianism, you believe in classical liberal economics, don't be pushed off," he said.
"But I would say, Douglas, watch your back. If you bear in mind we started in 2009 in Europe with 13 MEPs, we ended up with five, so there are dead bodies of Ukip [politicians] all over the place with a knife quivering in their back, Douglas. Make sure it's not yours."
Join our new commenting forum
Join thought-provoking conversations, follow other Independent readers and see their replies