Theresa May scraps fox hunting vote in latest manifesto U-turn
Exclusive: Ministers quietly confirm another key Conservative policy has been ditched after disastrous election result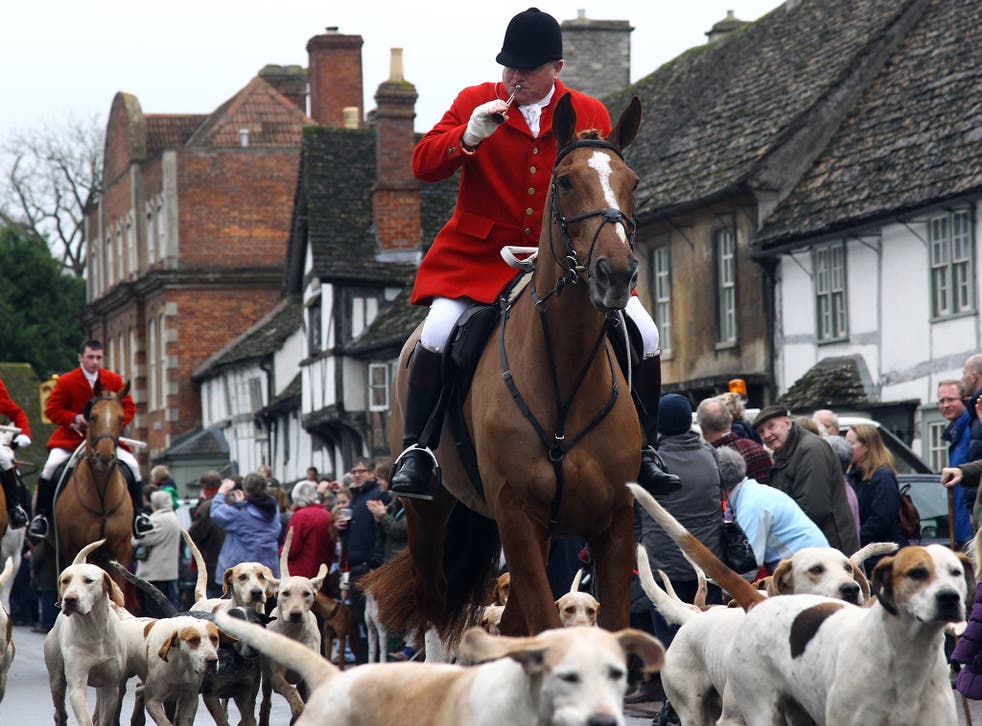 Theresa May has ditched plans to hold a parliamentary vote on bringing back fox hunting, the Government has confirmed.
The Prime Minister had promised to hold the vote after saying she was in favour of hunting being legalised, but was forced to row back after the general election deprived her of a parliamentary majority.
The Tories' latest manifesto U-turn was confirmed in response to a parliamentary question from Labour MP Catherine West, seen by The Independent.
Answering a query about the Government's latest policy on hunting, Theresa Coffey, a minister at the Department for Environment, Food and Rural Affairs, said: "The government's manifesto includes a free vote on the Hunting Act 2004, but we are not planning to bring forward a free vote in this session".
Downing Street officials had previously admitted the vote was "not a priority" in the wake of the election result but had stopped short of ruling it out. There was no mention of fox hunting in the Queen's Speech, suggesting a vote was not likely to take place in the next two years, but ministers have now confirmed their decision to shelve it.
It marks the latest U-turn by Theresa May on a raft of flagship manifesto policies that will now not be implemented. Proposals to lift the ban on new grammar schools, scrap the triple lock on pensions and force elderly people to cover more of the cost of social care have all been quietly dropped.
The 2017 Conservative manifesto promised: "We will grant a free vote, on a government bill in government time, to give Parliament the opportunity to decide the future of the Hunting Act."
Theresa May's Cabinet: Who's in – and who's out?

Show all 27
Speaking in May, Ms May gave her backing to campaigners calling for a lifting of the ban on fox hunting, which was outlawed in most circumstances by the Hunting Act introduced by Labour in 2005.
"This is a situation on which individuals will have one view or the other, either pro or against", she said.
"As it happens personally I have always been in favour of fox hunting and we maintain our commitment.
"We have had a commitment previously as a Conservative Party to allow a free vote and that's what it will allow, would allow, Parliament the opportunity to take a decision on this."
Responding to the Government's confirmation that a vote will not be held before 2019, Catherine West, the Labour MP for Hornsey and Wood Green, who asked the question, said: "I believe that the cruel and prolonged suffering of animals has no place in a civilised society and, at the recent general election, I stood on a manifesto that included a commitment to maintain the bans on fox hunting, deer hunting and hare coursing.
"It is clear that the overwhelming majority of the British public also support the ban on hunting with hounds, with a recent poll showing a record high of 84% back the ban.
"I am proud of the Hunting Act 2004 and I am committed to defending the Fox Hunting Ban."
Register for free to continue reading
Registration is a free and easy way to support our truly independent journalism
By registering, you will also enjoy limited access to Premium articles, exclusive newsletters, commenting, and virtual events with our leading journalists
Already have an account? sign in
Register for free to continue reading
Registration is a free and easy way to support our truly independent journalism
By registering, you will also enjoy limited access to Premium articles, exclusive newsletters, commenting, and virtual events with our leading journalists
Already have an account? sign in
Join our new commenting forum
Join thought-provoking conversations, follow other Independent readers and see their replies