Francois Hollande thanks David Cameron for 'rolling out the red carpet' for French athletes to win Olympic medals
Andrew Woodcock
Tuesday 31 July 2012 15:05 Comments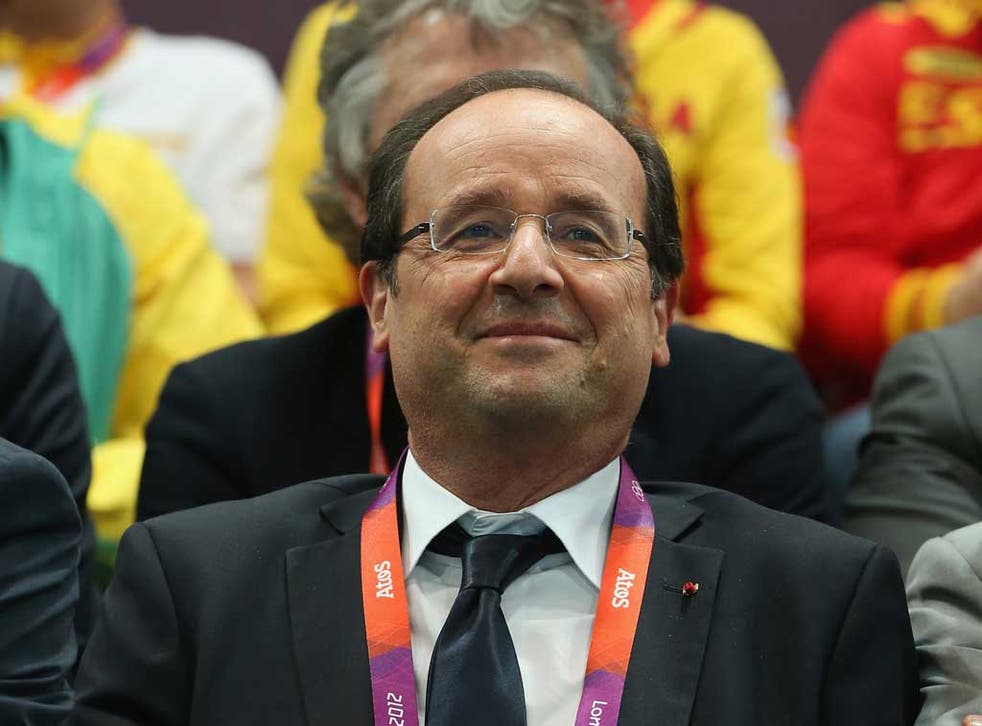 President Francois Hollande has had a dig at David Cameron by jokingly thanking Britain for "rolling out the red carpet" for French athletes to win Olympic medals.
Mr Hollande was getting his own back on Mr Cameron for comments in which the Prime Minister said he would roll out the red carpet for French businesses fleeing the 75% top rate of tax proposed by the Socialist president.
The French leader also hinted that a French city could bid to host the Olympics in 2024, after Paris lost out to London as venue for this year's Games.
Mr Hollande joined Mr Cameron at the Olympic Park yesterday to watch France take on Spain in the handball, and gave the PM a few tips about the rules of the game.
Speaking to the French press later, he could not hide his delight at the fact that France has so far outshone the UK at the London Games, notching up three gold medals, one silver and three bronzes by the end of yesterday, compared with Britain's one silver and two bronzes.
"The British have rolled out the red carpet for French athletes to win medals and I thank them very much," quipped a smiling Mr Hollande.
"But the competition is not over. I talked to David Cameron and he has great hopes in swimming and athletics. We will see the totals at the end."
Mr Hollande also joked that British sports fans could be heartened by seeing their medals as part of the European tally.
"In the end, it's the European total which counts," he said. "We will put the French medals in the European bag, and that way the Britons can be happy to be Europeans."
Several French cities, including Paris, are understood to be considering a bid for the 2024 Olympics - the 100th anniversary of the last time the summer Games were held in France.
Mr Hollande said he was not announcing a candidacy for the 2024 Games, and that a final decision on mounting a bid will not be made until the venue for 2020 is announced next year. Victory for Madrid in September next year over rivals Tokyo and Istanbul could make a bid by neighbouring France less likely to succeed.
"There has not been a summer Games in France since 1924, so of course there is a bit of impatience, because we would like to see the Games in France and in Paris during our lifetimes," said Mr Hollande.
PA
Register for free to continue reading
Registration is a free and easy way to support our truly independent journalism
By registering, you will also enjoy limited access to Premium articles, exclusive newsletters, commenting, and virtual events with our leading journalists
Already have an account? sign in
Join our new commenting forum
Join thought-provoking conversations, follow other Independent readers and see their replies