Up to 100,000 children to miss out on free school meals because of government threshold, study finds
Rollout of universal credit 'will create a substantial number of losers' among families whose children receive free school meals, warns the Institute for Fiscal Studies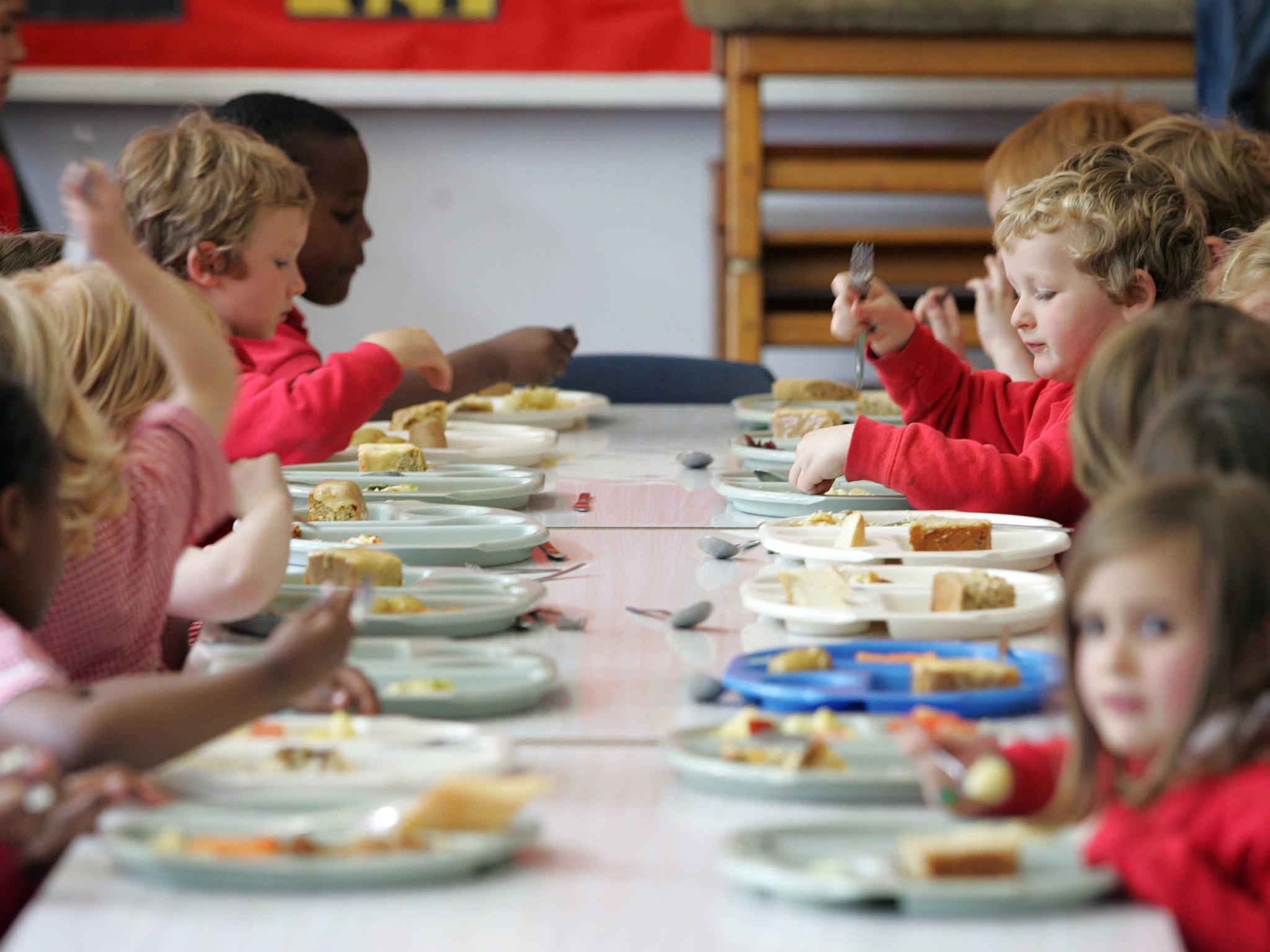 Up to 100,000 children from low-income families will lose out on free school meals because of the government's method for setting the threshold at which pupils qualify, a new study has found, prompting accusations the Conservatives are "consciously" targeting poor children.
The Institute for Fiscal Studies (IFS) said the decision to discount inflation when freezing the threshold for the next four years means thousands of children miss out.
Ministers announced in February that the threshold for free school meals for children whose parents receive universal credit will be set at £7,400 a year before benefits are taken into account. This will be frozen until 2021-22, despite inflation currently being at 2.5 per cent.
If the threshold was instead allowed to rise with inflation or earnings, between 80,000 and 100,000 more children respectively would be entitled to free school meals in 2021-22, the IFS said.
The government's plans will "create a substantial number of losers", the think tank warned, while Labour said the policy amounted to a "conscious choice to withdraw support from the children and families who need it most".
An estimated 210,000 children who are not currently eligible for free school meals will qualify after the rollout of universal credit.
However, 160,000 who are currently entitled to free schools means will lose out under the new system – meaning the total increase in eligibility will be 50,000, or 4 per cent.
Hardest hit will be pupils whose parents are together, while children of lone parents will benefit most, accounting for the entire increase in the number of people eligible for free school meals.
The IFS said the finding that 100,000 children will lose out because of the failure to account for inflation highlighted the importance of the decision as to whether the threshold should be raised after 2021-22.
Heidi Allen reduced to tears by debate on Universal Credit
Tom Waters, an IFS research economist and one of the authors of the study, said: "The change in the structure of the benefits system inherent in universal credit means that the government was always going to have to come up with a new way of determining which children qualify for free school meals.
"This meant it either had to spend more public money on them in total or create some losers. Its chosen path does a combination of the two. It creates a substantial number of losers, but also a greater number of winners, with children of lone parents and of working parents especially likely to gain entitlement."
The controversial universal credit merges six existing benefits into a single monthly payment. It is being rolled out gradually across England, with the process set to be completed by 2022.
Ministers have said the threshold for determining who qualifies for free school meals will be kept "constant" until then.
All children of families receiving universal credit are currently eligible for free school meals, but ministers say it was never their intention to make this temporary arrangement permanent.
The IFS research, which was funded by the Office of the Children's Commissioner, found only around half of children from the poorest 20 per cent of families will receive free school meals under universal credit – a similar proportion to the current system.
Commenting on the findings, Angela Rayner, the shadow education secretary, said: "By failing to uprate the eligibility threshold, the government will allow up to 100,000 children in low income families to slip through the cracks and lose out on this vital benefit.
"Just like their freeze on social security as a whole, this is a conscious choice by the Tories to withdraw support from the children and families who need it most.
"The Institute for Fiscal Studies has clearly shown that the government has not been straightforward with the families who will lose their eligibility for free school meals.
"Ministers claimed time and time again that nobody would lose a meal under their plans, but the IFS have revealed that one in eight children who were eligible before universal credit could find their meals taken away once the Tories' plans are imposed in full."
Universal Credit leading to "unprecedented" levels of debt and people "stealing" to survive
She added: "Yet again, the Tories are fiddling the figures rather than facing the facts. They wrongly claimed they were increasing schools funding, were caught double counting the same money on breakfasts and now their defence of cutting back on school meals has fallen apart.
"It is time for the government to think again and abandon plans that would leave so many children ineligible for a hot meal, and listen to Labour's call for universal free school meals for all primary pupils."
Children's charities also criticised the changes.
Matthew Reed, chief executive of The Children's Society, said: "Once rollout of universal credit is complete, the new free school meals means test will put many parents in an incredibly difficult position where they may be worse off if they up their hours or get a pay rise.
"We've calculated that parents who tip over the threshold will have to earn more than £1,000 a year extra per child to make up for the loss in free school meals. This completely undermines the core principle of universal credit to ensure that work always pays.
"We urge the government to rethink these proposals and provide free school meals to all children who families claim universal credit so that no child has to go hungry at school."
The IFS's warning about free meals comes after a survey by the National Education Union (NEU) and the Child Poverty Action Group found that three in five school staff believe child poverty has worsened since 2015.
At the NEU's annual conference last weekend, members heard from a head teacher at a school in Cumbria who said her pupils put "food in their pockets to take home because they're not sure if they're going to get another meal that day".
A government spokesperson said the threshold was still subject to review after Universal Credit had been fully introduced, and added children currently receiving free school meals would continue to do so.
"The IFS is clear that their analysis does not take into account the transitional protections we have put in place," the spokesperson said.
"These protections mean that all children receiving free school meals currently, and all those who gain eligibility during Universal Credit rollout, will continue to receive them until the end of Universal Credit rollout, and then until the end of their phase of education."
Join our commenting forum
Join thought-provoking conversations, follow other Independent readers and see their replies