Free meals firm at centre of outcry was run by Conservative party donor
Recently departed chairman of under-fire catering giant also urged voters to back Tories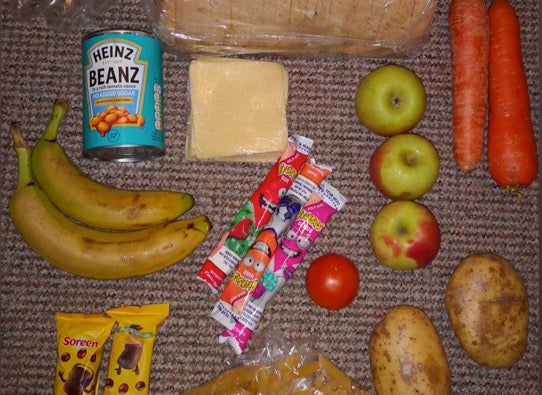 The companies at the centre of the outcry over the "disgusting" free meals provided to struggling families while schools remain closed have links to the Conservatives, it has emerged.
Compass Group and its subsidiary Chartwells are under fire after football star and campaigner Marcus Rashford shared photos of Chartwells' meagre parcels – saying they were "just not good enough".
Electoral Commission records show Paul Walsh – chairman of Compass Group until he stepped down last month – has given more than £10,000 to the Tory party.
Mr Walsh, who had been at the helm of Compass since 2014, was a member of No 10's business advisory group during the early years of David Cameron's time as prime minister. 
Reportedly a big game hunter, Mr Walsh also signed a joint letter of business leaders urging voters to back the Tories during the 2015 general election campaign.
Boris Johnson's government has promised to urgently investigate the inadequate food parcels sent to parents, which education secretary Gavin Williamson admitted on Wednesday were "absolutely disgusting." 
However, ministers are facing fresh questions on the contracts awarded to Compass Group and Chartwells to provide the school meals.
The food catering giant and its subsidiary have been awarded almost £350m in school meal catering contracts since 2016, according to analysts at Tussell. The public procurement experts said Compass and Chartwells remain the biggest providers of school meals in the UK.
Labour leader Sir Keir Starmer asked on Twitter: "Where is the money going? This needs sorting immediately so families don't go hungry through lockdown."
Chartwells and other catering contractors have been forced to adapt to the pandemic by providing food at home to families eligible for free school meals.
The packages shared by frustrated parents on Twitter have recently replaced the weekly £15 food vouchers given to low-income parents when lockdown first forced schools to close. Eligible families were given £30 in vouchers over the recent Christmas holidays.
After the latest incident, a Chartwells spokesperson said: "We have had time to investigate the picture circulated on Twitter. For clarity this shows five days of free school lunches (not 10 days) and the charge for food, packing and distribution was actually £10.50 and not £30 as suggested.
"However, in our efforts to provide thousands of food parcels a week at extremely short notice we are very sorry the quantity has fallen short in this instance."
Children's minister Vicky Ford said caterers must "urgently" improve the quality of the packages now being provided to low-income families. Ms Ford has said anyone experiencing problems should give details to the Department of Education (DfE) for investigation.
The DfE has also said its national voucher scheme, which offered stand-ins for cash to be used at supermarkets during the first coronavirus lockdown, would resume "shortly".
The Independent has contacted Compass Group and Chartwells for more information on its school catering contracts with government.
Join our commenting forum
Join thought-provoking conversations, follow other Independent readers and see their replies