Funding cuts hit station access for disabled travellers
The legacy of London's Paralympic Games is in question as £18m is withheld from scheme to make more rail travel accessible
Jane Merrick
Sunday 13 April 2014 00:00 Comments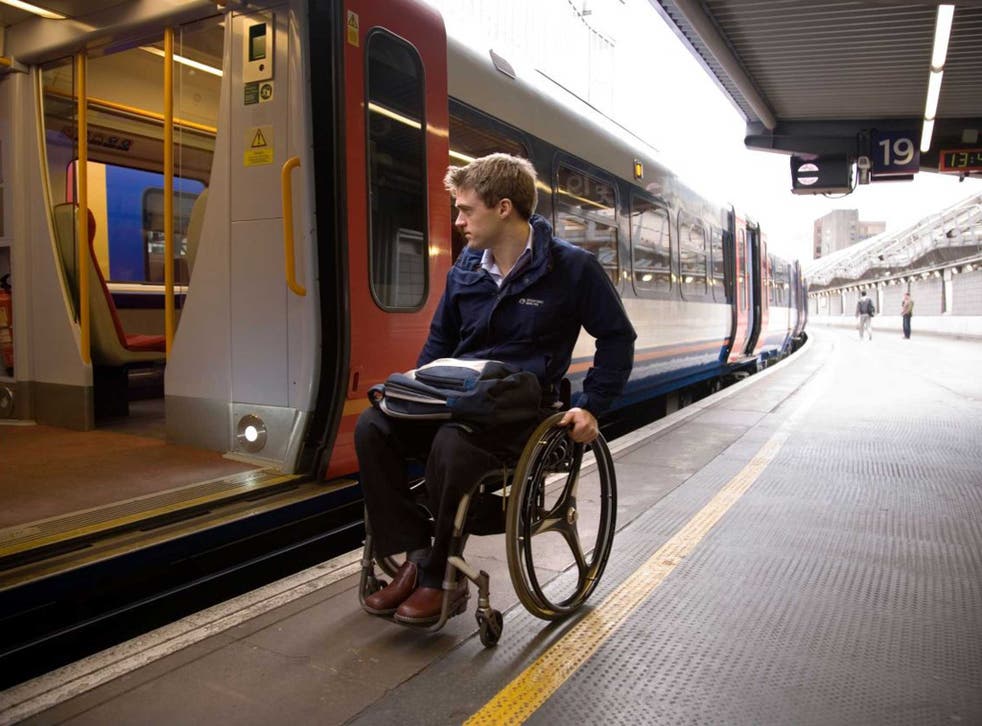 Funding to provide disabled access to railway stations is being cut by nearly half over the next five years, new figures have revealed.
Only one in five stations has step-free access, and campaigners fear that cutting funds will make the situation much worse for disabled people.
The figures emerged less than two years after London's hosting of the Paralympic Games was supposed to herald a new era for disabled people in this country, but charities said this legacy was under threat.
The Department for Transport has cut funding for the Access for All programme from £43m to £25m annually between 2015 and 2019, a reduction of 42 per cent. While the AFA funding was £388m for the nine-year period between 2006 and 2015, the Government has announced only £100m between 2015 and 2019.
Labour published a list of the top 10 stations by passenger numbers that have no step-free access: they include commuter hubs such as Putney and Highbury and Islington in London, and Moorfields in Liverpool.
The figures were obtained by shadow Transport Secretary Mary Creagh, who said it was a "disgrace" that the Government was failing to make more stations accessible.
She added: "On buses and railways, the Government is cutting costs and failing to act to improve travel for people with disabilities. How can people with disabilities have any trust that the Government is on their side?"
Yesterday, the Disabilities minister Mike Penning criticised football clubs for the "woeful" lack of access for fans in wheelchairs at stadiums. He has written to all professional football clubs to highlight the legal requirement to provide access.
Yet the situation on trains suggests a more widespread problem. In January, Transport minister Robert Goodwill told the Transport Select Committee that requests made by disability charities amounted to the "sort of list that my children used to bring me to give to Santa". In a response to the committee's report raising concerns about disabled access, the Government said: "We believe that if we were to seek the views of charities and disability groups at a national level, this would add little value to the process."
Ruth Owen, chief executive of Whizz-Kidz, the charity for disabled children, said: "As a wheelchair user myself, I experience the frustrations of not having the same access to travel or train facilities as non-disabled passengers. For young disabled people to fulfil their potential, being able to travel safely and independently is absolutely paramount. Whether it's travelling to socialise with friends, access health services, education or employment, it's important to recognise that accessible transport can enable young disabled people to enjoy the same opportunities as their peers, and to contribute to society."
Fazilet Hadi, director of inclusive society at RNIB, said: "Being able to use public transport is fundamental to the independence of blind and partially sighted people. RNIB would be concerned about the impact if money for disability access to stations is cut."
Register for free to continue reading
Registration is a free and easy way to support our truly independent journalism
By registering, you will also enjoy limited access to Premium articles, exclusive newsletters, commenting, and virtual events with our leading journalists
Already have an account? sign in
Join our new commenting forum
Join thought-provoking conversations, follow other Independent readers and see their replies