G20: Theresa May raises Yemen human rights concerns with Saudi Arabia despite UK arms sales
UK firms continue to sell huge amount of arms to the Middle Eastern kingdom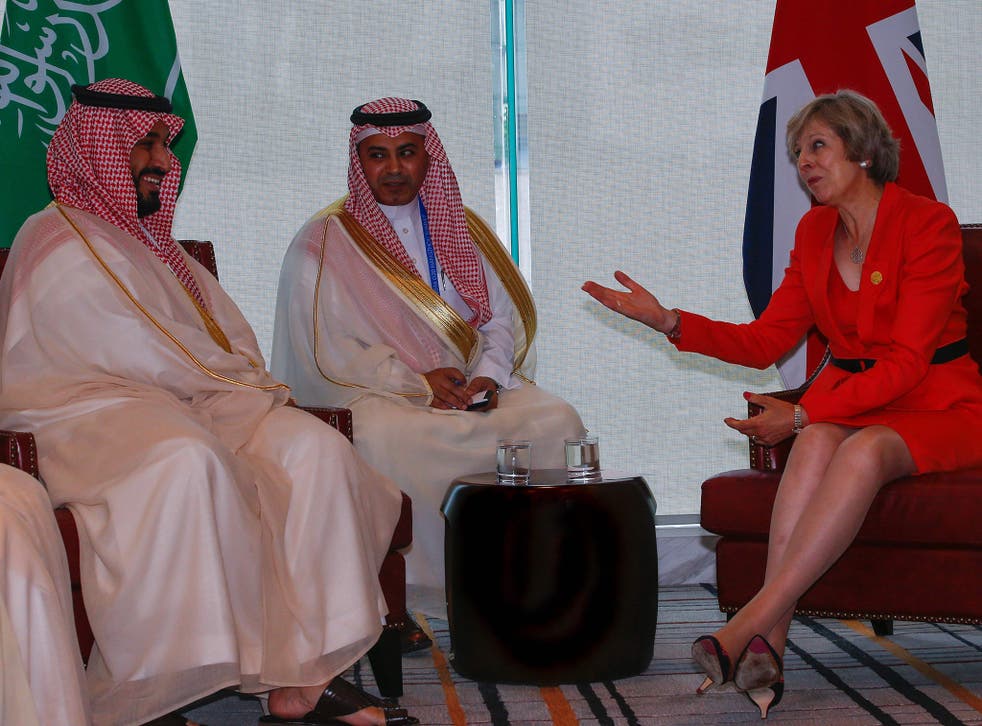 Theresa May has raised concerns over the conflict in Yemen with Saudi Arabian leaders, despite British firms continuing to sell a huge amount of military hardware to the regime.
Sources said the Prime Minister broached the subject along with that of human rights more widely during a bilateral meeting at the G20 in Hangzhou, China.
The Yemen conflict, where British munitions are in use, has seen schools and hospitals flattened during intense bombing from Saudi forces.
The Independent has reported that the UK is now the second biggest arms dealer in the world with two thirds of the sales going to the Middle East.
In Yemen, the Saudi-led coalition has bombed multiple international hospitals run by the charity Médecins Sans Frontières, as well as schools and wedding parties. Food factories have also been hit, as Yemen faces severe food shortages. Human rights groups say there is evidence civilian targets are being deliberately hit.
Sources said Mrs May was able to raise her concerns over the conflict because the UK has "a close and strong relationship" with the Kingdom.
But the news will do little to placate campaigners who want the UK to halt arms sales to Saudi.
Saudi-led coalition resumes air strikes in Yemen
The Government has so far ignored calls to stop selling weapons to repressive regimes, including Saudi Arabia, claiming that its systems for granting licences is robust.
Both the European Parliament and the House of Commons International Development Committee have called for exports to the autocracy to stop, but the Government says it has not seen evidence of Saudi war crimes.
Register for free to continue reading
Registration is a free and easy way to support our truly independent journalism
By registering, you will also enjoy limited access to Premium articles, exclusive newsletters, commenting, and virtual events with our leading journalists
Already have an account? sign in
Register for free to continue reading
Registration is a free and easy way to support our truly independent journalism
By registering, you will also enjoy limited access to Premium articles, exclusive newsletters, commenting, and virtual events with our leading journalists
Already have an account? sign in
Join our new commenting forum
Join thought-provoking conversations, follow other Independent readers and see their replies