HMP Birmingham: Government takes over prison from G4S amid soaring violence and drug use
Chief prison inspector says he was 'physically affected by drugs in the atmosphere' at Midlands jail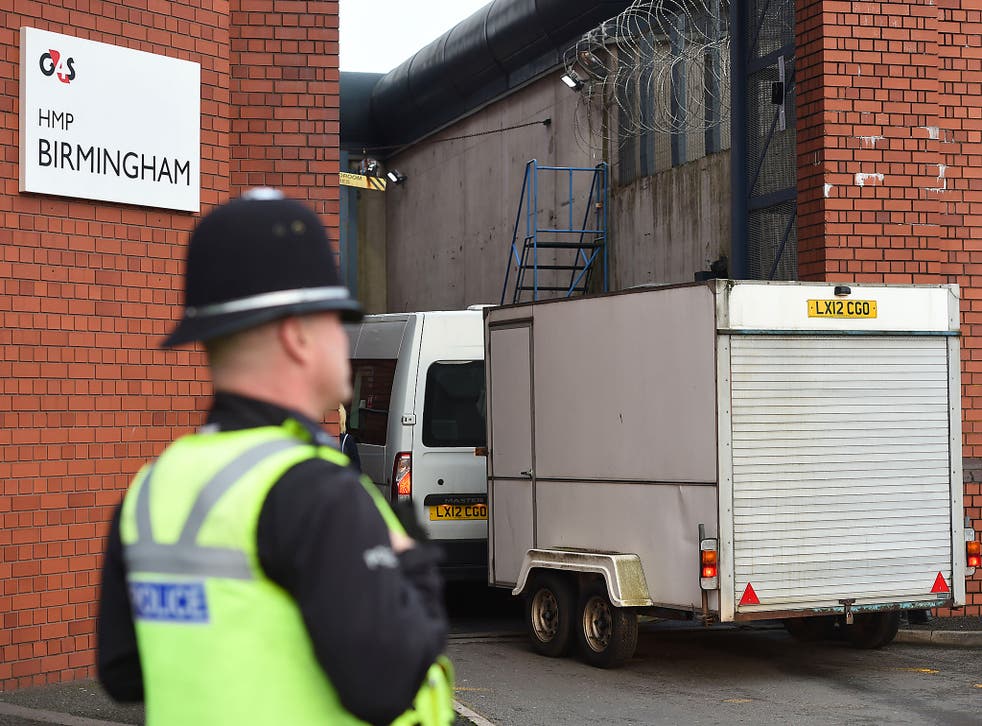 Ministers will today for the first time "step in" and fully take control of a privately-run prison that has been dogged by soaring violence, drug use and appalling living conditions.
A "drastic" bid to stabilise G4S-operated HMP Birmingham amid serious concerns over safety, security and decency will see a new "super governor" appointed, and a force of 30 experienced prison officers deployed.
The action comes just days after the prisons watchdog issued an "urgent notification", grading the jail as "poor" in every category and giving the government 28 days to improve it, although ministers claim they were already preparing to act.
The notification was the first to be issued to a privately run jail, with the government's new action likely to lead to more questions about outsourcing in the prison service.
It is the latest development in the story of HMP Birmingham, which in the last two years has suffered a major riot, hundreds of assaults, plummeting staff morale, rat infestations, a flood of the "zombie drug" spice and has even become the focus of external criminal activity.
Announcing the intervention, prisons minister Rory Stewart said: "What we have seen at Birmingham is unacceptable, and it has become clear that drastic action is required to bring about the improvements we require."
It is the second time Mr Stewart has made headlines in recent days, after he vowed to quit his job if he did not reduce violence and drug use in 10 other jails in England and Wales within a year.
HMP Birmingham: Riot squad deployed to quell prison trouble
Under the terms of the Birmingham initiative, the government will run the prison for an initial six months, which may be extended. Officials said it will not be handed back to G4S until ministers are satisfied sufficient progress has been made.
As well as "one of the prison service's best governors" being sent in to head the improvement drive, a new senior management team will be provided along with the extra officers.
Ministry of Justice insiders told The Independent their deployment will likely lead to a crackdown on "indiscipline" and contraband in the prison.
Some 300 inmates will also be temporarily moved out to ease pressure on staff, with those transferred spread across the prison estate.
Mr Stewart added: "This 'step in' means that we can provide additional resources to the prison while insulating the taxpayer from the inevitable cost this entails."
Officials insisted there would be no extra cost to the government, claiming G4S's failure to improve the prison up to now represented a breach of contract that means the firm itself would have to cover it.
Footage shows cars burnt out in HMP Birmingham car park
It is the first time the government has intervened so heavily in the middle of a private firm's contract, with G4S still set to run the prison until 2026.
The only comparable actions were when a new governor was installed at HMP Ashfield in 2003, and when in 2016 the government stepped in at Medway at the end of a G4S contract.
But officials denied the failures at Birmingham highlighted a broader problem with privately run jails, pointing to others which they said were being run well.
The prison inspector's urgent notice earlier this month saw Birmingham graded "poor" on all four categories – safety, respect, activity and resettlement – though officials said the Ministry of Justice was already preparing to intervene, with justice secretary David Gauke and Mr Stewart both having recently visited.
HM Chief Inspector of Prisons wrote to Mr Gauke, warning of an "an abject failure of contract management and delivery".
In the letter, sent earlier in the week but published today, Peter Clarke said inspectors had encountered "filthy" communal areas "with cockroaches, vermin, blood and vomit left uncleaned", and that during their visit, criminals had launched an arson attack on the supposedly secure staff car park.
Mr Clarke went on to describe drug use and trafficking at HMP Birmingham as "blatant". He added: "I have inspected many prisons where drugs are a problem, but nowhere else have I felt physically affected by the drugs in the atmosphere."
Hesaid he was "astounded" by the deterioration at the prison since it was last inspected in February 2017.
UK news in pictures

Show all 50
The latest figures showed Birmingham had the largest volume of assault incidents of all prisons in the 12 months to July 2018 – a shocking total of 1,434.
A June 2016 inspectors' report found increasing violence was in part rooted in the high volume of drugs being used at the prison.
Six months later a major incident occurred when a riot broke out and lasted 12 hours, leading to specialist units to be deployed to regain control.
Earlier this year the prison's Independent Monitoring Board said a number of problems still existed there, including drugs and overcrowding, with inmates in the Victorian cells facing cramped conditions with cockroach and rat infestations.
Earlier this month inspectors' cars were among nine vehicles that were torched outside the prison by two men reportedly "armed with a firearm".
Jerry Petherick, managing director of G4S Custody and Detention Services, said: "HMP Birmingham is an inner-city remand prison which faces exceptional challenges including increasingly high levels of prisoner violence towards staff and fellow prisoners.
"The well-being and safety of prisoners and prison staff is our key priority and we welcome the six month step-in and the opportunity to work with the Ministry of Justice to urgently address the issues faced at the prison."
Built in 1849, HMP Birmingham is a category B facility for adult male inmates and had a population of 1,269 at the end of last month.
Join our new commenting forum
Join thought-provoking conversations, follow other Independent readers and see their replies