Gavin Williamson labelled 'juvenile' for saying all British Isis fighters should be hunted and killed
'It's not a serious grown up policy response for a senior government minister', warns Ken Macdonald, a former Director of Public Prosecutions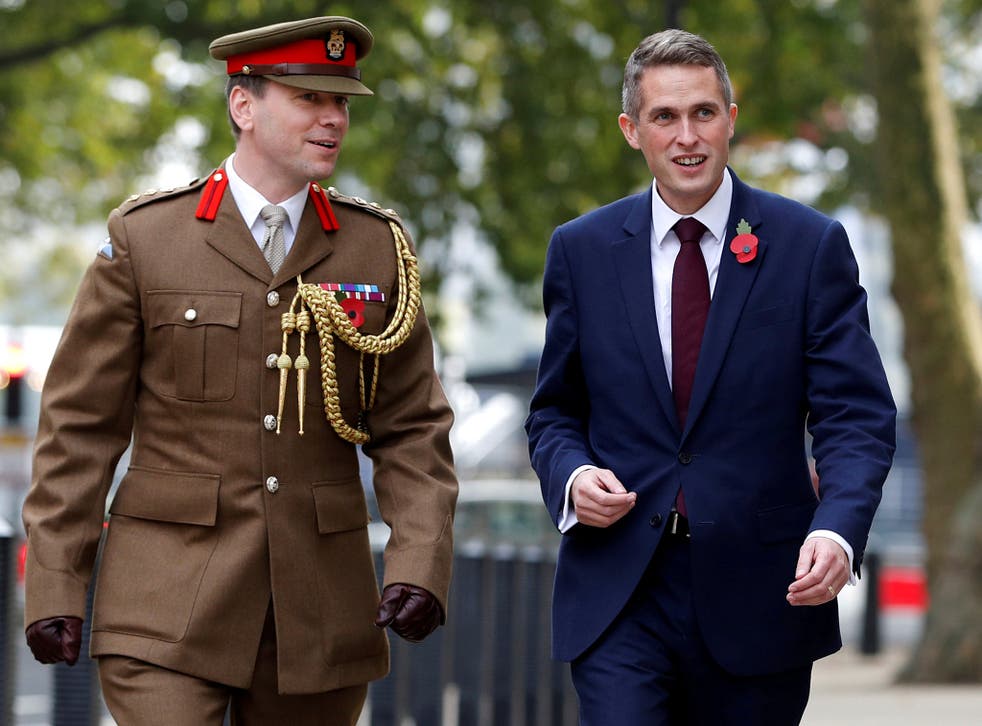 A former top prosecutor has called the Defence Secretary "juvenile" after he said all Britons who have fought for Islamic State should be hunted down and killed.
Gavin Williamson sparked controversy when he said the fighters threatened "destruction, death and bloodshed" and should never be allowed back in the country.
"A dead terrorist can't cause any harm to Britain," he told the Daily Mail – prompting questions about whether the Ministry of Defence had drawn up a "kill list".
But Ken Macdonald, a former Director of Public Prosecutions, criticised the notion of trying to kill every fighter, saying: "That is a juvenile response.
"It's not a serious grown up policy response for a senior government minister," he told the BBC Radio 4's World at One programme.
Lord Macdonald, the DPP for five years until 2008, said Mr Williamson appeared to be putting forward a "policy that belongs in a Netflix series".
In the interview, Mr Williamson said: "I do not believe that any terrorist, whether they come from this country or any other, should ever be allowed back into this country."
But the comments clashed with advice from the terror laws watchdog, who said Britain should aim to "reintegrate" some of the "naïve" jihadis who travel to warzones.
And, just weeks ago, Home Office proposals – called Operation Constraint – to de-radicalise returning IS fighters, by giving them council houses and other support, were leaked.
Menzies Campbell, the Liberal Democrat defence spokesman, also condemned the comments as appearing to "endorse a clear breach of humanitarian law".
"It is not difficult to see that any member of the military that followed his advice could be subjected to court martial and prosecution," said Lord Campbell.
And Kate Allen, Amnesty International UK's Director, warned it was often unclear if a targeted person in a war zone was carrying out hostile acts.
"Deliberately killing fighters who've surrendered or who've been captured or incapacitated is absolutely prohibited. It violates the laws of war as well as international human rights law, and is a war crime," she said.
It is thought that around 270 of the 800-odd UK passport holders who have travelled to Syria and Iraq remain in the region.
Mr Williamson said the impact the of jihadis in foreign fields should not be underestimated, with "much of what is done to activate" threats to Britain carried out in places such as Libya, Iraq and Syria.
"Our job in terms of eliminating will not stop this year, will not stop next year, it is something we have got to continue to pursue," he added.
Max Hill, the Independent Reviewer of Terrorism Legislation, called for "reintegration" of jihadis where there is insufficient evidence to prosecute them.
Today, he tweeted: "My only comment on the Defence Secretary's views about UK citizens fighting for IS: criminal prosecution inevitable in most cases where UK citizens return, and where evidence of committing serious criminal offences."
Asked whether Theresa May backed Mr Williamson, her official spokesman said people fighting for IS had made themselves a "legitimate target".
But he added: "There are existing powers in relation to foreign fighters who seek to return to the UK.
"They include expulsion orders that allow the UK to cancel an individual's passport.
"In instances where people do return to the UK, we are clear they should face the consequences of their actions, which include investigation by police and possible prosecution."
Join our new commenting forum
Join thought-provoking conversations, follow other Independent readers and see their replies