Theresa May relaunches a very rebranded Conservative campaign
With a week until polling day, the signs are quite literally there that the Conservative campaign will be far less Presidential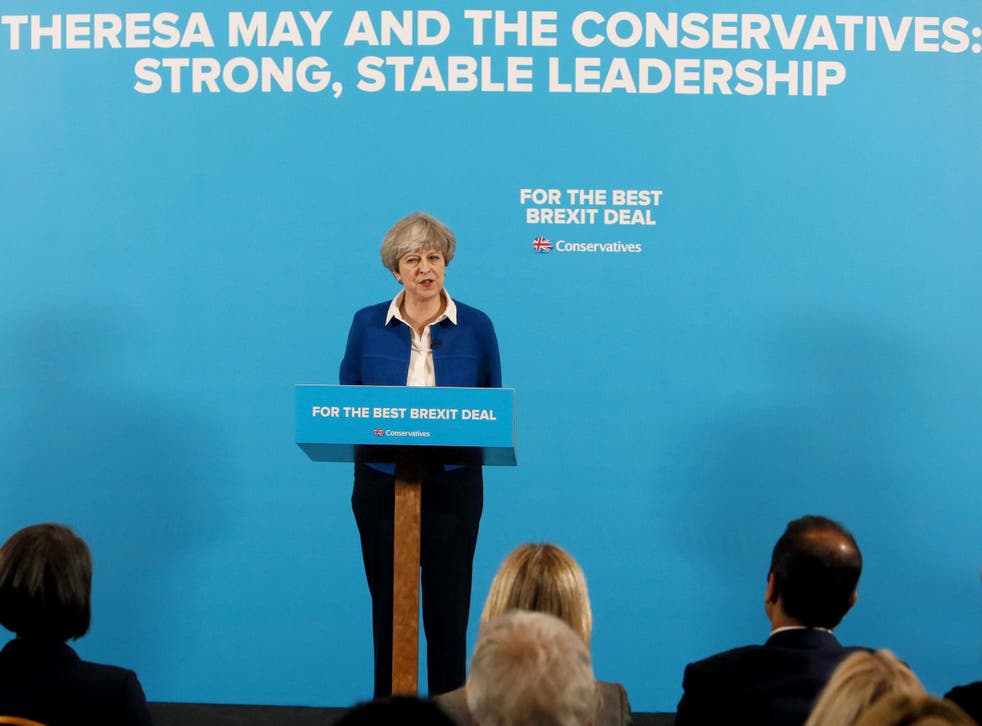 In Theresa May's re-relaunched campaign with a week to go, the barnacles have certainly been scraped off the boat, to use campaign manager Sir Lynton Crosby's famous phrase.
There will surely be no new major policy announcements. Certainly no more misadventures in to the world of social care. The final week will be all about what he will think the campaign should never have deviated from the begin with. Who do you trust on Brexit? Theresa May or Jeremy Corbyn.
In Wolverhampton this lunchtime, the barnacles had been scraped off, but a few extra passengers have been let on.
Behind Theresa May's head, the word Conservatives was written in by some margin the largest font of the campaign so far, in that it was actually visible to the naked eye. "Theresa May and the Conservatives: Strong, Stable Leadership" it read.
The old soundbites were, inevitably there. It is still, very much, a question of strong and stable leadership versus a coalition of chaos. But no longer was it a question of "Every vote for me and my team will strengthen my hand in the negotiation with Brussels." Now it is "every vote for me and my local candidates" that will do it.
It is a change of tack that would appear to have been forced upon them. If there was a purpose to the general election, beyond the irresistible opportunity to crush Jeremy Corbyn's Labour, it was to kick the prospect of a second general election far beyond the end of the Brexit negotiations and arguably its worst consequences.
It was for that reason that Theresa May fought a Presidential campaign. You are not, in fact, voting for the Conservatives. You are voting for the "strong and stable leadership" of Theresa May. And when a pensioner accosts Tim Farron in the street in West Oxfordshire in front of the TV cameras and says, "I've voted Labour all my life but do you know who I'll be voting for this time? Theresa. May," you can be left in little doubt that the plan is working.
But it depends on the strong and stable President to do their bit. When you have billed yourself as "strong and stable", then announce a profoundly un-Conservative policy that compels elderly people with dementia to hand their estates not to their children but to the taxman, then in the face of criticism make British political history by breaking a manifesto pledge before the election has even happened, then arguably the mask has slipped.
In Wolverhampton, the BBC's Laura Kuenssberg asked the Prime Minister: "Isn't the emerging truth that this campaign is showing you to be weaker rather than stronger?"
Theresa May winced and then denied it. But the answer was on the board behind her: Theresa May and the Conservatives. Expect the last week of the campaign to be a little less Presidential than she might have hoped.

Register for free to continue reading
Registration is a free and easy way to support our truly independent journalism
By registering, you will also enjoy limited access to Premium articles, exclusive newsletters, commenting, and virtual events with our leading journalists
Already have an account? sign in
Join our new commenting forum
Join thought-provoking conversations, follow other Independent readers and see their replies