Election 2017: Senior Lib Dems calling for 'paper candidates' in certain seats to help Labour defeat Conservatives
'Being tactical isn't just about standing down or voting for the right candidate: it can also be about paper candidates, but not campaigning,' Sarah Olney was recorded as saying
Rob Merrick
Deputy Political Editor Comments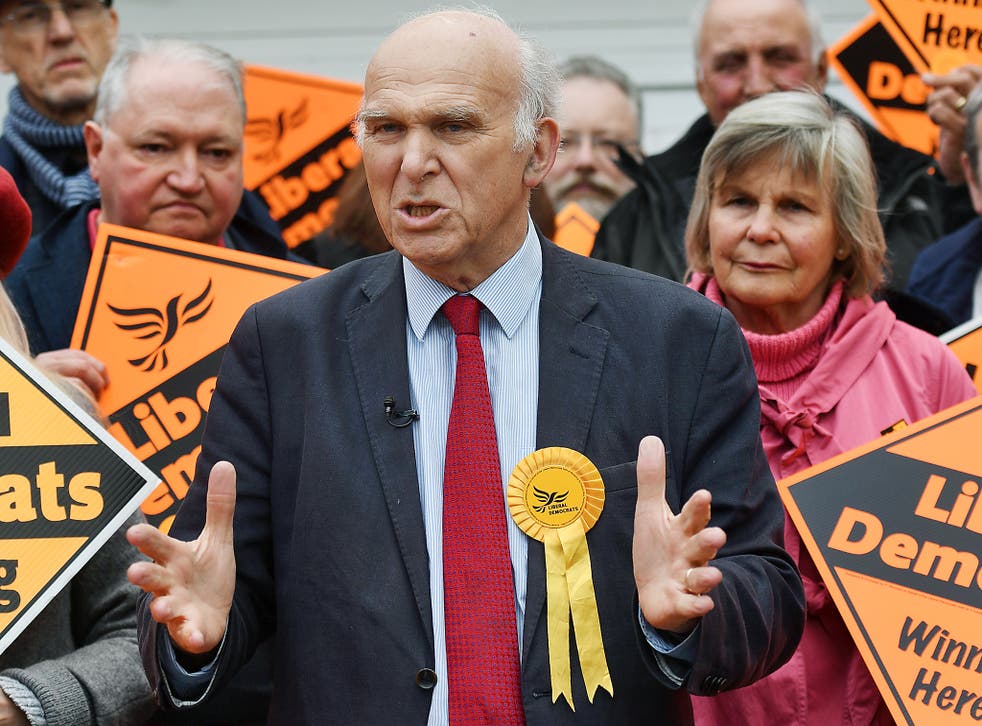 Senior Liberal Democrats are calling for "paper candidates" in some constituencies where it can help Labour defeat the Conservatives.
The party should "put up candidates purely nominally" in some areas at next month's election without campaigning to win, Sir Vince Cable was secretly recorded saying at a meeting of Lib Dem members.
Sarah Olney, who won last year's Richmond Park by-election, was recorded at the meeting as saying: "Being tactical isn't just about standing down or voting for the right candidate, it can also be about paper candidates, but not campaigning."
The recording provides the strongest evidence yet of a grassroots "progressive alliance" at work to try to maximise the chances of defeating Conservative candidates on polling day.
One-third of people are prepared to vote tactically in order to deny Theresa May a landslide and prevent a hard Brexit, an exclusive poll for The Independent has revealed.
But the Conservatives said the recording proved the danger of a Jeremy Corbyn-led "coalition of chaos", adding: "These recordings show the Lib Dems are scheming to make it happen."
It is potentially embarrassing for the Lib Dems that Mr Cable has publicly ruled out a deal with Labour, while party leader Tim Farron described Mr Corbyn as "toxic".
The recording captured Mr Cable saying: "In some cases, parties will put up candidates purely nominally and they won't try, or they'll signal that they actually want someone else to win."
The former Business Secretary, who is standing again in Twickenham, pointed to the example of Rupa Haq, Labour's candidate in Ealing, describing a recent car journey with her.
"We talked for a couple of hours and it was very clear that on almost every issue our views were almost identical," Mr Cable said.
"And so I would find it difficult to vote against somebody like that and I hope that our people around the county are discriminating and think and act in a constructive way."
Ms Olney told the Pragmatism not Tribalism event that "paper candidates" could be "just as powerful" as formally standing down in favour of another progressive party.
"I've had a lot of Ealing Lib Dems coming down here and I'm sure they've been over in Twickenham as well, because, yes, we may be standing candidates there, but we know that we want Rupa to win in Ealing, and so on and so forth."
The Independent reported today how Labour and Liberal Democrat activists have united with the Green Party in a groundbreaking alliance aimed at unseating Jeremy Hunt.
The Greens will not fight the Health Secretary's South West Surrey seat, while both Labour and the Liberal Democrats agreed not to campaign, backing the National Health Action party instead.
The Progressive Alliance movement, headed by think tank Compass, is focusing on 97 seats where the combined progressive vote is crucial to the outcome of the election.
The Liberal Democrats told Sky News, which obtained the recording: "We are fighting for every vote to hold back the Tories and their hard Brexit agenda.
"The Liberal Democrats are the best choice for voters who want to see a progressive opposition to a Conservative Government."
But Damien Green, the Work and Pensions Secretary, said: "The threat of Jeremy Corbyn making it to Downing Street propped up by a coalition of chaos is very real."
Register for free to continue reading
Registration is a free and easy way to support our truly independent journalism
By registering, you will also enjoy limited access to Premium articles, exclusive newsletters, commenting, and virtual events with our leading journalists
Already have an account? sign in
Join our new commenting forum
Join thought-provoking conversations, follow other Independent readers and see their replies