General election: Jeremy Corbyn may not take part in TV debates not involving Theresa May
Comes after a poll shows the majority of the public want the leaders' debates to go ahead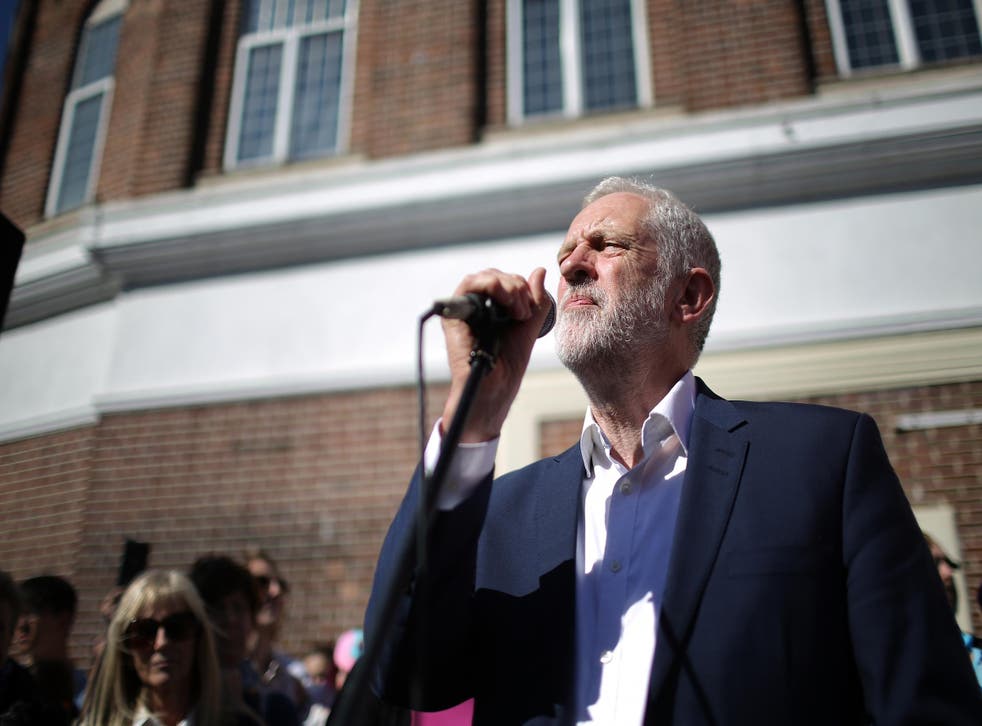 Jeremy Corbyn's team has indicated the Labour leader may not take part in TV debates that do not involve Theresa May.
A spokesman for Mr Corbyn said the events would only be worthwhile if the leaders of the two major parties were pitted against each other.
Ms May has already signalled she will not take part, leading to claims from Mr Corbyn and others that she is "running scared" and calls for broadcasters to "empty chair" her.
On Wednesday the Independent carried an exclusive poll by BMG Research showing that a majority of the British public do want the party leaders to face each other in front of live TV cameras.
Asked whether Mr Corbyn would attend a broadcast which did not involve Ms May, the spokesman said: "Obviously, if you are talking about a debate about the possible outcomes of the election, you are talking about a debate between the Conservative Party and the Labour Party first and foremost.
"To have a debate among the opposition parties doesn't meet that objective at all.
"I don't think having a debate among opposition parties in any way meets the objective of giving the British people a chance of seeing what the real choices are in this election campaign."
UK General Election 2017

Show all 47
He added: "The fact that she is running scared of that is a sign of her weakness, not her strength."
The BMG poll revealed more than half of people – some 54 per cent – want the live contests to go ahead.
Among voters planning to back each of the major political parties, there were majorities wanting the debates to go ahead in almost all.
Only Conservative voters were more equivocal – but even then more believed they should happen, with 44 per cent calling for leaders to take part, and 40 per cent saying they should not.
ITV has already said that it will hold a leaders' debate with further details to be announced in due course, while Sky News is also considering its options.
Downing Street insiders have confirmed Ms May's aides are in talks with the BBC, with a source telling the Independent that if anything is agreed it will not be the kind of debates that have taken place in previous years.
The source said: "We're not taking part in head-to-head debates on TV."
Green Party co-leader Caroline Lucas said: "Both the Prime Minister and leader of the opposition are running scared of the TV debates.
Corbyn taunts May over 'hand-picked' audiences
"Our democracy deserves better than this. Theresa May should commit to doing the TV debates, and Jeremy Corbyn shouldn't be afraid to 'empty chair' the Prime Minister and debate with the other parties."
TV debates featured in the British general election campaign in 2010, when Gordon Brown went head-to-head with David Cameron and Nick Clegg, with the Lib Dems surging from the publicity.
After protracted wrangling in 2015, David Cameron took part in question sessions with live audiences but did not go head-to-head in a debate with other party leaders.
Register for free to continue reading
Registration is a free and easy way to support our truly independent journalism
By registering, you will also enjoy limited access to Premium articles, exclusive newsletters, commenting, and virtual events with our leading journalists
Already have an account? sign in
Register for free to continue reading
Registration is a free and easy way to support our truly independent journalism
By registering, you will also enjoy limited access to Premium articles, exclusive newsletters, commenting, and virtual events with our leading journalists
Already have an account? sign in
Join our new commenting forum
Join thought-provoking conversations, follow other Independent readers and see their replies