General election: Arron Banks to stand against former Ukip MP Douglas Carswell in Clacton
Millionaire donor has been consistently critical of the party's leadership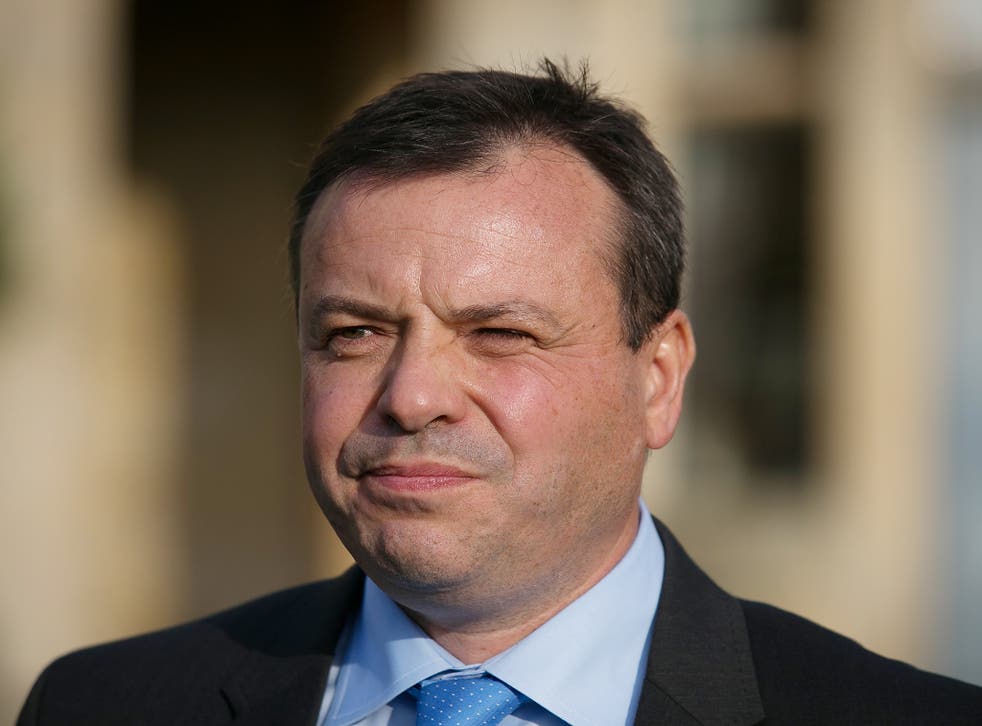 Ukip donor Arron Banks has said he will run against the party's former MP Douglas Carswell in Clacton in the upcoming general election.
Asked on Twitter if he was planning to stand in the 8 June vote, which Theresa May called for on Tuesday morning but which must still clear a vote in the Commons, Mr Banks confirmed he would. It is not clear which party he will represent.
A spokesman for Mr Banks added that the businessman was "a million per cent going for it" in Clacton and would seek to gain the backing of Tory and Ukip voters.
"We will also be using all our learning from the referendum on social media to attack Remain MPs and support Brexit MPs of any colour," he said.
In March, Mr Banks said his membership of the party had been suspended, and that he intendeded to build his own political movement from his Leave.EU campaign group.
Ukip chairman Paul Oakden said Mr Banks had not been suspended from the party, but that his membership had lapsed and it would be up to party leader Paul Nuttall to decide if the businessman would be allowed to renew it.
The spat signalled the deep divisions between the party and its millionaire donor, who has been consistently critical of its leadership.
Mr Banks had planned to launch his own Patriotic Alliance movement on 5 May, The Guardian reports.
"Whether Banks stands as an independent, Patriotic Alliance or Ukip, those things are all up for discussion," Andy Wigmore, Mr Banks's spokesman, told the paper.
Theresa May calls for general election
He will meet with former leader Nigel Farage in the coming days to discuss whether to stand as a Ukip candidate.
Earlier on Tuesday, Mr Nuttall said Ms May's decision to call for a snap election was a "cynical decision driven more by the weakness of Corbyn's Labour Party rather than the good of the country".
"We are in the midst of Brexit negotiations so this election will provide a perfect opportunity for the 52 per cent to vote for Ukip, the only party wholeheartedly committed to a clean quick and efficient Brexit," he added.
Mr Carswell tweeted after the announcement by the Prime Minister of her intention to hold an election: "If you voted Ukip in 2015, it's job done," suggesting he viewed the party as a spent political force.
Mr Carswell, who defected from the Conservatives in 2014, announced he was standing down from Ukip late last month to become an independent MP.
Mr Banks welcomed the departure of the party's only MP, describing it as "a rare piece of good news for Ukip".
Ms May and Downing Street have repeatedly insisted there would be no snap general election before the scheduled vote in 2020.
But in a surprise statement, she said uncertainty over Brexit meant she had changed her mind.
"Our opponents believe because the Government's majority is so small that our resolve will weaken and that they can force us to change. They are wrong," Ms May said.
"They underestimate our determination to get the job done and I am not prepared to let them endanger the security of millions of working people across the country, because what they are doing jeopardises the work we must do to prepare for Brexit at home and it weakens the Government's negotiating position in Europe."
Join our new commenting forum
Join thought-provoking conversations, follow other Independent readers and see their replies