General election: Theresa May and Jeremy Corbyn square off over NHS and national security in last Commons clash
The Prime Minister also refused twice to deny the so-called triple lock on pension increases would be scrapped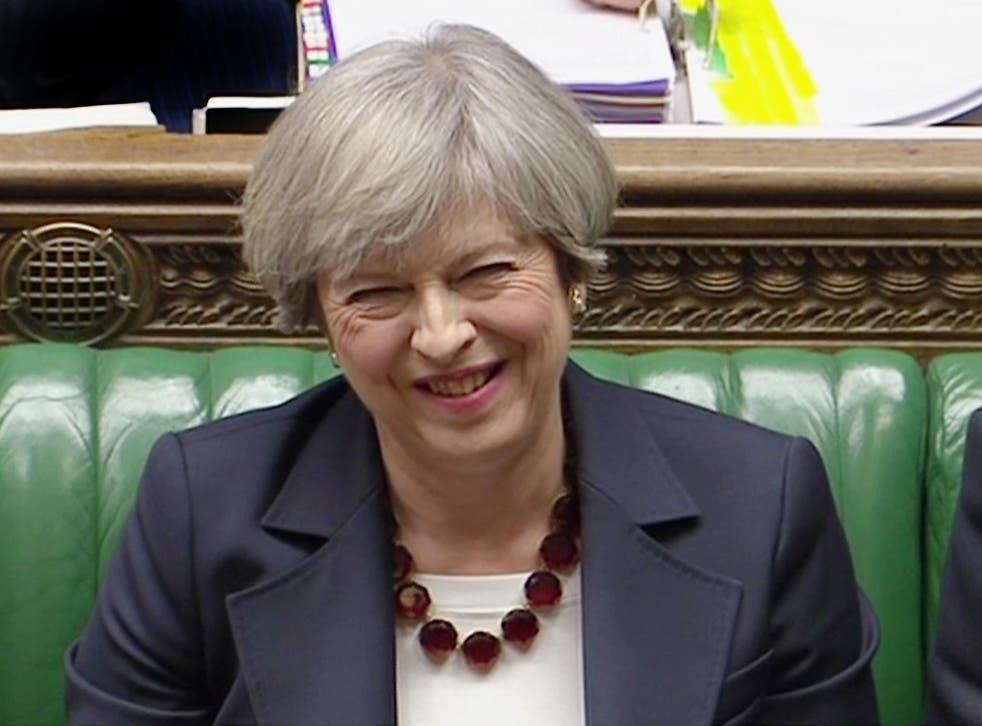 Theresa May and Jeremy Corbyn squared off over the NHS and national security, in their last Commons clash before the general election.
The Labour leader seized on growing fears over the creaking health service, highlighting a pensioner who had told him she was "scared at the thought of going into hospital".
But the Prime Minister hit back by attacking Mr Corbyn for employing a policy chief who wanted to "disband MI5, disarm the police and scrap our nuclear deterrent".
Again and again, she returned to her favourite election soundbite – that the nation faced a choice between her "strong and stable leadership" and a Labour-led "coalition of chaos".
Brexit barely featured in the final Prime Minister's Questions before voters go to the polls in June, despite being the reason the election was called, according to Ms May.
The Prime Minister also refused twice to deny the so-called triple lock on pension increases would be scrapped.
Mr Corbyn highlighted Labour's overnight pledge to axe the Tories' long-standing 1 per cent pay cap for NHS staff.
And he read out the words of a pensioner called Sybil, who had told him: "I'm 88 and have had a wonderful service from the National Health Service.
"But, nowadays, I'm scared at the thought of going into hospital, with more people waiting more than four hours in A&E, more people waiting on trolleys in corridors, more delayed discharges, thanks to the Tory cuts."
Mr Corbyn said: "Isn't Sybil right to be frightened about the future of the NHS as long as this Government remains in office?"
In reply, the Prime Minister insisted the NHS in her hands was treating more patients and boasted "more doctors, more nurses, more midwives, more GPs and record levels of funding".
And she ridiculed shadow Home Secretary Diane Abbott's endorsement of the "I like Corbyn, But…" website which highlights concerns that Mr Corbyn will "increase taxes" and is a "terrorist sympathiser".
To Tory cheers, Ms May said: "They are right to be worried. Even his own supporters know he is not fit to run this country."
Earlier, she turned her fire on a 2015 programme put forward by a group called the Socialist Campaign for a Labour Victory.
It was backed by Andrew Fisher, Jeremy Corbyn's policy chief, who has now been picked to write Labour's election manifesto, to be published on 15 May.
Ms May told MPs: "The plan to disband MI5, to disarm our police and to scrap our nuclear deterrent was endorsed by the Right Honourable Gentleman's policy chief and even by his shadow Chancellor.
"Refusing to say he would strike against terrorism, refusing to commit to our nuclear deterrent and refusing to control our borders.
"Keeping our country safe is the first duty of a prime minister – the Right Honourable Gentleman is simply not up to the job."
Later, a senior Labour source attacked Ms May for referring to Mr Corbyn as a "terrorist sympathiser" in the Commons chamber, describing it as a "discredit to the office of prime minister".
Register for free to continue reading
Registration is a free and easy way to support our truly independent journalism
By registering, you will also enjoy limited access to Premium articles, exclusive newsletters, commenting, and virtual events with our leading journalists
Already have an account? sign in
Register for free to continue reading
Registration is a free and easy way to support our truly independent journalism
By registering, you will also enjoy limited access to Premium articles, exclusive newsletters, commenting, and virtual events with our leading journalists
Already have an account? sign in
Join our new commenting forum
Join thought-provoking conversations, follow other Independent readers and see their replies