British politics really is like the Thick of It: Nick Clegg gets briefed on who people like Ellie Goulding are
Lib Dem leader is given revision notes by his aides to prepare for his weekly radio phone-in show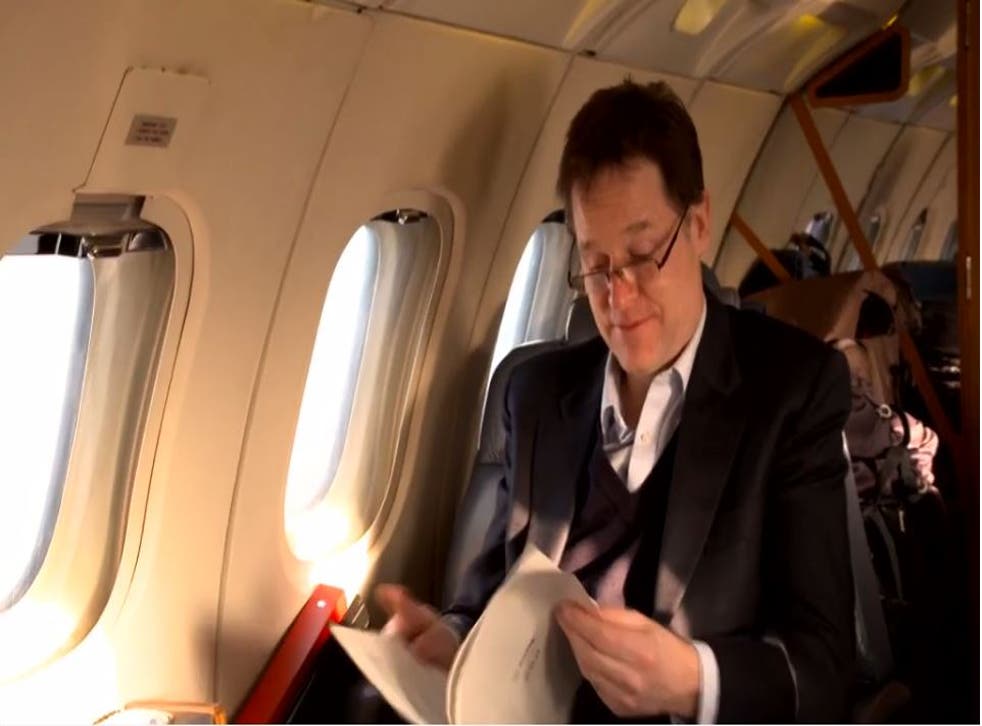 Nick Clegg is briefed about the latest news in popular culture each week – just like the fictional minister in the The Thick of It.
Earlier this week Ed Miliband admitted the political satire show was "too much like reality," and ITV's Tonight programme with the Deputy Prime Minister has proof.
It shows Mr Clegg reading through notes prepared by his aides before he is grilled by LBC listeners on his weekly live phone-in show.
As he revises for his latest show, Mr Clegg struggles with the name of the singer who topped the charts at the time.
"Ellie… what's her name again?" the Lib Dem leader asks.
"Ellie Goulding," Tom Bradby, the presenter, prompts him. "Very good," Mr Clegg replies, impressed by his superior knowledge of popular culture. "She is Herefordshire born and Love Me Like You Do – that's the Number One," he reads.
It is scarily reminiscent of a scene in The Thick of It when the old-fashioned character Hugh Abbott is forced to watch a video to update him on the latest news in popular culture.
After endless efforts to get him up to steam, the minister finally mastered the EastEnders theme tune:
Mr Clegg might not know who Ellie Goulding is but Mr Miliband certainly does. She even invited him to a concert last year and introduced him to his new favourite band - Bastille.
Last week his taste in music was questioned when he revealed he was a big fan of Norwegian pop band A-ha, but he also showed off his knowledge of current popular culture, saying he was a fan of Ed Sheeran and Sam Smith.
But Mr Miliband was last year forced to admit that he too had to research about popular culture to show he was up with the times.
In October, Mr Miliband met EastEnders star Danny Dyer and reportedly tried to impress him with his knowledge of the show.
Asked if he was a regular watcher and fan, Mr Miliband shook his head and said: "I don't have time but I've been doing a lot of research about it online." The incident was later described by a Labour source as "a bit awkward".
In the ITV show Mr Clegg also reveals his ambition to carry on as Lib Dem leader for another 20 years. Asked whether he was looking forward to serving another five years, he says: "10, 15, 20 why not! In for a penny, in for a pound."
In an interview with him and his wife, Miriam Gonzalez Durantez, the programme sheds light on Mr Clegg's personal life and the challenges his family faces.
Ms Durantez explains how the pair had a "discussion" over whether to move into a grace-and-favour government flat in Whitehall, but Mr Clegg joked that the word "discussion" was a code word for "no".
But she said that by remaining in their family home in Putney, south west London, it had stopped them from being cut off from the rest of the world and living in the "Westminster bubble".
Ms Durantez said: "If you look at it with perspective it has been the best decision for all of us and if I may, also for Nick as well because you can see how politicians sometimes can get in a bubble and be completely distant from normal society and I think if you're in your house in your neighbourhood, it's much easier really."
The Independent has got together with May2015.com to produce a poll of polls that produces the most up-to-date data in as close to real time as possible.
Click the buttons below to explore how the main parties' fortunes have changed:
All data, polls and graphics are courtesy of May2015.com. Click through for daily analysis, in-depth features and all the data you need. (All historical data used is provided by UK Polling Report)
Register for free to continue reading
Registration is a free and easy way to support our truly independent journalism
By registering, you will also enjoy limited access to Premium articles, exclusive newsletters, commenting, and virtual events with our leading journalists
Already have an account? sign in
Register for free to continue reading
Registration is a free and easy way to support our truly independent journalism
By registering, you will also enjoy limited access to Premium articles, exclusive newsletters, commenting, and virtual events with our leading journalists
Already have an account? sign in
Join our new commenting forum
Join thought-provoking conversations, follow other Independent readers and see their replies