Ed Miliband rules out coalition with the SNP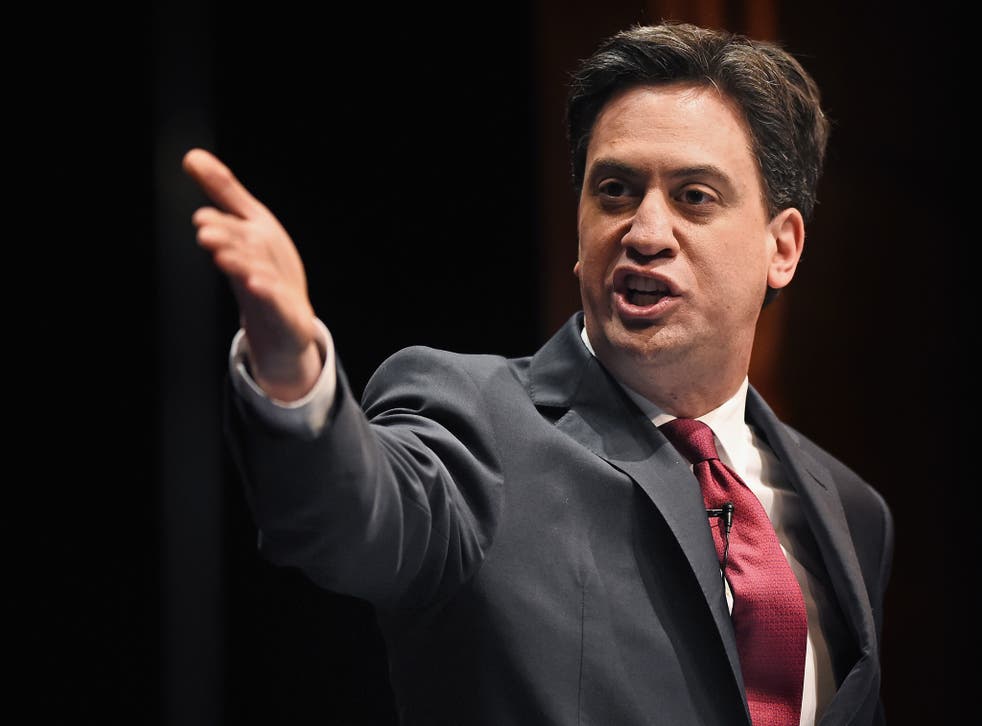 Ed Miliband has categorically ruled out forming a coalition with the SNP after days of mounting pressure on him to say whether he would do a deal with the Scottish nationalists in the event of a hung parliament.
The Labour leader said this afternoon there will be "no SNP ministers in any government I lead" and accused the Tories of trying to "scare" people over their "misleading" claims that he would go into coalition with Nicola Sturgeon's party.
However he will continue to face questions over whether he would pursue a confidence and supply arrangement whereby a minority Labour government would be propped up by SNP MPs on a vote-by-vote basis.
"As I said on Thursday night, this idea is nonsense, it will not happen.
"There are big differences between us - not just on the integrity of the United Kingdom and another referendum but on fair funding between the countries of the UK. And on fair taxes.
"In continuing to repeat this claim, the Conservative Party and David Cameron are simply trying to scare people.
"Labour will not go into coalition government with the SNP. There will be no SNP ministers in any government I lead."
English votes for English laws: What is it all about?

Show all 7
Mr Miliband attempted to focus attention back on the Conservative party's relationship with Ukip, claiming the "real danger" to the UK was a Tory government "propped up by Ukip". "That is the real threat to working families," he argued.
The constant questions over whether Labour would invite the SNP into a coalition proved the Tories had "given up on the Scottish people" and "given up on winning a majority", he added.
Nigel Farage said his party would offer a confidence and supply arrangement to the Tories in exchange for holding an EU referendum by Christmas, but speaking yesterday, George Osborne described the ideas as "total nonsense".
Mr Cameron has pledged a referendum in 2017 but has hinted at the prospect of holding it earlier.
Nicola Sturgeon said she was not surprised by his announcement and said there was still room for left-leaning parties to work together to keep out the Conservatives from government.
"Nothing Ed Miliband has said today has changed that for me. I still point to the reality that if there are more anti-Tory MP's in the House of Commons than Tory MP's then we can work together to keep the Tories out of government, which is what most people in Scotland want to see."
Earlier th First Minister had described Labour ruling out a coalition with her party as an "odd move" because it would allow Mr Cameron to "waltz back in to Number 10".
The six-party election: key figures

Show all 12
Labour party sources told The Independent that Mr Miliband had wanted to rule out a deal with the SNP sooner than today but the move was being blocked by Jim Murphy, Labour's leader in Scotland.
Mr Murphy is understood to have argued that making such a firm pledge could backfire for the party on May 7 as it attempts to claw back tens of thousands of former Labour supporters from the SNP.
The Conservatives responded to Mr Miliband's announcement immediately, suggesting Labour would still do a deal with the SNP.
"This changes nothing," a Tory spokesman said. "Ed Miliband will not rule out a deal with the SNP because he knows it's impossible to become Prime Minister without being carried into Downing Street in Alex Salmond's pocket," a Tory spokesman said.
"There have been over 1,200 votes in this Parliament. Vote by vote, bill by bill, issue by issue, Ed Miliband would have to do a deal with the SNP on each and every one of them."
Register for free to continue reading
Registration is a free and easy way to support our truly independent journalism
By registering, you will also enjoy limited access to Premium articles, exclusive newsletters, commenting, and virtual events with our leading journalists
Already have an account? sign in
Register for free to continue reading
Registration is a free and easy way to support our truly independent journalism
By registering, you will also enjoy limited access to Premium articles, exclusive newsletters, commenting, and virtual events with our leading journalists
Already have an account? sign in
Join our new commenting forum
Join thought-provoking conversations, follow other Independent readers and see their replies