General Election 2015: 2,000 voters, two leaders – and one notable absentee
Sajid Javid filled in at the Citizens UK General Election Assembly – and may be regretting it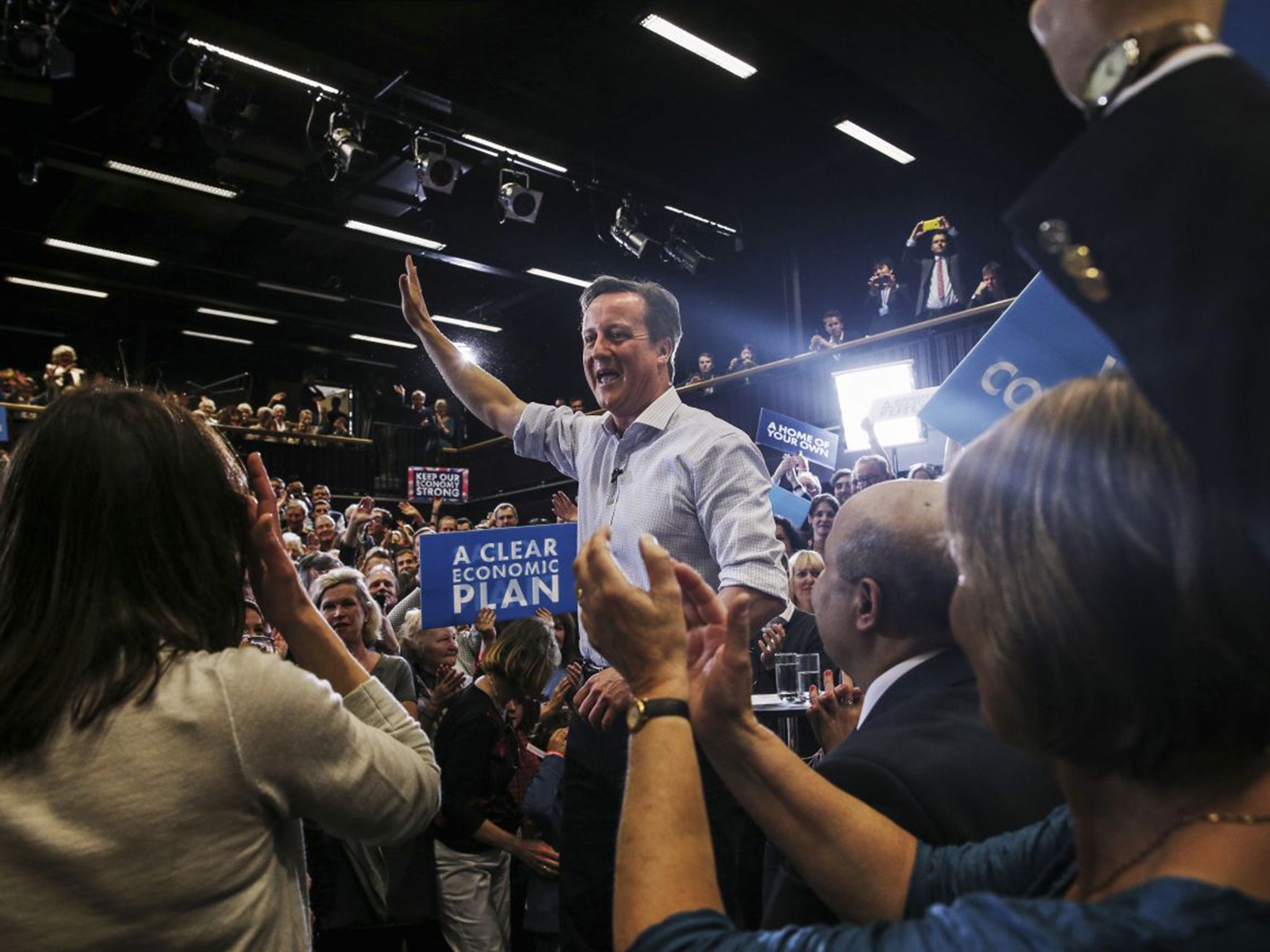 It was the 13-year-old son of a Downing Street cleaner who summed up a very different kind of politics in Methodist Central Hall on 4 May. Enivalde Ventura's father, Valdevar, was sacked from his job cleaning Downing Street and the Cabinet Office after campaigning for a living wage. "My dad told me that if something is wrong you should never keep quiet," Enivalde told the Citizens UK General Election Assembly.
Mr Ventura got his job back after political intervention from Nick Clegg and others. But after thanking Mr Clegg for the help, his son still took the opportunity to grill the Deputy Prime Minister on his future commitments to bring a living wage to people across the country.
This was a chance for more than 2,000 active citizens from around the country to engage leaders on the issues they cared most about. "This is how politics used to be done and how we wish it to be done more," Andy Walton, a Citizens UK community organiser in Hackney, said before the politicians took to the stage.
---
Are you undecided about who to vote for on 7 May? Are you confused about what the parties stand for and what they are offering? Take this interactive quiz to help you decide who to vote for...
---
The assembly was meant to include all three party leaders – and David Cameron had even made a commitment back in 2010 that he would be there. But over the weekend, the Prime Minister pulled out, sending Culture Secretary Sajid Javid in his place to answer questions along with Ed Miliband and Mr Clegg.
Each politician was asked about how they would tackle issues decided in advance by community campaigners. These included setting a time limit on immigration detention, tackling payday lending, improving social care and rolling out the living wage. They were also called to account for promises they made at the same event five years ago.
For Mr Clegg, it was a rare opportunity to be thanked for keeping his promises. After being applauded for the Coalition's ending of child detention, he said: "I'm so used to being told when I haven't been able to deliver that I'm slightly overwhelmed."
Sajid Javid was the first to speak. His opening remarks, telling the moving story of how community organising helped his parents on arrival from Pakistan, were well-received. "It doesn't matter if you're black or brown or white, we are all equal citizens and that will never change in this country," he said to applause.
But when he returned to the lectern to answer questions about Conservative commitments – and Cameron's failure to show up – the atmosphere soured. Pressed repeatedly to give a yes or no answer on whether a future Tory Prime Minister would attend in the run-up to any election in 2020, Mr Javid replied: "I can't give you a yes or no answer."
Both Mr Clegg and Mr Miliband made firm commitments to set a time limit for immigration detention – one of the key pledges demanded by Citizens UK – but Mr Javid declined to. "A time limit would be arbitrary and it would take no account of individual circumstances," he said, before being cut off by a heckler who was in turn hushed by the crowd.
The audience included community campaigners, students, faith leaders and many first-time voters. There were also 1,000 voters from 40 key marginals who had been bussed into London.
In a plea for the centre ground, Nick Clegg said: "The Liberal Democrats, we will not pander to that politics of fear… We will always fight for those decent, centre-ground British values of compassion, of tolerance, of being generous-hearted, open-minded, open to the outside world."
It was at this event in 2010 that outgoing Prime Minister Gordon Brown gave the most well-received speech of the election. This time there were no campaign-defining speeches, though Mr Miliband did elicit cheers when his interviewer asked him to "imagine your desk as Prime Minister on Friday".
Join our commenting forum
Join thought-provoking conversations, follow other Independent readers and see their replies