General Election 2015 explained: Leaders
Continuing our daily miscellany celebrating the facts, figures and folklore of British general elections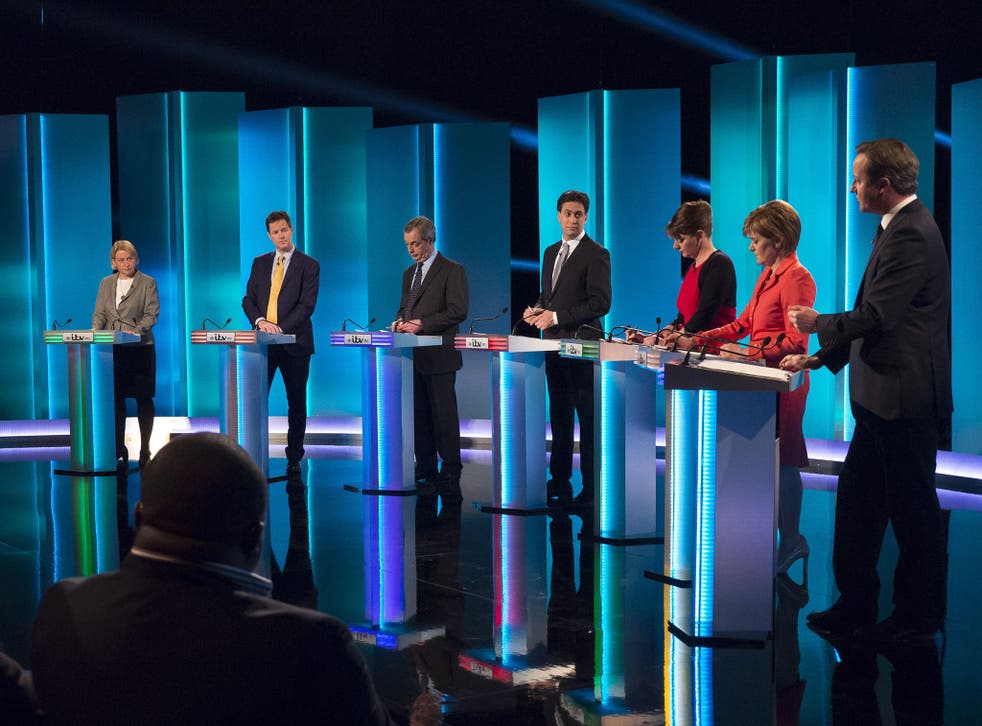 The big beasts
Of the seven party leaders significant enough to appear in the televised debate on 2 April, three were women.
Only three were MPs in the parliament dissolved on 30 March. None of the other four – Nigel Farage (Ukip), Nicola Sturgeon (SNP), Leanne Wood (Plaid Cymru) or Natalie Bennett (Green) – has ever been elected to the Westminster Parliament.
Farage is a member of the European Parliament; Sturgeon is First Minister in the Scottish Parliament; Wood is a member of the welsh assembly. Bennett doesn't hold any elected office.
The others
Many other party leaders are involved in the current campaign. In Northern Ireland the key players include: Peter Robinson, leader of the Democratic Unionist Party; Mike Nesbitt, leader of the Ulster Unionist Party; Gerry Adams, president of Sinn Fein; Alasdair McDonnell, leader of the Social Democratic and Labour Party; and david ford, Alliance Party of Northern Ireland.
Others include Robert Boaler (leader of the Al-Zebabist Nation of Ooog party), Ray Hall (leader of the Beer, Baccy and Scratchings party), David Bishop (Church of the Militant Elvis), John Kennedy Crockford (Fancy Dress Party) and David Field (The Birthday Party)
---
Are you undecided about who to vote for on 7 May? Are you confused about what the parties stand for and what they are offering? Take this interactive quiz to help you decide who to vote for...
---
Vital statistics
Of the seven leaders in the 2 April debate, the oldest is Nigel Farage (51). The youngest is Leanne Wood (43)
The birth dates of the seven are as follows:
Nigel Farage: 3 April 1964
Natalie Bennett: 10 February 1966
David Cameron: 9 October 1966
Nick Clegg: 7 January 1967
Ed Miliband: 24 December 1969
Nicola Sturgeon: 19 July 1970
Leanne Wood: 13 December 1971
For astrologers, such information suggests that Nigel Farage, the only Aries, has the best chance of becoming next prime minister. Historically, Aries has been the most popular star sign for British prime ministers.
Leaders' aides sometimes seem to exaggerate their employers' height for propaganda purposes. Our best information suggests that the seven leaders' heights are:
Nick Clegg: 6ft 1in
David Cameron: 6ft 0in
Ed Miliband: 5ft 11 in
Nigel Farage: 5ft 8in
Leanne Wood: 5ft 6in
Natalie Bennett: 5ft 5in
Nicola Sturgeon: 5ft 4in
Studies of US presidential elections since 1948 suggest taller leaders tend to win. However, this statistic is based on all-male contests. Electorally successful women tend to be of average height: Angela Merkel is 5ft 5in (the same as Julia Gillard and Margaret Thatcher – and Natalie Bennett).
General election 2015: The worst gaffes and controversies

Show all 36
Selection
Methods by which parties choose their leaders:
Labour: Separate ballots among (a) Labour MPs; (b) party membership; (c) members of affiliated unions. All nominees must have approval of 12.5 per cent of the Parliamentary Labour party.
Conservatives: Conservative MPs nominate candidates and reduce to a shortlist of two; the leader is then selected by a vote of all party members.
Liberal DemocraTS: MPs nominate candidates, who need support of at least 200 party members and 20 local parties. Winner selected from candidates by secret ballot of all party members.
Ukip: candidates require support from 51 Ukip members to appear on the ballot; all party members can vote.
SNP: all party members can vote; candidates require support from 100 members.
Green: all members vote in biannual election – although the turnout was only a 25.1 per cent when Bennett was elected.
Plaid Cymru: Selected by members using alternative vote system.
Education
The leaders under consideration were educated as follows:
David Cameron: Eton; Brasenose, Oxford
Ed Miliband: Haverstock Comprehensive; Corpus Christi, Oxford; LSE
Nick Clegg: Westminster School; Robinson College, Cambridge; University of Minnesota
Nicola Sturgeon: Greenwood Academy, University of Glasgow
Nigel Farage: Dulwich College
Leanne Wood: Tonypandy Comprehensive School, University of Glamorgan
Natalie Bennett: New South Wales Methodist Ladies College, University of Sydney, University of New England, University of Leicester
Experience
David Cameron: before politics, worked as a lobbyist and researcher.
Ed Miliband: worked briefly as a TV researcher before entering politics.
Nick Clegg: worked briefly in lobbying and journalism before becoming an aide at the European Commission.
Nicola Sturgeon: started out as a solicitor.
Nigel Farage: formerly a commodities broker.
Leanne Wood: formerly a Women's Aid support worker.
Natalie Bennett: formerly a journalist (even, for a while, at The Independent).
Monday: Majorities
Join our new commenting forum
Join thought-provoking conversations, follow other Independent readers and see their replies