Bez interview: On the campaign trail with the Happy Mondays star in Salford
The former Happy Mondays dancer wants to be Salford's next MP. And - for once - he's deadly serious, says Luke Bainbridge
Luke Bainbridge
Friday 03 April 2015 18:31 Comments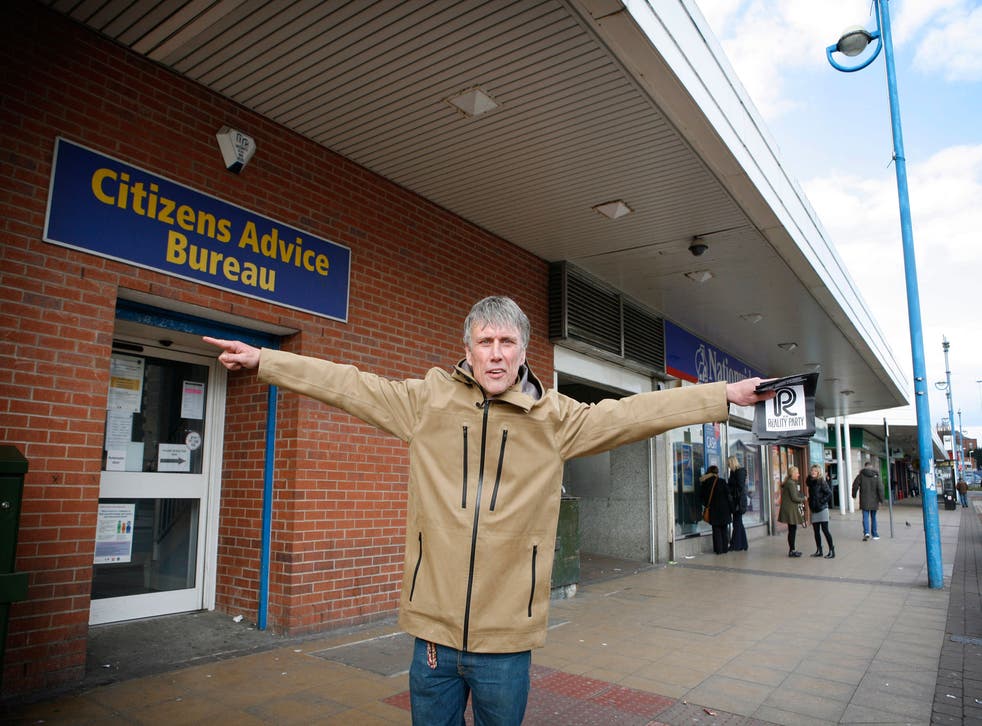 In a time when the leaders of the main political parties are all career politicians, and Westminster couldn't seem more removed from the reality of day-to-day life across the rest of the country, one man thinks he can bring a breath of fresh air to British politics. Many may have smiled when they saw that Bez, who made his name as the debauched hedonistic dancer of Happy Mondays, had formed his own political party and is running as an MP, but he is determined to make people realise he is serious, and is campaigning on serious issues.
From the outside, Bez's life has always had a slight cartoonish edge, but he's a unique cultural figure who a lot of the British public hold dear. When I ghostwrote Shaun Ryder's autobiography, the singer told me that when Happy Mondays went to the States, the Americans couldn't get their heads around the idea of Bez on stage – "That dude doesn't do anything!" – but back home in Britain, for many people, Bez was Happy Mondays.
It was this public affection that saw Mark 'Bez' Berry win Celebrity Big Brother in 2005, beating the likes of Brigitte Nielsen, Jackie Stallone, Caprice, Germaine Greer and John McCririck. I spent 24 hours with him after his win and everywhere we went people were congratulating him. A suited businesswoman in her late thirties stopped us in a hotel foyer and told him, "I'm sorry to bother you, but I think you're brilliant. I just think the way you live your life, and the way you approach things, is really inspiring".
Eight years on, the way Bez lives his life is very different. He has his own political party and is running as an MP in Hazel Blears' old seat of Salford and Eccles. When I first speak to him to arrange to spend some time on the campaign trail with him, he spends half an hour detailing his concerns about fracking, and the rise of UKIP. Bez is tackling Farage head-on, by having a candidate in South Thanet stand against him.
Today, we're meeting in the Hard Rock Café in Manchester's Printworks, so he can show me his permaculture garden, bees and chickens on the roof of the building. The manager asks if he can take a picture of us mid-interview, for their Twitter feed. Bez acquiesces because "they look after us in here". So they should, as Bez is Mancunian rock'n'roll royalty, despite not being able to play an instrument.
Many may still see him as the boggle-eyed dancer of the halcyon days, the iconic Pied Piper of the acid house generation, but there has always been more to Bez than meets the (boggle) eye. Anyone who has sat down with him for more than 10 minutes wouldn't be surprised by the breadth of his opinions and knowledge.
His current path started a decade ago, at Glastonbury, where Bez was one of the fixtures of the late Joe Strummer's campfire community, Strummerville.
"I met this guy at Glastonbury and he invited me to a meeting of the Welsh tribes about the revolution," he explains. "I've always had a small interest in politics so I thought I'd go along. There were groups of people there who had formed permaculture communities and at the time I pooh-poohed the whole idea of 'revolution through peaceful means'. It was a bit too much."
But after he split with his previous girlfriend, Monica Ward, and was sentenced to four weeks in prison in 2010, after he lost his appeal against his conviction for assaulting her, he found himself reconsidering. "I was looking for alternative ways of life and I remembered the guy, and I thought, 'Let's go and have another look at it' and I got into the idea of permaculture and producing your own power, making your own medicine and returning your body to an alkaline state."
It's quite some step from acid house to an alkaline state, but this was only the start of Bez's journey. "I was introduced to this whole new world. I couldn't believe that I'd got to the age of 50 and was feeling that my life was just beginning. Rather than sliding into old age, the opposite was happening to me. It was a godsend, because I had been sat there thinking about the future, and how I was going to live the rest of my life. The Mondays are not going to last for ever and I can't live that lifestyle for ever. I also didn't want to become dependent on the state to provide for me, and I didn't want to grow old and start suffering from Alzheimer's in the city, with nothing to do. So this new lifestyle provided the answers for me. The idea of living on the land and growing my own food and energy was really appealing. I wanted a lifestyle that wasn't money-based."
Over the past 18 months, he has had a further political epiphany. His road-to-Damascus moment came on the road to Barton Moss. He was invited to the fracking site in Salford by a friend, and couldn't believe it when he saw the police brutality towards protesters. "The Government thought they could get away with it in a deprived area, in what they call 'the desolate North'," he says, "but they didn't bank on the people of Salford and Manchester standing up to them." Dave Haslam, the ex-Haçienda DJ, also went down to lend his support, prompting a few people in Manchester to nickname the protest Frac 51 (the Haçienda was also known as Fac 51, as it was owned by Factory Records, who gave everything a Factory catalogue number).
He decided to run as an MP, predominantly to raise awareness of fracking – "I just felt compelled to do something because the situation was so dire". Since then, his political career has taken on a life of its own. Everyone seems intrigued about what has politicised the arch hedonist, and he's got a lot to tell them.
"It's not just fracking," Bez explains. "It's the selling of all our public services; you saw what they did with the Royal Mail, and the same is happening with the NHS. Our grandparents fought in two world wars so we could get the NHS, and we're losing it. I've had probation officers, solicitors and judges coming to me, asking for my help, to help raise the awareness of what this Government is doing by cutting the legal aid system."
Bez decided to call his party The Reality Party. "The same day we were launching our billboard campaign in Salford, we were struck off by the electoral commission," he explains. "The problem was there is another party called The Realist Party, and they claimed the British public are not intelligent enough to know the difference between the two. That's like saying people might mistake Liberal for Labour, you know what I mean? Anyway, there was a lot of the usual palaver you have with these government institutions, but in the end we managed to resolve it by just changing our name to We Are The Reality Party."
Through the fracking movement, he met Nigel Askew, a pub landlord from Ramsgate, who is now standing for Bez and the Party against Nigel Farage in South Thanet. "I went down campaigning in Ramsgate," he explains, "and it was the day after Farage had done a little tour of the pubs. He only did three pubs though, and I did 10. The next morning we stood in the middle of Ramsgate with a massive open letter to Farage and the reaction we got was amazing. I compare him to what happened before the Second World War with the blackshirts. It's the same agenda, blaming the immigrants who have no voice. Farage is giving some of the older generation a chance to be bigoted. The immigrants are not to blame, it's the bankers. They've got away with massive fraud, scot-free, and they are criminals. We need to take action against the bankers. They are the ones that caused the problems we face today."
He's frustrated about the lack of coverage of the fracking debate in the media. "We need to get the fracking debate into the tabloids. People like The Guardian have covered it and obviously fair play to The Independent that they've sent you to hear what I've got to say, but we need to get the message into the tabloids, as well. I've been interviewed by The Sun several times but they haven't printed it because they don't want to talk about fracking. I even gave them some jokey answers 'cause I knew that's what they wanted. They asked me what the first thing I would do if I got in to power was, and I said I would get a lie detector test and line up all the MPs and test them all. 'Are you a paedophile?' 'No? OK you > can stay.' You know what I mean?"
Bez takes me on to the roof of the Printworks building and proudly shows off his permaculture garden, beehives and chickens. Any food, honey or eggs are either given to charity or sold and the profits go to charity. It's a remarkable location, right in the centre of Manchester. In the late Nineties, I lived in a housing co-operative on top of the Arndale Centre, just over the road, and we obviously missed a trick. We could have had fresh eggs for breakfast every morning. A friend later tells me that he's tried Bez's honey and "it sorted my asthma right out!". It's another example of Bez's strange journey, from Es to bees.
In February, Bez enrolled his new girlfriend, Firouzeh, in the start of his PR electoral campaign, by emulating John Lennon and Yoko Ono with a week-long bed-in at the five-star Montcalm Hotel in the City of London. While John and Yoko's 1969 protest in Amsterdam was a bed-in for Peace, Bez and Firouzeh's 2015 protest was a 'Bed-in against Fracking'. I went down to observe the first night. "It's taking the hassle out of what to do for Valentine's Day," Bez joked. "We're not getting out of the bed for the entire week." Each night they broadcast a TV show live on the internet from their bed, with various guests debating issues that the Party are campaigning on. When I visited the pair I was surprised to find an army of volunteers working behind the scenes.
The following week, I join Bez in Salford as he starts on the campaign trail proper. We meet at Salford Precinct (it's actually called Salford Shopping Centre, but locals always refer to it as the Precinct). We're only two miles away from Manchester city centre, but it's a different world. A study earlier this year found that 70 per cent of people in Salford live in areas classed as 'highly deprived', with only 5 per cent living in the pockets of well-off areas. Nearly half the residents are classed as deprived. This is one of the areas hit hardest by the benefit sanctions of George Osborne and Iain Duncan Smith, under the guises of austerity. You don't have to look for deprivation, it's depressingly all too evident. The report concluded that while cholera and typhoid may be no more, unemployment and poverty are hitting Salford as hard as in the Victorian times. Westminster is a world away, a different planet, and the locals we talk to justifiably think that the Government doesn't have a clue what life is like for them. In Bez they see someone they can relate to, the local boy done good who remains outside the establishment. "Go on Bez!", "Nice one Bez!" passers-by shout.
He gives out flyers, saying 'I am. You Are. WE ARE THE REALITY PARTY' and every person he speaks to, he tries to make a connection with, and you can almost see him trying to pass on his passion for these issues by osmosis. Their eyes sometimes glaze over if he gets in to the minutiae of fracking, but generally the reaction he gets is one of heartwarming enthusiasm. "You're right mate, you're right."
The flyer has bullet points of the Party's manifesto, including being 'committed to SAVING THE NHS', 'united in the fight to STOP FRACKING' and 'actively working towards bringing an END TO AUSTERITY MEASURES, such as Bedroom Tax and Benefit Sanctions'.
"I'd never even heard the word 'sanctioned' until a couple of years ago," says one local, Devon Henry, "but so many people I know have been sanctioned now." Henry looks like a man with a few tales to tell, and he reminds Bez that they knew each other back in the halcyon days. Would he vote for him? "I'm not saying yet, I'm just listening to what he's got to say at the moment, but I'm interested."
Bez tells me about his plans to host 'Wake Up Salford' rallies in the lead-up to the election, which will be starting today at Salford Precinct, to raise awareness of what they see as the key issues. "I think Thatcher started the de-education of the working classes, and I think they've done an amazing job of it. I used to think I was thick at school, but you look at the standards in some of the schools now and it's diabolical. They've done a job on us like you would not believe. The general population now don't want to engage with the political system."
He's on a roll now.
"When corporate profit is being put before the welfare of the people, and nothing is allowed to get in the way of corporate profit, not even the elected Government, I find it very concerning. These people think they don't have to answer to anyone. We've got until May to try and let the people of England know the reality of what is going on".
Bez and We Are The Reality Party will be hosting their first 'Wake Up Salford' rally today, from 9.30am-5pm, opposite Salford Shopping Centre
Lost deposits
By Sophie McIntyre
'Losing your deposit' is embarrassing; particularly for a parliamentary candidate and even more so for one from a major party.
If a candidate wins less than 5 per cent of the votes cast in their constituency, the £500 deposit they coughed up when they were nominated to stand won't be returned. When they fail to make the electoral cut, as has happened to many a forlorn contender, then the princely sum will be 'forfeited to her Majesty', according to the Representation of the People Act, 1983. In other words, it will be put into the Treasury's pot.
Although the rules on election deposits have changed a little with the times (the figure has increased from £150 to £500), there has been a significant growth in the number of deposits lost at recent elections. This seems to be directly connected to an increase in the number of candidates fielded by small parties.
Bad news for the Monster Raving Loony Party, good news for the Chancellor.
Register for free to continue reading
Registration is a free and easy way to support our truly independent journalism
By registering, you will also enjoy limited access to Premium articles, exclusive newsletters, commenting, and virtual events with our leading journalists
Already have an account? sign in
Join our new commenting forum
Join thought-provoking conversations, follow other Independent readers and see their replies