General election 2015: NHS faces 'stealth privatisation' under Tories, Ed Miliband claims
Labour leader said that under Tories patients could only expect 'longer and longer' queues in a 'two-tier' system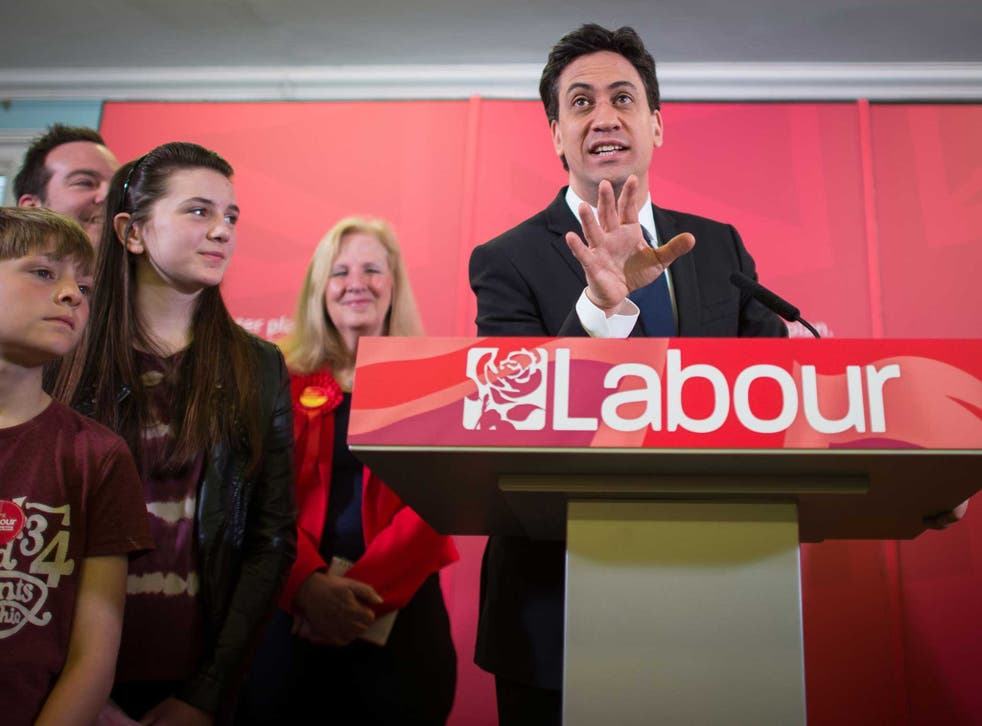 Labour leader Ed Miliband has warned of the "stealth privatisation" of a "two-tier" NHS under a Conservative government.
The Labour leader, campaigning in Stevenage earlier today, said that ordinary people faced being "pushed to the back of longer and longer queues" and called for a cap on the proportion of private work NHS trusts could carry out.
Mr Miliband's party says leading English hospitals saw their income from private patients rise by more than half since 2010 – a charge denied by Conservatives.
The Tories claim that private patient income was falling as a proportion of hospital budgets, and that under their governance private health provision within the National Health Service slowed after accelerating under Labour.
Backed by the Liberal Democrats - who claim that Labour were "totally beholden to the private sector" – the coalition parties have argued that private health provision only increased from two per cent over the last five years.
But Mr Miliband claimed: "A Tory second term means stealth privatisation of the National Health Service - NHS patients finding themselves pushed to the back of longer and longer queues, operations delayed and an NHS not there when people need it.
"Under the Tories, it would be a two-tier NHS where you have to pay to get seen."
---
Are you undecided about who to vote for on 7 May? Are you confused about what the parties stand for and what they are offering? Take this interactive quiz to help you decide who to vote for...
---
The average income from private patients per NHS foundation trust rose 58 per cent from £1.7m (2009/10) to £2.7m (2013/14), according to documents from NHS trusts and financial regulator Monitor.
Labour claim that over the same period, waiting times for A&E and cancelled operations increased.
Mr Miliband's two per cent cap on work for private patients as a proportion of total income would dramatically scale back the coalition's health reforms.
In pictures: Experts' predictions for the General Election - 19/04/15

Show all 10
The 2013 Health and Social Care Act, which came into effect in England, allowed trusts to earn up to 49 per cent of their total income from private services.
Despite his promises, the Labour leader has added a caveat that if the trust meet strict safeguards to ensure NHS patients are unaffected then hospitals can exceed the two per cent limit.
A Conservative spokesperson called Labour claims a "gimmick", adding that Labour were "fixating" on the issue of "privatisation".
They added that "official figures show that outsourcing accounts for just 6p in each NHS pound, and private patient income is actually falling as a proportion of hospital budgets."
---
The Independent has got together with May2015.com to produce a poll of polls that produces the most up-to-date data in as close to real time as is possible.
Click the buttons below to explore how the main parties' fortunes have changed:
All data, polls and graphics are courtesy of May2015.com. Click through for daily analysis, in-depth features and all the data you need. (All historical data used is provided by UK Polling Report)
Register for free to continue reading
Registration is a free and easy way to support our truly independent journalism
By registering, you will also enjoy limited access to Premium articles, exclusive newsletters, commenting, and virtual events with our leading journalists
Already have an account? sign in
Register for free to continue reading
Registration is a free and easy way to support our truly independent journalism
By registering, you will also enjoy limited access to Premium articles, exclusive newsletters, commenting, and virtual events with our leading journalists
Already have an account? sign in
Join our new commenting forum
Join thought-provoking conversations, follow other Independent readers and see their replies