General Election 2015: Nicola Sturgeon calls for inquiry into alleged civil service memo claiming she wants David Cameron to remain as PM
The account suggested the alleged discussion 'might well be a case of something being lost in translation'
Roisin O'Connor
Saturday 04 April 2015 17:14 Comments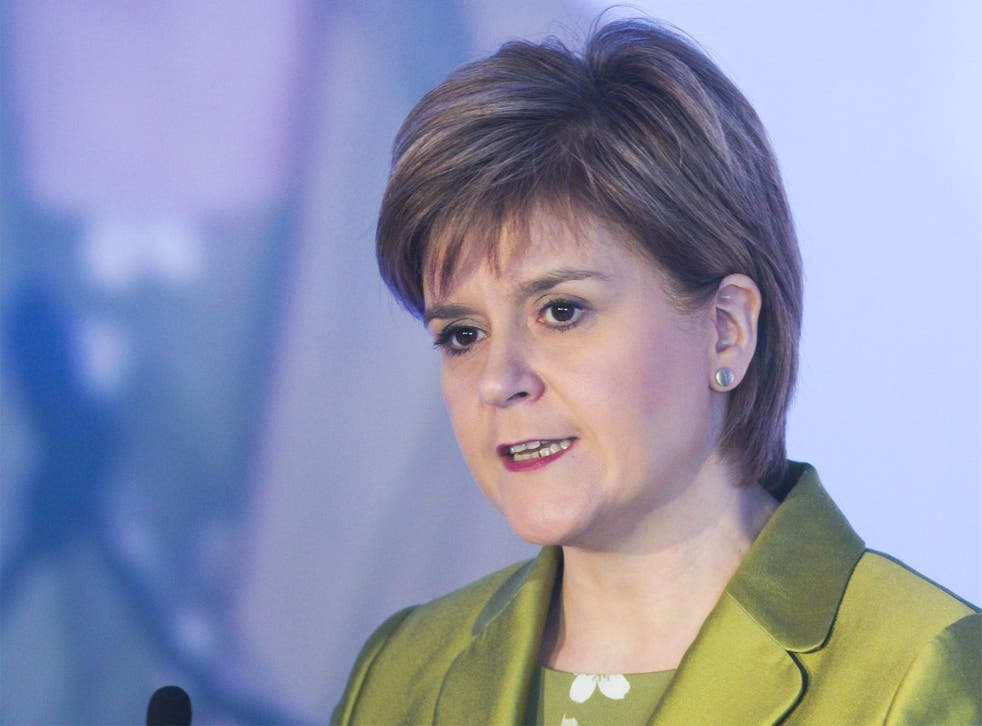 SNP leader Nicola Sturgeon has called for an inquiry after a British newspaper published a third hand account of a civil service memo alleging that she wanted David Cameron to stay on as prime minister.
The Telegraph published an account of what it says came from a leaked official British government memo, which includes details of a private meeting between the Scottish first minister and Sylvie Bermann, the French ambassador to the UK.
It claims that Ms Sturgeon said she did not believe Labour leader Ed Miliband was "PM material", which would contradict her vision of working informally with Labour as a progressive alliance to bring an end to austerity.
Both the SNP and Labour have ruled out a formal coalition in the event of a hung Parliament, and Ms Sturgeon has ruled out a deal of any sort with the Conservatives.
Ed Miliband said the claims were "damning" when the alleged details of the memo first emerged on 3 April.
Scottish Labour leader Jim Murphy tweeted that it was "déjà vu" of the SNP "not being straight".
"If Scotland votes SNP, Nicola Sturgeon will get her wish of another Tory govt.," he wrote.
However, Ms Sturgeon "categorically denied" the newspaper's account.
In an angry tweet to one of the writers of the original Telegraph article she said: "Your story is categorically, 100%, untrue… which I'd have told you if you asked me at any point today."
The BBC cited a source close to the first minister said there was "no mention of a discussion of Ms Sturgeon's preference to prime minister" and insisted The Telegraph story was "completely false".
The spokesman for Ms Bermann said she had met Ms Sturgeon in Edinburgh, but denied the claim that the SNP leader had expressed an opinion on who she would prefer as prime minister.
The Telegraph claimed that the allegation was contained in a leaked UK government memorandum, thought to come from the Foreign Office, which sets out an official account of the meeting from France's consul general in Edinburgh, Pierre-Alain Coffinier.
Yet Mr Coffinier told the Guardian that this was untrue after checking his notes on the meeting, which took place at Holyrood after first minister's questions on 26 February.
"I have looked at my notes and absolutely no preference has been expressed by anyone regarding the outcome of the election," he said. "Which suggests neither Nicola nor my ambassador said anything."
TV leaders' debate 2015

Show all 8
The part of the memo which claims to record a discussion between Ms Sturgeon and Ms Bermann reads: "Discussion appears to have focused mainly on the political situation, with the FM stating that she wouldn't want a formal coalition with Labour… and confessed that she'd rather see David Cameron remain as PM (and didn't see Ed Miliband as PM material)."
However an additional line says that it is unsure whether "the FM's tongue would be quit so loose on that kind of thing in a meeting like that, so it might well be a case of something being lost in translation".
Ms Sturgeon has now asked for cabinet secretary Jeremy Heywood to investigate how the memo was released.
"The bigger question and one I am raising with the head of the civil service is who wrote this memo since the foreign office seem to be denying all knowledge of it," she said.
She told the BBC: "It suggests a Whitehall system out of control - a place where political dirty tricks are manufactured and leaked."
The Independent has contacted the French Embassy for comment.
Register for free to continue reading
Registration is a free and easy way to support our truly independent journalism
By registering, you will also enjoy limited access to Premium articles, exclusive newsletters, commenting, and virtual events with our leading journalists
Already have an account? sign in
Join our new commenting forum
Join thought-provoking conversations, follow other Independent readers and see their replies