General Election 2015: Nigel Farage is already planning for life as an MP as he reveals he meets Tory MPs 'all the time' over post-election deal
Ukip leader has had 'informal' discussions about forming a post-election alliance with Tory MPs
Matt Dathan
Monday 30 March 2015 20:57 Comments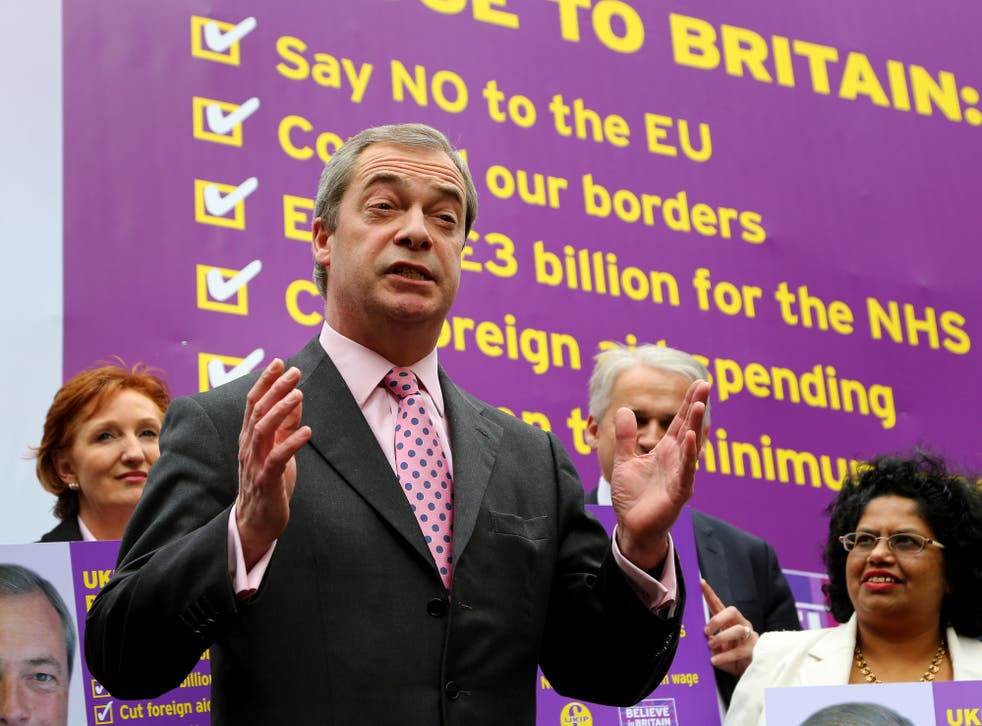 Nigel Farage appears to be already planning for life as an MP, revealing that he is in regular contact with Conservative MPs over the prospect of working closely together in Parliament after the election.
The Ukip leader was launching his party's five-point pledge card to kick start its election campaign this afternoon and although there is little prospect of the party entering into any coalition agreement in the event of a hung parliament, Mr Farage hopes his party can play an influential role outside of government.
Asked whether this meant he had spoken to Tory MPs about forming an alliance over certain issues in the next parliament, he said: "Informally, in politics, round the corner in the places that politicians frequent these sort of conversations happen all the time.
"We are committed using whatever influence we have in parliament to get a referendum. There are some in the Conservative party who are very keen for that to happen. Others rather more milky."
Mr Farage left open the possibility of Ukip holding the balance of power if no party wins an overall majority and said it was "almost impossible" for either Ed Miliband or David Cameron to win an outright majority.
"We all know these are the two biggest parties; equally we know neither are going to form a majority – we're in a different territory of politics… I think it's almost impossible for either of those parties to command a majority next time round so therefore, if people want to vote Ukip to hold the balance of power, if that's what they want, that is what they will do."
Mr Farage was speaking as he unveiled his party's latest poster in central London.
He was at the centre of a chaotic media scrum as photographers, broadcasters and journalists mobbed him before he managed to escape in his car.
He refused to set a target for how many MPs he wants Ukip to win in May but asked whether the party could manage double figures, he said: "Of course we can".
He insisted Ukip represented a "diverse group of people" and was "quite reflective of what modern Britain is".
Asked about how he felt about being positioned between Nick Clegg and Ed Miliband in Thursday's seven-way debate, Mr Farage joked:
"To be surrounded by such towering personalities, I'm sure once I've overcome my initial shyness I think I'll be okay."
Register for free to continue reading
Registration is a free and easy way to support our truly independent journalism
By registering, you will also enjoy limited access to Premium articles, exclusive newsletters, commenting, and virtual events with our leading journalists
Already have an account? sign in
Join our new commenting forum
Join thought-provoking conversations, follow other Independent readers and see their replies