General Election 2015: Nigel Farage to be quizzed by BBC audience after other leaders
The Ukip leader will participate in a Question Time-style election special to be broadcast only in England
Zachary Davies Boren
Saturday 18 April 2015 13:20 Comments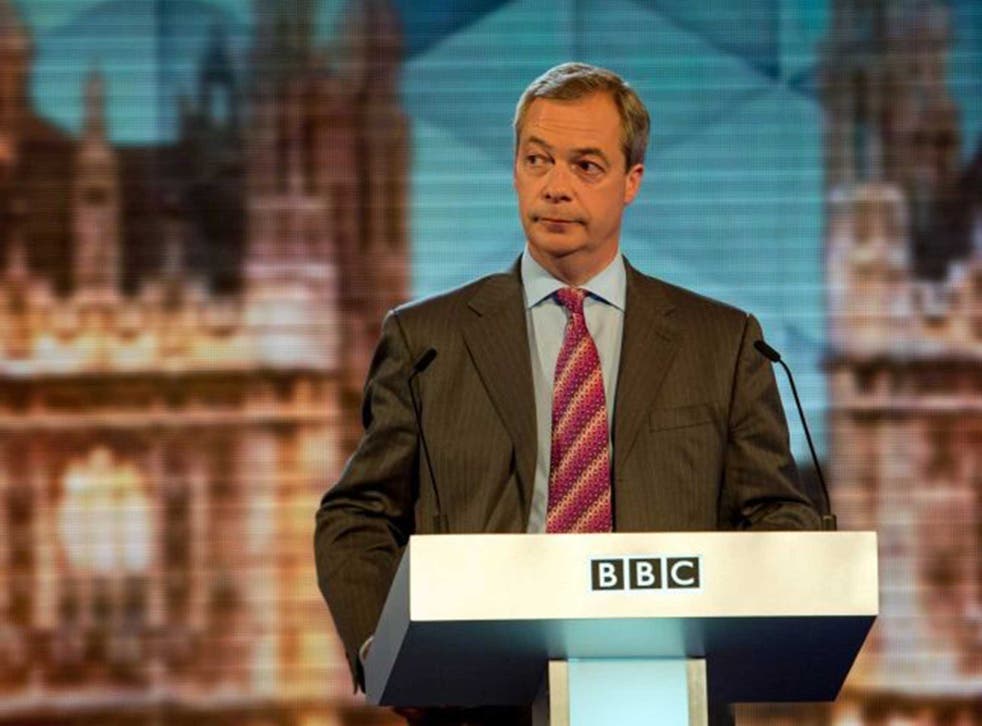 Nigel Farage will face questions from a BBC audience as part of the organisation's regional election coverage.
The 30-minute Question Time-style interview will be broadcast exclusively in England on 30 April, the same evening as will air a Scottish version featuring SNP leader Nicola Sturgeon and a Welsh version with Plaid Cymru's Leanne Wood.
Election 2015: Ask Nigel Farage will air on BBC One shortly after David Cameron, Ed Miliband and Nick Clegg participate in their own half-hour interviews.
A Ukip spokesman said: "Nigel Farage is delighted to accept the BBC's invitation to once again engage with the public."
TV leaders' debate 2015

Show all 8
Jo Coburn will chair the Farage discussion, which will be held in Birmingham. The programme will be broadcast after the News at 10, at the same time as Wood's interview in Cardiff. Nicola Sturgeon will face her round of questions an hour earlier.
The evening's main event - wherein the Prime Minister, Deputy Prime Minister and leader of the Opposition are quizzed by an audience in Leeds - will air at 8pm on BBC One, and will be moderated by David Dimbleby.
The programme, airing exactly one week before election-day, represents the final televised showdown of the campaign.
Farage has insisted he did not "lose my rag" when he criticised the audience of this week's BBC election debate over alleged left-wing bias.
The Ukip leader suggested he won't be raising a formal complaint over the debate's audience, saying he was too busy fighting the election.
He had been roundly booed after commenting during the debate that it was a "remarkable audience even by the left-wing standards of the BBC".
Register for free to continue reading
Registration is a free and easy way to support our truly independent journalism
By registering, you will also enjoy limited access to Premium articles, exclusive newsletters, commenting, and virtual events with our leading journalists
Already have an account? sign in
Join our new commenting forum
Join thought-provoking conversations, follow other Independent readers and see their replies