General Election 2015: Post-election 'shambles' looms as 70 per cent of voters say SNP 'should not be able to veto UK government policies'
Exclusive: Ed Miliband warns against 'government for the few', as Nick Clegg predicts second election 'before Christmas'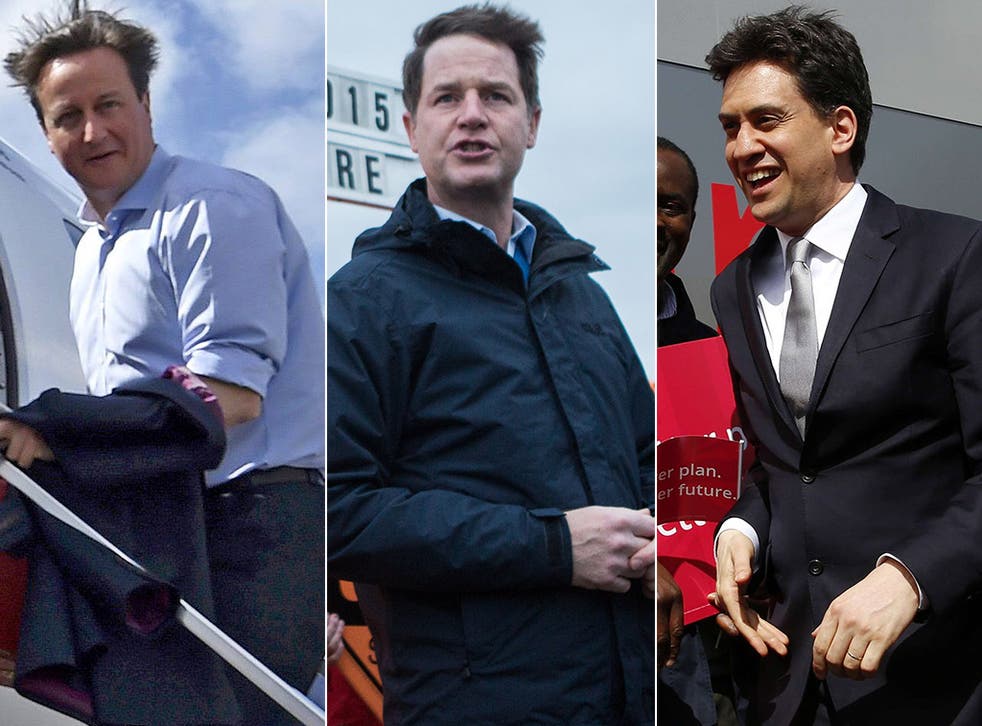 Fears that the next government will be hamstrung by claims that it lacks democratic legitimacy have been intensified by new research for The Independent suggesting that seven out of 10 people believe the Scottish National Party (SNP) should not be able to veto any UK government policies if they do not affect Scotland.
There is strong opposition in England and Wales to the SNP enjoying huge influence in a hung parliament, the survey of more than 2,000 people by ORB suggests.
It follows repeated claims by the Conservatives that Nicola Sturgeon's party would call the shots in a minority Labour government.
With opinion polls suggesting a deadlock between the Tories and Labour, the Liberal Democrat leader, Nick Clegg, has predicted a second election before Christmas if either of the two main parties attempt to "stagger through with a messy and unstable minority government". Ed Miliband is adamant he would do "no deals" with the SNP if Labour fails to win a majority in the election – but could still rely on its informal support to keep a Labour government in power. However, according to The Independent's poll, most Britons would not accept the SNP wielding influence over English policy.
Only 29 per cent agree that the SNP should enjoy a veto over government policies even if they do not affect Scotland, while 71 per cent disagree. A majority of people in every part of Great Britain except Scotland oppose a veto.
But in Scotland people back the idea of the SNP enjoying such influence by 63 per cent to 37 per cent.
On the last day of campaigning, the Labour leader will pledge that any government he leads would abolish "non-dom" status, under which some residents in Britain with links to another country do not pay taxes on their overseas income.
He will say: "Anyone permanently resident in the UK will pay tax in the same way. And only Labour will do this. We have come to expect David Cameron and Nigel Farage defending the richest and most powerful. But it is extraordinary that Nick Clegg is defending the non-dom rule too. This is the choice at the election: a Labour government that will put working people first or a government that will stand up only for a privileged few."
Mr Clegg warned that a Tory minority government would collapse if it failed to offer "sweeteners" to the SNP, Ukip or Northern Ireland's Democratic Unionist Party, while a minority Labour administration could not pass a Queen's Speech without giving Scotland full fiscal autonomy to buy off the SNP.
The Deputy Prime Minister said: "Everybody knows that no one will win this election – even if David Cameron and Ed Miliband won't admit it publicly.
"The Lib Dems have shown that coalitions can be strong and stable. But instead of creating stability, Labour and the Conservatives will create a shambles. If they try to stagger through with a messy and unstable minority government instead of putting the country first then they will risk all the hard work and sacrifices people have made over the last five years.
"The last thing Britain needs is a second election before Christmas. But that is exactly what will happen if Ed Miliband and David Cameron put their own political interest ahead of the national interest. The only party that will ensure stability is the Lib Dems."
The Tories hope the spectre of a Labour government propped up by the SNP will provide the last-minute surge they have been seeking as people head to the polling booths.
In pictures: Experts' predictions for the General Election - 03/05/15

Show all 10
Mr Cameron said that Mr Miliband would have a "massive credibility problem" if he tries to become prime minister without Labour winning the most seats. But Labour insiders believe that would be legitimate because what matters is securing a Commons majority – and the Tories could fail to muster one even if they win more seats than Labour.
As he completes 36 hours of non-stop campaigning, Mr Cameron will warn people that a vote for Ukip or the Lib Dems would open the door to an SNP-backed Miliband government that would "cost you money" as it would mean "heavy borrowing and higher taxes for more welfare".
Gordon Brown, the former Prime Minister, acknowledged for the first time that the SNP could sweep the board by winning all of Scotland's 59 seats – 41 of which are being defended by Labour. At a rally in Glasgow, he warned that such an unprecedented block of nationalist MPs would result in the Conservatives remaining in power.
Mr Brown, who is standing down after 32 years at Westminster, cited an SNP campaign leaflet which they would "demand more money for the NHS." He insisted: "Voting Labour will mean we will deliver more money for the NHS in Scotland."
With a third of Scottish voters undecided, Mr Brown said Labour could still avoid a wipe-out. He said social justice was in Labour's DNA, but "the SNP can never bring themselves to accept that sharing [inside the UK] is the means to secure social justice, because nationalism is the imperative they serve." He added: "Nationalism for the SNP dictates their every decision… and that is why there can be no deal, no tie-in, no arrangement, no compromise."
Appearing with Mr Brown, Jim Murphy, Labour's leader in Scotland, appeared to drop his guard and depart from the party's "no deals" line. He told journalists: "This thing about co-operation with the SNP – we'll deal with that after the election." When pressed, Mr Murphy rowed back, saying he wanted to clarify the position. "There will be no deal, no formal coalition with the SNP," he added.
What happens next? The final choices
Q | When will we have a clear picture?
A | If there is a tight-run race, it might take until the final results are declared on Friday afternoon to know whether David Cameron or Ed Miliband has the upper hand in forming the next government.
Q | What if Cameron has most seats?
A | He will have the first shot at attempting to stitch together a governing coalition – or could opt for a confidence and supply deal (where a partner would promise to support the Tories in Budget and confidence votes). His chances depend entirely on the numbers: if the Tories receive 290-300 seats they can probably get past the finishing line with Lib Dem and Democratic Unionist Party backing. Below that number he will face an uphill struggle.
Q | What if the Tories are narrowly behind Labour?
A | Because he is the incumbent Prime Minister, Cameron could try to build enough support for another term in office. But the arithmetic would be against him. And his party's second place would raise questions about the legitimacy of the move.
Q | What if he cannot assemble enough support?
A | If the Tories are clearly ahead of Labour, Cameron could still declare victory and challenge Ed Miliband and the SNP to join forces to vote him out of office over a Queen's Speech programme.
Q | Can he do that?
A | A constitutional grey area. Labour argues that if Cameron cannot command the confidence of the Commons, then Miliband should be given the opportunity to form a government and not have to wait until a minority Tory administration is defeated on a Queen's Speech.
Q | What if Miliband has the most seats?
A | If Labour is clearly ahead, Cameron would be expected to vacate Downing Street, leaving Mr Miliband with the task of assembling a viable administration. Like Cameron, he could try to turn to the Lib Dems if his party picks up around 290 seats.
However, Labour is unlikely to win that many, leaving its leader with the headache of the SNP holding his fate in its hands. Miliband has promised there will be no deals (including a confidence and supply arrangement) with Nicola Sturgeon.
Q | Could Miliband then try to go it alone?
A | Yes, if there was no prospect of a stable Tory-led administration. Miliband could submit a Queen's Speech and challenge the SNP to defeat it and potentially open the door to the Conservatives – or a second general election.
Nigel Morris
Register for free to continue reading
Registration is a free and easy way to support our truly independent journalism
By registering, you will also enjoy limited access to Premium articles, exclusive newsletters, commenting, and virtual events with our leading journalists
Already have an account? sign in
Register for free to continue reading
Registration is a free and easy way to support our truly independent journalism
By registering, you will also enjoy limited access to Premium articles, exclusive newsletters, commenting, and virtual events with our leading journalists
Already have an account? sign in
Join our new commenting forum
Join thought-provoking conversations, follow other Independent readers and see their replies