Scotland election results: SNP celebrates 'electoral tsunami' as Labour obliterated
But Nicola Sturgeon tweets: 'I'd treat the exit poll with HUGE caution. I'm hoping for a good night but I think 58 seats is unlikely!'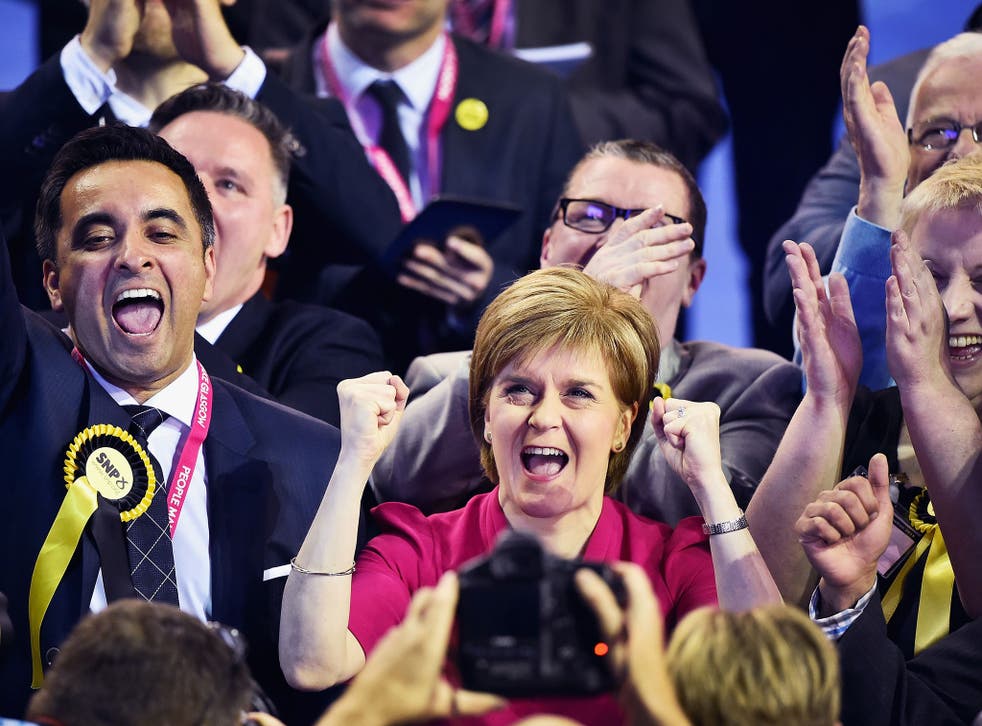 The SNP is celebrating the most important moment in its history after an "electoral tsunami" swept Scotland, wiping out the Labour Party's previously dominant presence north of the border at a single stroke.
Nicola Sturgeon's party won 56 of Scotland's 59 Westminster seats, exceeding most expectations as its candidates recorded huge victories over their Labour rivals throughout the night.
Alex Salmond, the party's former leader who failed to win independence for Scotland at last year's referendum, said the country would now have a "resounding" and "united" voice at the House of Commons. "There's going to be a lion roaring tonight, a Scottish lion," he added.
Among the more remarkable results on a historic night for the SNP was its defeat of Jim Murphy, the Scottish Labour leader, who lost his East Renfrewshire seat to Kirsten Oswald after serving the constituency for 18 years.
In Gordon Brown's former seat of Kirkcaldy, Labour's safest in Scotland, the nationalist party easily overturned a majority of more than 23,000 by recording a 34.5 per cent swing. It also claimed East Dunbartonshire, removing Liberal Democrat Business Minister Jo Swinson in a closely fought battle.
Ms Sturgeon, who took over from Mr Salmond as SNP leader after the referendum, said Labour had been "losing touch with the people of Scotland" for "many, many years" and were reaping what they had sowed.
"They haven't listened, and what they're suffering tonight…is down to them, and to the fact they have failed to listen and to heed the messages the people of Scotland have been giving them over a long period," she said.
The major political figures who lost out in the General Election

Show all 16
The First Minister said she still hoped to form an alliance with Labour to keep David Cameron out of Downing Street. But she added that if this was not possible, SNP MPs at Westminster would instead attempt to "protect Scotland against a Tory government".
Her predecessor Mr Salmond, who was predicted to win in the constituency of Gordon, went further by saying that Mr Cameron would be left "with no legitimacy whatsoever up in Scotland" if he led the next government. Voters had unleashed an "electoral tsunami" that would reverberate across the UK, he added.
"There's going to be a lion roaring tonight, a Scottish lion, and it's going to roar with a voice that no government of whatever political complexion is going to be able to ignore," he said.
Another remarkable result came in Paisley and Renfrewshire South, where the SNP's Mhairi Black overturned a 16,614 Labour majority to defeat Labour's general election coordinator Douglas Alexander. The 20-year-old politics student is the youngest MP to enter the House of Commons in around 350 years.
"The fact is that people have woken up to the fact that Westminster has not been serving them and the Labour Party has not been serving them," she said in her acceptance speech.
Labour's shadow Scottish Secretary Margaret Curran also lost her Glasgow East to the nationalist party. The SNP appeared to be on track to pick up all seven constituencies in the city, which voted Yes in the independence referendum.
At the beginning of the night Labour was hopeful of holding two of Edinburgh's five seats, but as the votes were counted, the mood in their camp became gloomier and the SNP became increasingly confident that it would sweep the board in the capital.
The SNP's Alan Brown also defeated Labour's Cathy Jamieson in Kilmarnock and Loudoun, which was the first Scottish seat to declare. Other Labour seats which fell to the nationalist party included Falkirk, Glasgow North East, Dundee West, Dunbartonshire West, Ochil and South Perthshire and Glenrothes.
As the night wore on and seats continued to fall to the SNP, pollsters suggested it could win more than half the votes in Scotland – a feat not achieved by any party since the Conservatives in 1955.
Analysing the results, a senior SNP source told The Independent that Labour was "no longer reflective of working class areas" in Scotland and that a "sea change" appeared to be taking place in the country. "The animosity we used to get from people on the streets is now being visited on them," they added.
Register for free to continue reading
Registration is a free and easy way to support our truly independent journalism
By registering, you will also enjoy limited access to Premium articles, exclusive newsletters, commenting, and virtual events with our leading journalists
Already have an account? sign in
Register for free to continue reading
Registration is a free and easy way to support our truly independent journalism
By registering, you will also enjoy limited access to Premium articles, exclusive newsletters, commenting, and virtual events with our leading journalists
Already have an account? sign in
Join our new commenting forum
Join thought-provoking conversations, follow other Independent readers and see their replies