General election 2015: Nigel Farage claims voting Ukip is a 'state of mind'
Ukip leader vows to 'shake up the Establishment'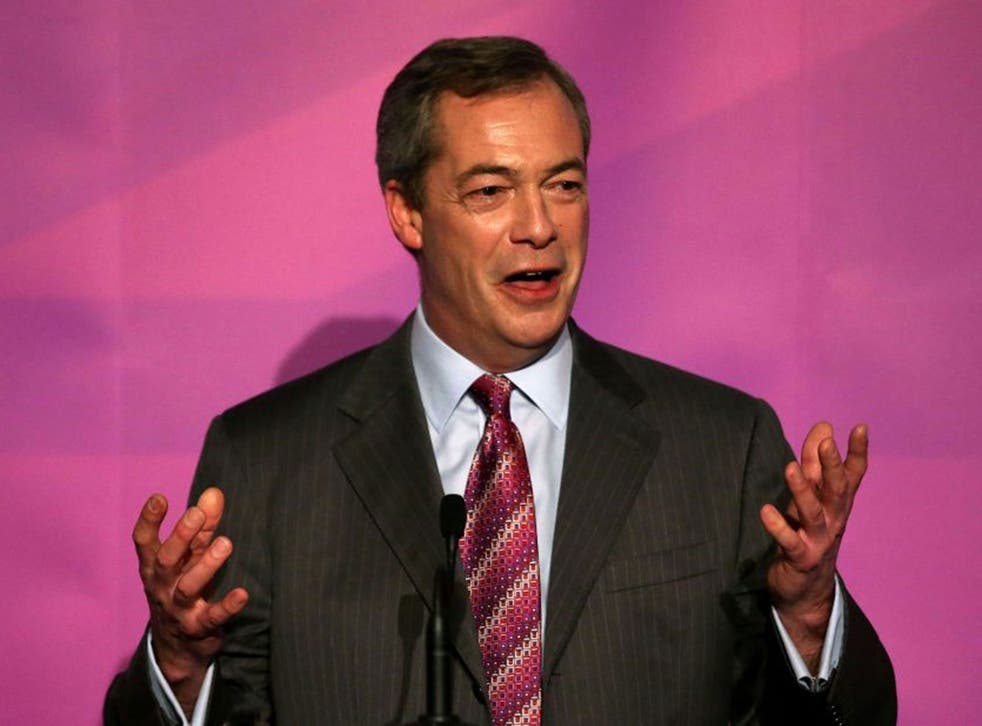 After months of attacking Conservative and Labour party policies but revealing little about the specifics of his own, Nigel Farage has trumpeted Ukip as a "state of mind" that would shake up the Establishment as he gave his first significant speech of 2015.
Clutching a tub of popcorn bearing the party's logo as he appeared at the Movie Star Cinema in Canvey Island, Essex, he vowed Ukip will be the "people's army" in the upcoming general election.
"Voting Ukip is a state of mind," he claimed. "It is not a protest [vote] - it is a positive affirmation that we need different people in politics and different policies for this country."
Farage last night insisted his party's supporters were more interested Ukip's overall ethos than on specific detailed policies.
Farage, who is running to be an MP in South Thanet, has said his party's policies would include taking those on the minimum wage out of tax, scrapping tuition fees for science and engineering students and stopping HS2, but failed to go into detail about these today.
His speech came weeks after Ukip's policy chief Tim Aker stepped down, reportedly after he failed to complete a final draft of his party's manifesto. The task of producing the document has since been handed over to deputy chairman Suzanne Evans.
Ukip's confusing policies

Show all 7
The outspoken leader continued his mission to distinguish his party from the others by presenting it as the only one to represent "neglected, hard-up voters", saying Ukip has "crossed the class barrier in British politics".
Declaring himself as the leader of the only "national political party" to represent "all corners of the United Kingdom", he dismissed Labour as the regional party of the north of England and the Conservatives of the south.
Mr Farage said his party was digging in to "the ethnic community vote", adding that there would be "lots of Ukip candidates" from minorities in the general election campaign.
He told the crowd: "We have crossed the class barrier in British politics. That is a remarkable achievement for Ukip and we pick up support from across every social spectrum.
"We are re-engaging people who have not voted for anyone for 20 years," he added.
He also pledged to "redefine capitalism in a way that it will work for everyone".
He dismissed the election campaign as "endlessly negative and incredibly boring" so far, accusing leaders of making predictable promises.
Farage promised a full costed manifesto in a comment piece for The Telegraph ahead of his speech, "which includes taking those on the minimum wage out of tax, reducing energy bills, and by ending our costly membership of the EU".
He also vowed to match Ed Miliband's £2.5bn funding pledge to "save and transform" the NHS by 2020 with his own £3bn healthcare promise, which he says will be used to prioritise "innovation and research – not middle managers".
Register for free to continue reading
Registration is a free and easy way to support our truly independent journalism
By registering, you will also enjoy limited access to Premium articles, exclusive newsletters, commenting, and virtual events with our leading journalists
Already have an account? sign in
Register for free to continue reading
Registration is a free and easy way to support our truly independent journalism
By registering, you will also enjoy limited access to Premium articles, exclusive newsletters, commenting, and virtual events with our leading journalists
Already have an account? sign in
Join our new commenting forum
Join thought-provoking conversations, follow other Independent readers and see their replies