Prospects of Labour-SNP partnership flagged as SNP pledge to oppose the 'madness' of austerity
Scotland's Deputy First Minister John Swinney offered a series of campaign initiatives that would have been welcomed at any Labour conference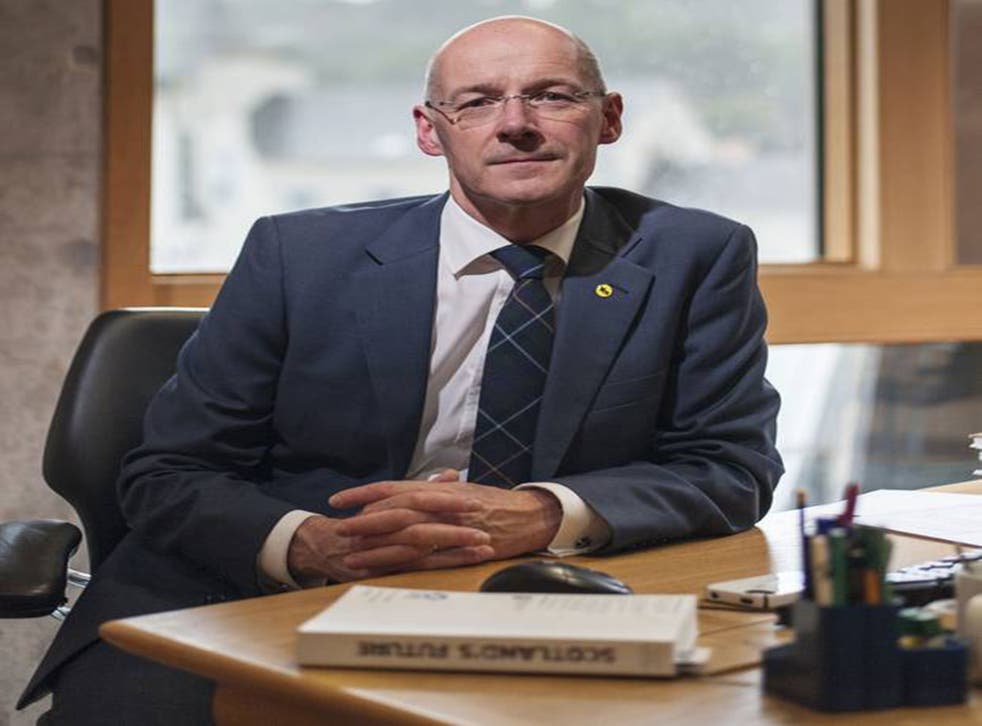 The prospects of a future Labour-SNP partnership were flagged up by Scotland's Deputy First Minister who said yesterday that his party would match a rise in the top rate of income to 50p, oppose the "madness" of austerity, and end the "moral obscenity" of poverty.
John Swinney, also Holyrood's finance secretary, repeated the tactics of Nicola Sturgeon's conference address on Saturday, when he both attacked Labour for supporting George Osborne's recent budget, and then offered a series of campaign initiatives that would have been welcomed at any Labour conference.
Mr Swinney said SNP MPs would vote in favour of a return of the 50p rate for those earning above £150,000. Labour's shadow chancellor, Ed Balls, has already trailed a re-introduction of the same higher rate.
The SNP, predicted to win over 41 of Scotland's 59 seats in a new poll from the British Election Study, have used their pre-election conference in Glasgow to narrow the progressive divide between themselves and Labour in Scotland.
Mr Swinney told the 3,000 delegates at the Scottish Exhibition and Conference Centre : "As Westminster plans £30 billion pounds in more cuts, we will fight tooth and nail to protect the vulnerable, support Scotland's economy and invest in public services."
He also attacked the Tory-LibDem coalition saying "even by Westminster's own yardstick, austerity has failed". He singled out the Treasury Secretary, who is predicted to lose his seat on May 7, saying "Danny Alexander signed off on every pound cut, every budget slashed and every penny squeezed from the poor."
The balancing act of seeming to praise and attack Labour in the same breath has proved difficult for the SNP to pull off.
Labour's Scottish leader, Jim Murphy, was accused by Swinney of supporting £30bn in future cuts. The SNP's deputy leader, Stewart Hosie, yesterday said that as a pre-condition for a future SNP-Labour alliance, any Queen's Speech proposed by Ed Miliband would need to be cleared in advance with the nationalists.
Hosie's demand indicates that the SNP see a potential deal with a Miliband administration as involving more than just a lose supply-and-confidence arrangement.
Nicola Sturgeon has previously said that there were no circumstances under which the SNP would support the Conservatives at Westminster.
Hosie appeared to contradict his party boss, saying that if Labour discussions with a critically high number of SNP MPs was refused by the Labour leader, then there could be no informal deal.
Such a move would give the green light for a minority Tory government.
Join our new commenting forum
Join thought-provoking conversations, follow other Independent readers and see their replies