SNP Conference 2015: Leader Nicola Sturgeon says a vote for her party would 'stop a Tory government getting off the ground'
Scotland's First Minister also claimed 'no constituency is off limits in this election'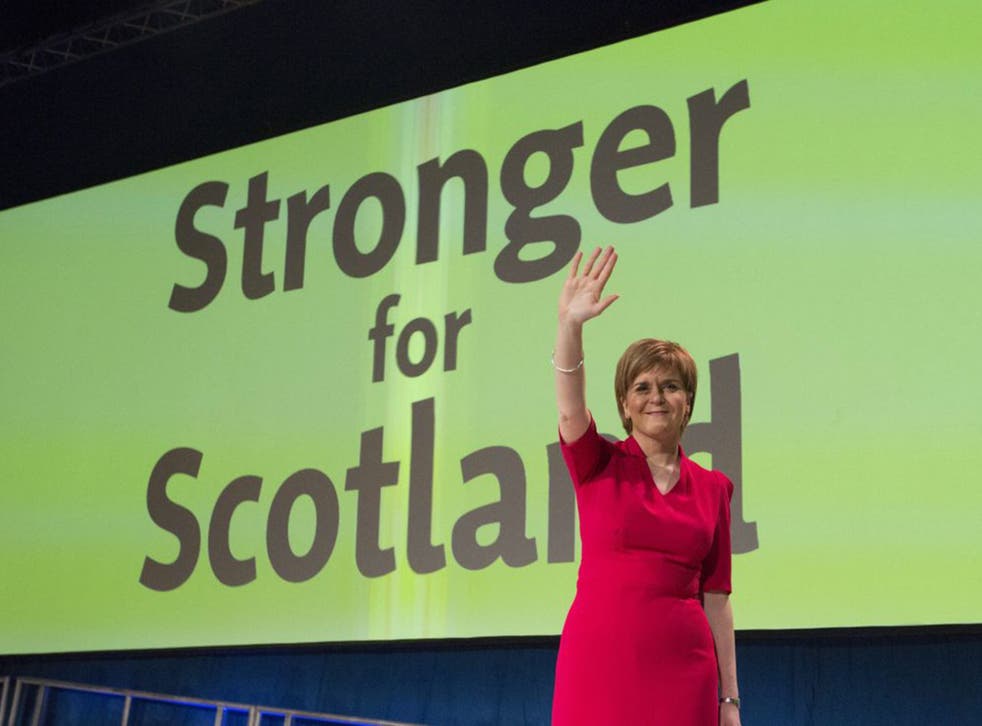 Nicola Sturgeon offered Scottish voters an enhanced insurance policy against David Cameron winning a second term, telling her party's conference in Glasgow yesterday a vote for the SNP would "stop a Tory government getting off the ground".
She attacked a future Labour government as a "carbon copy of the Tories", but also offered the prospect of providing the "backbone and guts" of a Miliband administration if he accepted the nationalists' support.
Building on comments by the SNP's deputy leader, Stewart Hosie, who said it would be "high handed and arrogant" if Mr Miliband tried to form a minority government after 7 May without opening talks with the SNP, Sturgeon called on Labour to "join forces with us" to "lock David Cameron out of Downing Street."
With polls still predicting a near wipe-out of Labour MPs north of the border, a large part of Sturgeon's speech attempted to widen the SNP's franchise to take in Scotland's disaffected socialists.
She said cuts that threatened public services and stifled economic growth "will not be in our name" and told the 3,000 audience of SNP members in the Scottish Exhibition and Conference Centre that it was "time to abolish the House of Lords", extend the living wage, and "halt the tide of NHS privatisation".
She promised the SNP would use its voice "north and south of the border" to keep the NHS "firmly in public hands". And in the praise-and-attack strategy that characterised much of her speech, she challenged Labour to "join us in opposing austerity", adding : "And if they won't, I serve notice now that we will use our influence in the Commons to force them to abandon the needless pain of Tory cuts."
Attempting to tap into disaffection with the three main parties in Westminster, she offered those outside the conference hall "a message of friendship and solidarity" and said that as long as Scotland remained part of the Westminster system "we will be your allies in seeking to shake up and reform that outdated and discredited system once and for all."
After last September's defeat in the independence referendum, the SNP can barely have dreamt that seven months on they would be gathering in Glasgow with a membership of over 100,000 and forecast to potentially hold the balance of power.
Having campaigned to leave the UK, the SNP are now campaigning to reform Westminster. However Sturgeon reminded the conference of her party's central aim, saying: "We do still want Scotland to be independent."
Directly addressing concerns south of the border that a large block of SNP MPs in the Commons could hold the UK to ransom, she said those holding "progressive opinions" in England, Wales and Northern Ireland need not be worried. "As long as Scotland remains part of the Westminster, we will be your allies in seeking to shake up and reform that outdated and discredited system once and for all," she said.
Managing her party's high expectations, when the general election result is now being seen a seminal moment in the SNP's history, is part of Sturgeon's brief. She warned her party to "take nothing for granted". Re-working the "vow" of enhanced devolved powers, promised when the referendum vote looked like being won by the Yes campaign, she said "The more seats we win, the louder Scotland's voice is going to be."
In the loudest applause from the audience, Sturgeon however hinted at the result she expects: "No constituency is off limits for the SNP in this election."
Last night Scottish Labour leader, Jim Murphy, responding to the SNP leader's speech, said "No-one will be fooled by Nicola Sturgeon's claims to be the UK's best friend when the SNP's entire purpose is trying to break up Britain. Despite all the cheering and backslapping, only Labour or the Tories can form the next UK government."
Join our new commenting forum
Join thought-provoking conversations, follow other Independent readers and see their replies