David Cameron immigration pledge 'failed spectacularly' as figures show net migration almost three times as high as Tories promised
Office for National Statistics announces a net flow of 298,000 migrants to the UK in the 12 months to last September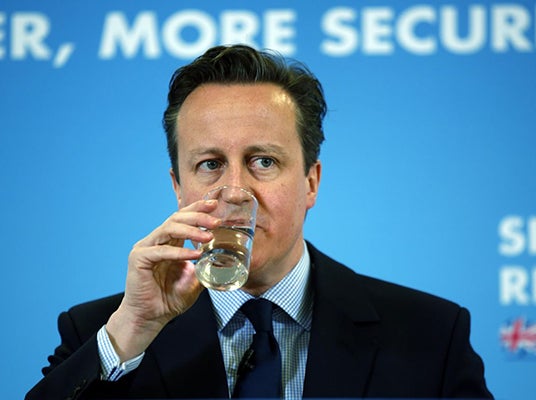 David Cameron will go into the May election with net migration to the UK three times as high as he promised at the 2010 election, official figures revealed today.
The Conservatives have failed spectacularly to deliver their pledge to reduce net migration to less than 100,000 a year.
The Office for National Statistics (ONS) announced a net flow of 298,000 migrants to the UK in the 12 months to last September – up from 210,000 in the previous year, and equal to the population of a city like Nottingham.
The final set of such statistics before the May election showed significant increases in migration among both non-EU citizens – up 49,000 to 292,000 – and EU citizens, which rose by 43,000 to 251,000. There was another "statistically significant increase" in Romanians and Bulgarians arriving in the UK – up to 37,000 from 24,000 in the previous year. Of these, 27,000 came to work, a rise of 10,000 on the previous year.
Although the Tories' pledge is now in tatters, the party is thought likely to repeat the target in its election manifesto in an attempt to head off the challenge from Ukip.
He told LBC radio: "I said to David Cameron he shouldn't make the commitment because it was inevitable he was going to break it because you can't control the net figure… We said we were not going to do it as a coalition government. It is very embarrassing for the Conservatives. They made a huge amount of fanfare about it and they were warned by me and others 'Don't do this, it doesn't make any sense'."
Election Analysis: The Key Voters
Show all 6
Mr Cameron came under pressure to drop the target. Ryan Shorthouse, director of the Bright Blue think tank of Tory modernisers, described the target as "arbitrary, unreliable and indiscriminate."
He added: "As it keeps being missed, it is failing to reduce public concerns about immigration. While it is not necessary to do without some form of control on overall migration levels, the target needs to be revised so, in particular, we don't see a reduction in migrants that enrich Britain both economically and culturally.
"The Conservative Party needs to move the debate on beyond the net migration figure, instead establishing a record of competence on immigration and showing the public they are building a contributory-based immigration system."
Sunder Katwala, Director of the pro-immigration British Future think tank, warned: "If the Prime Minister remains in denial about the broken target, he is setting himself up for five more years of failure. It is already clear there is next to no chance of meeting the same target in the next Parliament either.
"It's absurd to think that anyone would believe this broken promise if it's made again. There is a simple political moral to this tale: careless promises cost trust. Repeating the same mistake in the 2015 manifesto would suggest that nothing has been learnt from five years experience in government."
Immigration Minister James Brokenshire admitted that today's figures were "disappointing".
He said: "Uncontrolled, mass immigration makes it difficult to maintain social cohesion, puts pressure on public services and can force down wages. That's why this Government is working to reduce net migration... We have been blown off course by net migration from within the EU, which has more than doubled since 2010.
"That's why we need to continue to crack down on the abuse of EU free movement and continue our reforms to make our welfare system fairer and less open to abuse."
Join our commenting forum
Join thought-provoking conversations, follow other Independent readers and see their replies