Ukip, Lib Dems, Greens, SNP and Plaid Cymru sign 478,000-strong petition for voting reform
Electoral reformers have condemned this month's result as the most disproportionate in British parliamentary history
Nigel Morris Comments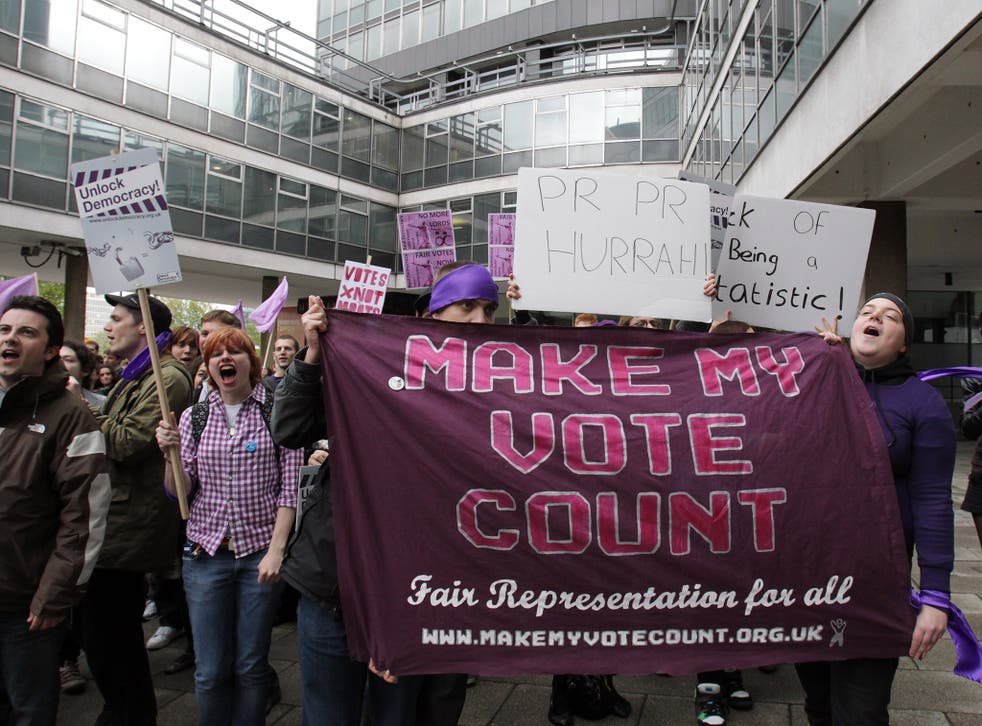 Five party leaders have signed a 478,000-strong petition calling for a fairer voting system after the general election resulted in huge disparities between votes cast and MPs elected.
Ukip, the Lib Dems, the Greens, SNP and Plaid Cymru buried their political differences to present the demand to Downing Street.
Electoral reformers have condemned this month's result as the most disproportionate in British parliamentary history. Ukip won just one seat despite collecting 12.9 per cent of the vote, while the Greens also won one seat despite receiving 3.8 per cent support. The Liberal Democrats won 1.2 per cent of seats on 8.1 per cent of the vote.
Signatories included Ukip's leader, Nigel Farage, its sole MP Douglas Carswell, the Greens' leader Natalie Bennett, the Lib Dems' acting leader Baroness Brinton, Plaid's leader Leanne Wood and the new SNP MPs Philippa Whitford and Alison Thewliss.
The major political figures who lost out in the General Election

Show all 16
Katie Ghose, the chief executive of the Electoral Reform Society, said: "Our two-party electoral system cannot cope with the fact that people want to vote for a variety of parties. It's time we had a fairer voting system that accurately translated votes into seats in Parliament."
The new push for electoral reform comes after Jeremy Hunt, the Health Secretary, acknowledged that the distribution of seats following the election was not fair, but added: "No voting system anywhere is totally fair."
Mr Farage said: "It cannot go on like this. It is important to be here, with the Electoral Reform Society supporting its campaign to make votes match seats."
Ms Bennett said: "We haven't seen significant reform at Westminster since women got the vote and that was 1918. We shouldn't get to the centenary of that without getting a fair voting system."
Register for free to continue reading
Registration is a free and easy way to support our truly independent journalism
By registering, you will also enjoy limited access to Premium articles, exclusive newsletters, commenting, and virtual events with our leading journalists
Already have an account? sign in
Register for free to continue reading
Registration is a free and easy way to support our truly independent journalism
By registering, you will also enjoy limited access to Premium articles, exclusive newsletters, commenting, and virtual events with our leading journalists
Already have an account? sign in
Join our new commenting forum
Join thought-provoking conversations, follow other Independent readers and see their replies