Ukip U-turn on 50,000-a-year immigration cap
Mr Farage announced the party would not set an "arbitrary target"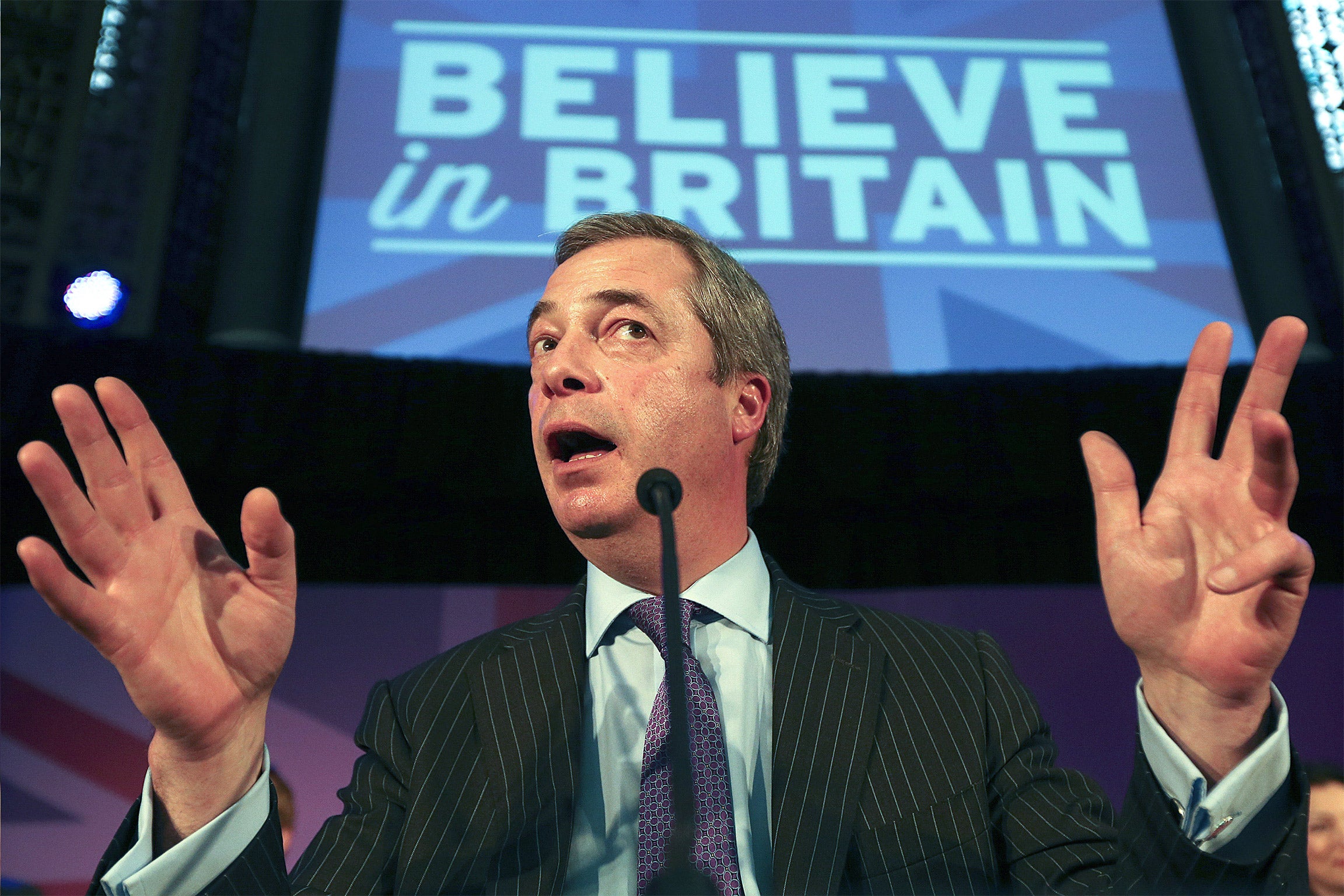 Ukip's policy on immigration was in disarray after the party dropped its plan for a 50,000 cap on annual net migration to Britain today.
Only a few days after the anti-EU party reaffirmed its support for a cap, Nigel Farage ditched the policy, saying that such a promise would not be believed by the public. The move follows the Conservatives' failure to hit their target to bring net migration below 100,000 a year. It is now running at three times that figure and the Tory manifesto may downgrade their plan to an "ambition".
Ukip's surprise U-turn will add to fears inside the party that its policies are not standing up well to the media spotlight as the May election approaches. Some Ukip figures said its manifesto would be unveiled last weekend but it will not now be published until next month. Immigration is seen as the party's trump card and some insiders argue that this switch would not alienate potential supporters, saying that Ukip was happy to keep the issue in the headlines.
Speaking in London, Mr Farage announced the party would not set an "arbitrary target" because of a "changed emphasis on policy away from caps, a culture which is now discredited". He said: "There is an obsession with targets in the media or political class. If you promise a cap they [the British public] won't believe you and they will switch off.
"We have not abolished the cap - we have made it clear that we think these are ballpark figures - 20,000 to 50,000 - but we want to talk about policy and not caps."
He insisted: "There is no U-turn, there is a change of emphasis."
Ukip's confusing policies
Show all 7
Under Ukip's plans for an Australian-style points-based system for highly skilled workers, only 27,000 people would have been granted entry to Britain last year.
Some Ukip figures have been pressing for a softer tone on immigration. Last week, Douglas Carswell, the Ukip MP for Clacton, argued that immigration had been "overwhelmingly, a story of success".
Mr Farage admitted he was "concerned" that Ukip was being perceived as prejudiced. "I don't want this party to be perceived as anything other than an open, inclusive political party, which without doubt it is," he said.
He insisted there had been "no softening" of Ukip's approach on immigration, describing it as "firm but fair" and "ethical".
However, the Ukip leader declared that foreigners with terminal diseases should be turned away at Britain's borders. He said: "The vast majority of British people want change, they want us to control not just the quantity but crucially the quality of who comes to this country. We want sensible controlled numbers of people who come to this country, people who have skills and trades that will benefit this nation.
"People who have not got criminal records, people who have not got a life-threatening illness, and people who when they come bring with them medical insurance."
Stephen Woolfe, Ukip's immigration spokesman, who previously advocated a cap, insisted: "That was not necessarily a cap that we were looking at. We always said 'up to'."
But Mr Farage appeared to admit there had been a last-minute rethink before he launched the party's immigration policy, saying he discussed it with Mr Woolfe on Tuesday.
George Osborne, the Chancellor, told BBC Radio 4: "Nigel Farage seems to be making it up as he goes along. One moment he is talking about a cap and then he ditches it live on air, which is a novel approach to policy-making."
Ukip policies
Nigel Farage has described Ukip's 2010 election manifesto as "drivel." But his party seems to be having trouble writing the 2015 version, which has been delayed until after Easter. Although some pages remain blank, Ukip insists it does not lack policies. They include:
Withdrawing from the EU.
Backing the Conservatives' plan to eliminate the deficit by 2018.
Boosting NHS spending by £3bn a year; maintaining NHS free at the point of use (for now).
Increasing defence spending.
Raising the personal tax allowance to £13,500; a 35p tax rate between incomes of £42,285 and £55,000.
Abolishing inheritance tax.
Reducing the foreign aid budget by £9bn a year.
Allowing existing schools to apply to become grammar schools.
Limiting child benefit to the first two children.
Scrapping the proposed HS2 rail project.
Ending the Barnett formula in order to equalise public spending per head in Scotland with that in England.
Abolishing the Department of Energy and Climate Change —and green taxes and subsidies for wind farms.
Scrapping the Department for Culture Media and Sport.
Guaranteeing those who have served in the armed forces for at least 12 years a job in the police force, prison service or border force.
Allowing pubs and clubs to open "smoking rooms".
Join our commenting forum
Join thought-provoking conversations, follow other Independent readers and see their replies