George Osborne: Changing course on economy will take Britain 'back to square one'
Chancellor tells CBI's annual dinner that his economic plan is 'taking longer than anyone hoped,' but insisted real progress is being made
Andrew Grice
Thursday 16 May 2013 18:12 Comments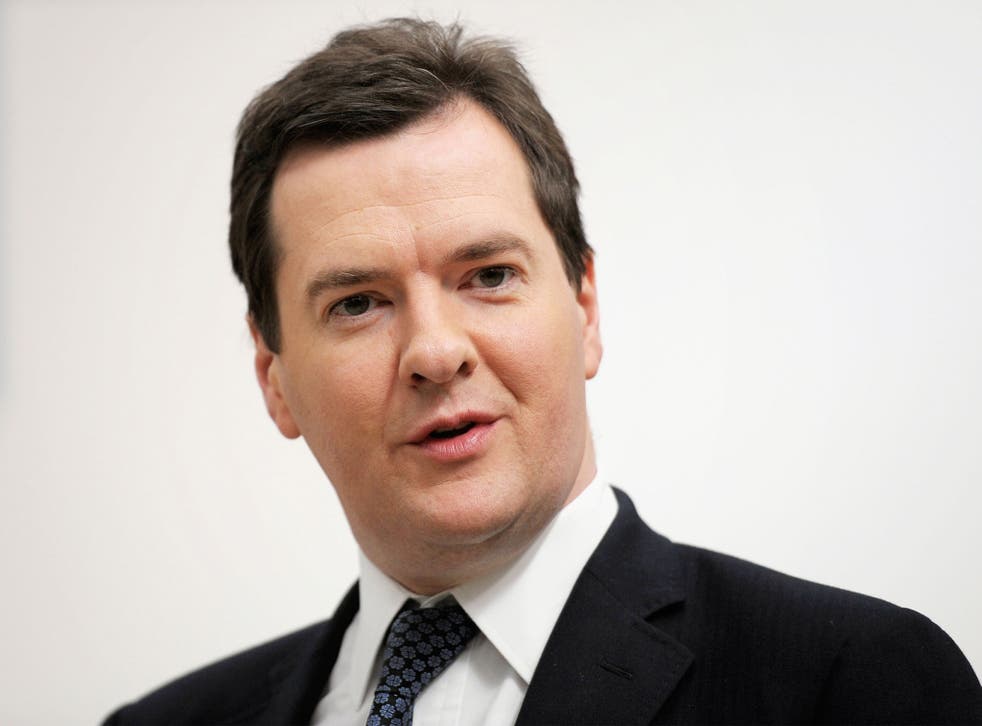 George Osborne has warned that changing course on the economy would take Britain "back to square one" as he insisted that his strategy is working.
The Chancellor told the CBI's annual dinner in London: "Now is not the time to lose our nerve. Let's not listen to those who would take us back to square one. Let's carry on doing what is right for Britain. Let's see this through."
Mr Osborne admitted that his economic plan is "taking longer than anyone hoped" but insisted that Britain had made real progress, such as creating 2m private sector jobs.
He launched a strong attack on Labour's plan to spend more in the short term to boost growth, describing its "ludicrous" policy as: "We would borrow more to borrow less." He argued that Labour's claim that a temporary VAT cut would eventually reduce borrowing "simply doesn't stack up."
Mr Osborne said: "Are those advocating looser fiscal policy really suggesting we should set out to increase our deficit year on year when it is still larger than when Britain went to the International Monetary Fund (IMF) in 1976 and one of the highest in the western world today? If financial markets sensed that the UK was going to print its way out of trouble, the response in the markets would be catastrophic. The people who would pay the price are the millions employed by the companies represented in this room and the millions of families who would face higher mortgage rates."
Although his message was mainly for his business hosts, the Chancellor also had one for the IMF team now in London for its annual "health check" on the UK economy, who may call for the pace of his spending cuts to be slowed. He said: "The most recent economic news has been more encouraging. The economy is growing. Surveys are better. Confidence is returning to financial markets."
Mr Osborne argued that the pace of the cuts in the UK was "in the middle of the pack" internationally. He said the Government had shown flexibility in implementing the deficit-reduction programme, which explained why the deficit was only just starting to fall.
"We are reducing the structural deficit by about 1 per cent of GDP a year - in line with other developed economies, and less than the United States," he said. "So we will stick with our approach, which has seen the deficit cut by a third."
He added: "Just as the argument for fiscal stimulus three years ago was mistaken, so is the suggestion for a discretionary fiscal loosening now."
Chris Leslie, a Labour Treasury spokesman, said: "George Osborne is in total denial about the failure of his economic plan. He has now delivered the slowest recovery for 100 years, falling living standards and rising unemployment. And borrowing is set to be £245 billion more than planned to pay for the costs of this economic failure.
"If we're to have a strong and sustained recovery, and catch up all the ground we have lost over the last three years, we need urgent action to kickstart our economy now and reforms to strengthen it for the long-term."
Register for free to continue reading
Registration is a free and easy way to support our truly independent journalism
By registering, you will also enjoy limited access to Premium articles, exclusive newsletters, commenting, and virtual events with our leading journalists
Already have an account? sign in
Join our new commenting forum
Join thought-provoking conversations, follow other Independent readers and see their replies