George Osborne faces Commons defeat over plans to cut £4.4bn from disability benefits
Chancellor under pressure to compromise over the plans to reduce Personal Independence Payments
Nigel Morris
Deputy Political Editor
Thursday 17 March 2016 22:00 Comments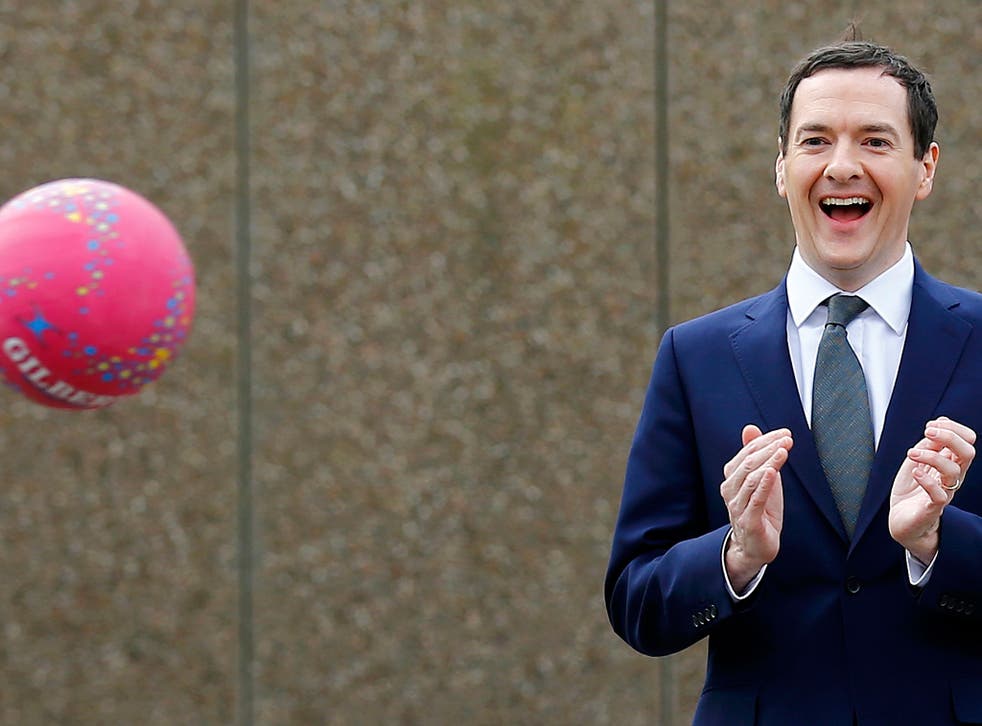 George Osborne is facing Commons defeat over moves in the Budget to cut £4.4bn from disability benefits over the next four years amid growing anger among Conservative MPs that the most vulnerable will suffer.
The Chancellor is under pressure to compromise over the plans to reduce Personal Independence Payments to more than 600,000 people with long-term health problems.
Support for people requiring aids to help them dress and use the toilet could fall by an average of £3,500 a year because tougher criteria are being applied to assess their needs.
Labour said it would push the issue to a Commons vote, while party sources also predicted the measure could face opposition in the Lords.
The Conservative MP Andrew Percy, who has organised a letter of protest signed by Tory backbenchers, warned the cut would hit "exactly the wrong people" and argued it would have been better to put a penny or two on fuel duty in the Budget.
He said: "The Government has a small majority, so you don't need many for this to be a problem of parliamentary arithmetic. It is fair to say the numbers on this who have expressed concern are very significant indeed."
One MP said there was a "big row internally" about the proposal, while another said: "At first sight it looks unfair and unworkable".
Iain Duncan Smith, the Work and Pensions Secretary, attempted to diffuse the anger by writing to Tory MPs stressing the revised rules would only apply to new claimants and people whose claims were being reassessed. Ministers also argue that PIP payments will carry on rising and the measures were designed to limit the increases.
Mr Osborne hinted that he could modify the plan, telling the BBC: "I'm always happy to listen to proposals about how to improve on that."
Under the changes to the PIP rules, which were announced quietly on 11 March, fewer claimants will qualify for benefits if they use aids such as a handrail or walking stick. The numbers of "points" they are awarded if they need help to use the toilet or get dressed will be reduced, making it less likely they will qualify for the standard rate of the PIP.
The furore comes after MPs were criticised for voting through moves to cut almost £30 a week from disabled people claiming the Employment Support Allowance.
Downing Street said that the system was not working properly and the Government wanted to ensure the money allocated for the benefit was "being focused on the right people".
But Mark Atkinson, chief executive at the disability charity Scope, said: "Half of disabled people say they have struggled to pay bills because of the extra costs of disability they face. We urge the Chancellor to think again."
Owen Smith, shadow Work and Pensions Secretary, said: "There is no political, economic or moral justification for George Osborne's decision to cut support for disabled people while increasing tax benefits for the wealthiest."
Case study: 'I'll lose independence'​
Hugh Thomson-Slater, 63, from Surrey has cerebral palsy
My equipment is very important to me. Without my wheelchair I'd lose my independence. I have a normal wheelchair in the house but outside I use a powered one. It needs replacing every three to four years. If my money gets capped I may not be able to afford a replacement.
I'm dependent on things being at feet level and specially adapted. My car is adapted, and the money I receive goes towards its upkeep and insurance. I have a specially made computer. The monitor and keyboard are adapted so I can use them with my feet.
The disability cuts were skimmed over in the Budget. There was so much about the sugar tax and not a lot about disability. It's trying to keep it as low-key as it can. Osborne is there in his ivory tower, he doesn't have to worry about money."
Rosie Benson
Register for free to continue reading
Registration is a free and easy way to support our truly independent journalism
By registering, you will also enjoy limited access to Premium articles, exclusive newsletters, commenting, and virtual events with our leading journalists
Already have an account? sign in
Join our new commenting forum
Join thought-provoking conversations, follow other Independent readers and see their replies