George Osborne hopeful of securing 'win-win' deal with France to avoid British exit from EU
But a senior French minister says they will avoid changes that 'weaken' union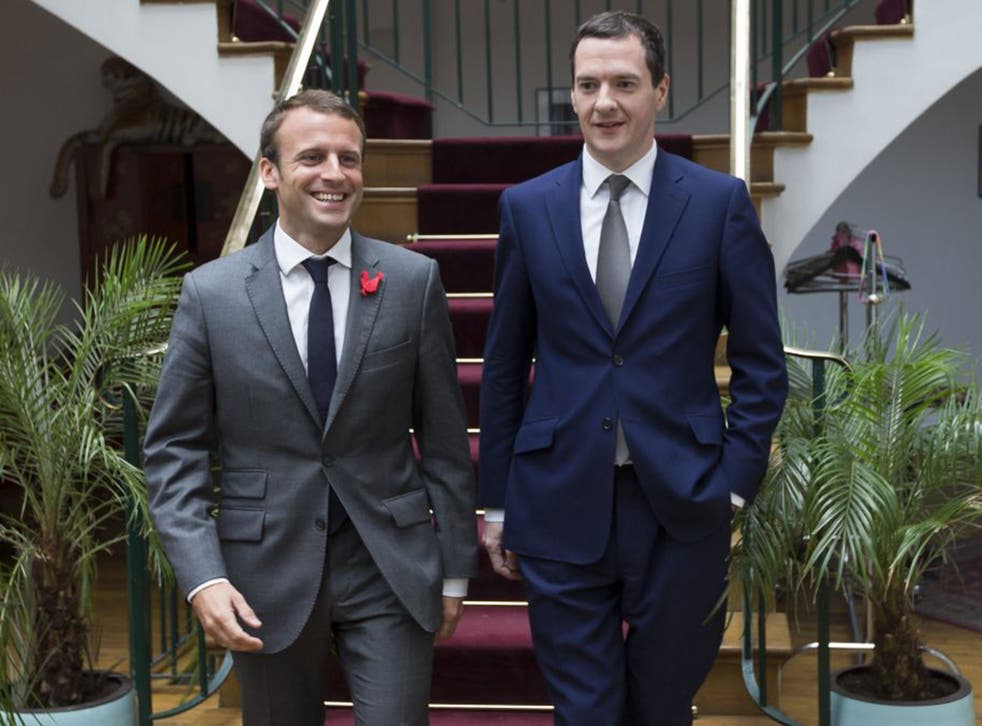 France is ready to make a "win-win" deal to avoid a British exit from the European Union but will block any changes which "weaken" the EU, a senior French minister said.
The Economy Minister, Emmanuel Macron, was speaking after talks with the Chancellor, George Osborne, who was in Paris to discuss Britain's demands for EU reform before an in-out referendum planned in the UK next year or in 2017.
Mr Macron dismissed all chance of an early change in the EU treaties. "As things stand in [European public opinion], the answer to any proposal to change the treaties in the near future is likely to be 'no' in all countries," he said.
However, both Mr Macron and Mr Osborne spoke enthusiastically of the prospect of merging a possible British deal with plans to create a stronger, more integrated government for the 19 countries which use the euro.
Mr Macron spoke of a "win-win approach" which would allow eurozone states to move closer together while taking account of the interests of Britain and the eight other EU but "non-euro" countries.
This idea has been suggested in the past but Mr Macron spoke for the first time of a formal "link" between the two sets of negotiations.
Mr Osborne welcomed the idea. He said Britain wanted to build a more dynamic EU for all European countries, not just Britain – an "EU for people, an EU which creates jobs". He accepted, however, that it was "probably" in Britain's interest that the euro-using countries should push forward with more integration to allow the eurozone to operate more successfully.
Such a "double" negotiation could potentially offer Britain a looser arrangement with the EU – at the risk of becoming a "second division" member, excluded from the decisions within the eurozone. Mr Macron said he accepted that there must be "safeguards" for those EU nations which chose not to go down the route of greater integration.
Mr Osborne was asked about reports that the Government was planning an early referendum – maybe as soon as May next year. He said everything would depend "on the pace and success of negotiations" in Brussels.
Speaking in Paris, Mr Osborne said: "We want an EU that works for Britain and for the eurozone, and it's good to hear French politicians agreeing that as the eurozone integrates we need to have fair treatment for those who are not in the euro. That of course includes Britain. That will require substantial reform and we will put that to the British people in an in/out referendum by the end of 2017.
"I'm confident we can get a good deal: a good deal for Britain and indeed for the whole of Europe that means the EU works for all of its citizens. That can create a win-win situation. I don't think anyone claims that negotiation is going to be straightforward, but we have a lot of goodwill here in Paris – a willingness to engage. I think we have got now a French government, British government and European governments that want to get on and talk about it."
He and Mr Macron spoke after visiting "The Family", a French organisation which provides seed funding and administrative support to high-technology start-up companies. Mr Osborne went on to have lunch with the French Finance Minister, Michel Sapin, and talks with the Prime Minister, Manuel Valls, and the Foreign Minister, Laurent Fabius.
Until now, France has appeared to be one of the biggest obstacles to David Cameron's chances of winning a credible reform package in Brussels to put an in-out referendum to the UK.
Mr Fabius said in May: "Britain joined a football club. They can't now say that they want to play rugby. It's one thing or another." Mr Macron warned in June that France will not accept any more "cherry-picking" of EU core policies by Britain.
In a brief exchange after the meeting, The Independent asked Mr Macron how far France could go to meet Britain's demands. "We accept that reform is needed to make the EU more dynamic," he said. "If the eurozone moves forward to further integration, we accept that the interests of Britain and the other non-euro countries must be taken into account. What we do not accept is anything that would weaken the European Union. We want the EU to emerge stronger from this process, not weaker."
Mr Macron added: "I have seen nothing today [in the talks with Mr Osborne] which would be incompatible with that."
Register for free to continue reading
Registration is a free and easy way to support our truly independent journalism
By registering, you will also enjoy limited access to Premium articles, exclusive newsletters, commenting, and virtual events with our leading journalists
Already have an account? sign in
Register for free to continue reading
Registration is a free and easy way to support our truly independent journalism
By registering, you will also enjoy limited access to Premium articles, exclusive newsletters, commenting, and virtual events with our leading journalists
Already have an account? sign in
Join our new commenting forum
Join thought-provoking conversations, follow other Independent readers and see their replies