Happy New Year from the Chancellor: George Osborne targets working-age poor again as he insists Britain must make £25bn more welfare cuts in 2014
Half the cuts to come from the welfare budget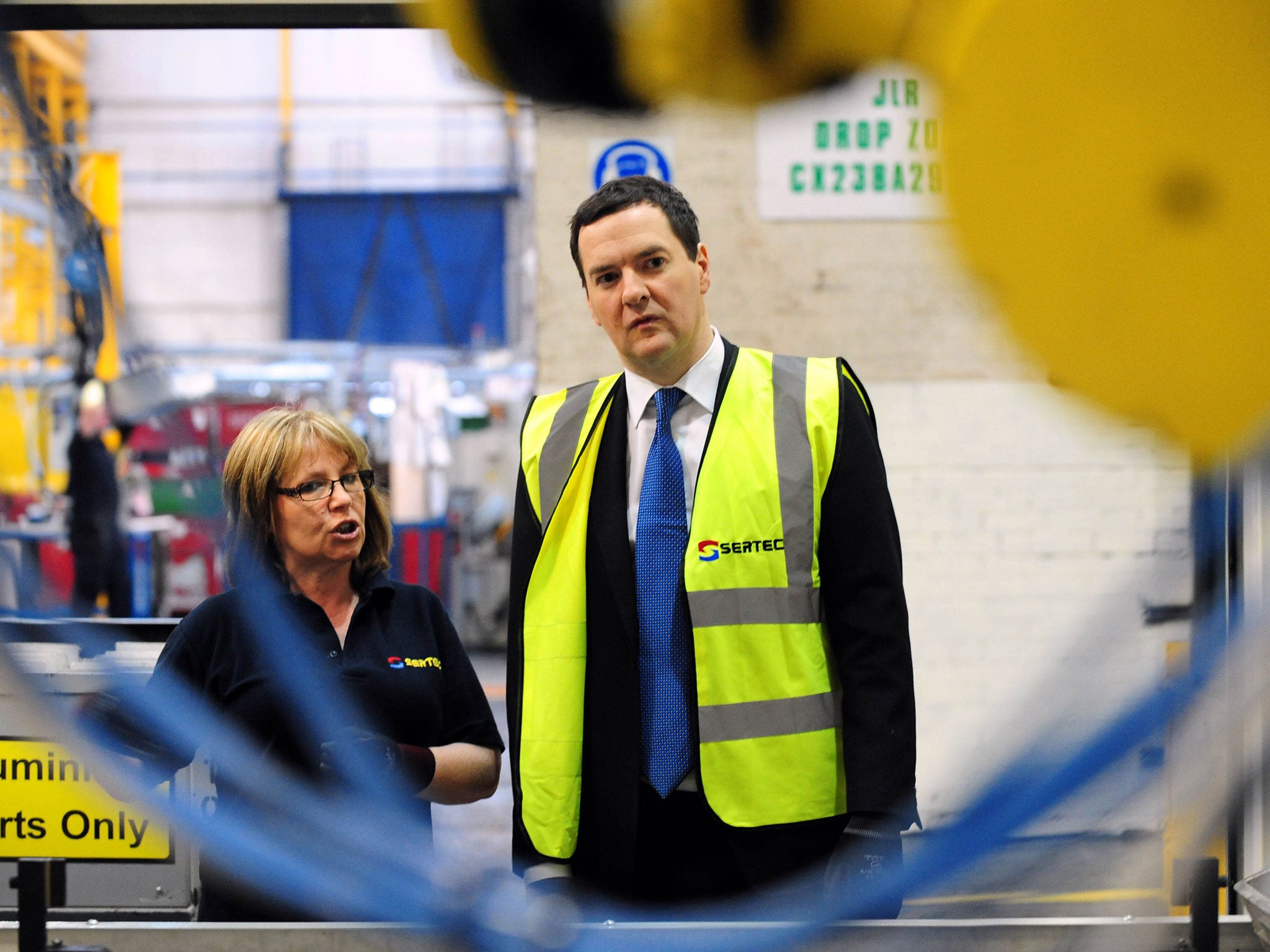 George Osborne was accused of targeting the poor and vulnerable and sparing the rich as he outlined £25bn of new spending cuts, with half of them coming from the welfare budget.
The Chancellor kicked off the political year with a bleak warning that the job of clearing the deficit is "not even half done." But his suggestion of £12bn of welfare cuts in the two years after the 2015 election provoked an angry backlash from the Liberal Democrats and pressure groups.
Nick Clegg, the Deputy Prime Minister, accused Mr Osborne of launching an "unrealistic, unfair" attack on the poor while demanding no sacrifices from the wealthy. He told his monthly press conference: "You've got a Conservative Party now who are driven, it seems to me, by two very clear ideological impulses. One is to remorselessly pare back the state – for ideological reasons. Secondly – and I think they are making a monumental mistake in doing so – they say the only section in society which will bear the burden of further fiscal consolidation are the working-age poor."
Mr Clegg added: "You've got an agenda on the right which appears to believe in cuts for cuts' sake, and an agenda on the left which believes in spending for spending's sake."
His hostile reaction suggested that it might prove difficult for the Conservatives and Lib Dems to reach agreement on a second coalition if the 2015 election results in another hung parliament. Both Labour and the Lib Dems called yesterday for the deficit to be cut in a "fair way".
Mr Osborne has set his face against any tax rises to balance the books, while the Lib Dems and Labour both support a mansion tax on homes worth more than £2m. Mr Clegg made clear he would support further tax increases on the rich, to fill 20 or 25 per cent of the gap, with the rest found through cuts.
The Chancellor's tough message, in a speech in Birmingham and media interviews, was designed to put Labour on the spot in the run-up to the election. If Labour refuses to back big welfare cuts, the Tories will argue that it lacks economic credibility and would raise taxes. Mr Osborne believes further welfare savings will prove popular with many swing voters.
The Chancellor said the Government had to look at the "enormous welfare budget" because "substantial savings" could be found. He added: "I would look at housing benefit for the under-25s when there are many people… who can't afford to move out of their home but if you're on benefits you can get housing benefit under the age of 25; there are people, for example, on incomes of £60,000 or £70,000 living in council homes – I'd look at that."
Mr Osborne said government, and the welfare system, were "going to have to be permanently smaller." But he appeared to rule out cuts to the health budget or pensioners' benefits such as winter fuel allowances, free bus passes and TV licences.
Paul Johnson, director of the Institute for Fiscal Studies, said: "Wherever you look, you are taking money either from people who are poor, from people who are sick and disabled or people with children, none of which looks terribly easy to achieve, but these are difficult times."
Alison Worsley, deputy director of strategy at Barnardo's, said: "Any proposal to remove housing benefits from all under-25s risks leaving some of this country's most vulnerable people stranded. We must not forget that many disadvantaged young people starting out in the world simply do not have a family that they can turn to for help."
Fiona Weir, chief executive of Gingerbread, which represents single parents, said: "Almost half of under-25s supported by housing benefit are single parent families with young children, for whom moving in with mum and dad simply isn't an option."
Ed Balls, the shadow Chancellor, said: "Labour will have to make cuts and in 2015-16 there will be no more borrowing for day-to-day spending… But we will get the deficit down in a fair way, not give tax cuts to millionaires. And we know that the way to mitigate the scale of the cuts needed is to earn and grow our way to higher living standards for all."
A Conservative spokesman replied: "Ed Balls has confirmed that Labour's choice is for more of the same – more borrowing, more spending on welfare and more taxes. That would mean a less financially secure future for hardworking people and their families."
Where the spending cuts could fall
Where could the Conservatives find the £25bn of public spending cuts in the first two years after the 2015 election proposed by George Osborne?
Experts agree that it would not be easy, not least because some big areas of spending would be protected by a Tory administration – including the £108bn-a-year health budget and the basic state pension, which soaks up £75bn of the £180bn spent on benefits each year. The bill for the state pension is set to rise by £45bn between now and 2025 after the three main parties committed themselves to the "triple lock" – under which it will rise annually by earnings, prices or 2.5 per cent, whichever is higher.
Welfare, including tax credits to top-up the earnings of people on low incomes, accounts for more than £200bn of the £720bn total public spending. So it was no surprise that the Chancellor said about £12bn of his £25bn of post-election cuts would come from welfare.
But the two areas he mentioned, cutting housing benefit for the under-25s and denying people earning £60,000-£70,000 the right to a council house, would save only about £2bn at best.
That would put other "working age" benefits at risk – including those for the sick and disabled; tax credits and child benefit. But these have all been targeted once and further cuts would be very controversial. One leading option is to restrict child benefit, and possibly other payments, to two children per family, although that would probably apply only to new claims and so the savings would accrue gradually.
The ring-fencing of the health, pensions, schools and science budgets would put enormous pressure on the departments that have already taken the biggest hits in the current parliament – the Home Office (including the police) the Ministry of Justice (legal aid) the Department for Business (universities) and local government. The already-stretched Ministry of Defence would also be in the frame, a move which could provoke a revolt among Tory MPs.
Join our commenting forum
Join thought-provoking conversations, follow other Independent readers and see their replies