George Osborne could be £120-a-year better off after Budget as highest earners left alone by Philip Hammond
Millionaire former Chancellor who promised post-Brexit 'punishment budget' looks set to have a good financial year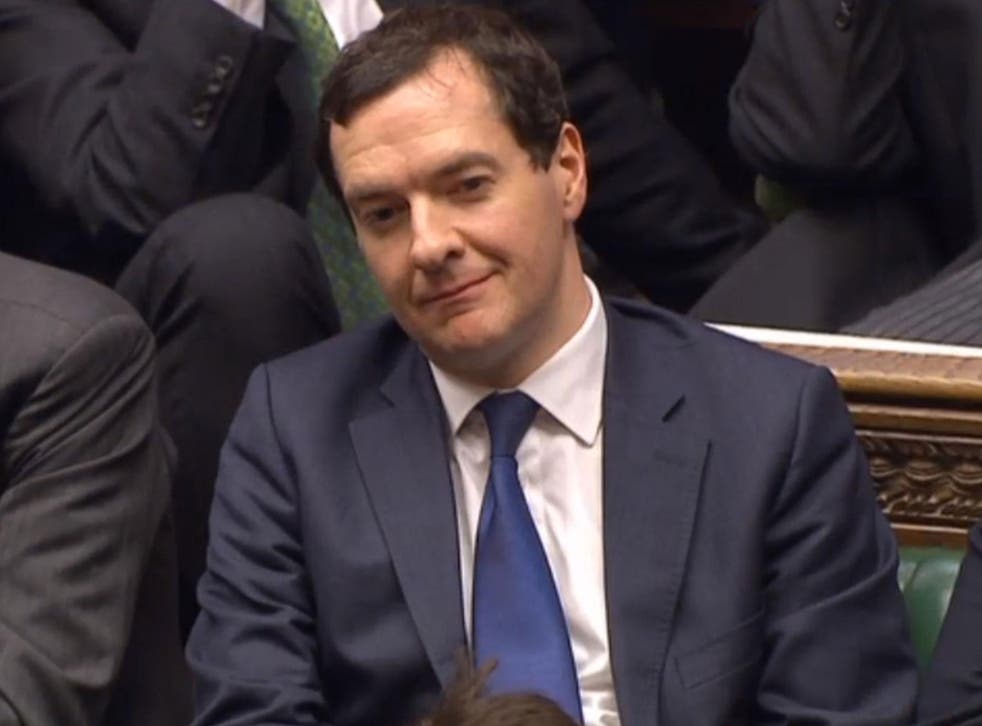 Millionaire former Chancellor George Osborne, who presided over the age of austerity during the Cameron years, could be around £120 a year better off following yesterday's Budget.
Mr Osborne, who is the UK's highest earning MP thanks to his lucrative outside interests, watched from the backbenches as Philip Hammond presented his first Budget.
But there was good news for the deposed Chancellor, cast aside by Prime Minister Theresa May in the wake of the Brexit reshuffle, as high earners will be marginally better off – despite the pledge from Mr Hammond that those "with the broadest shoulders" should make the greatest contribution to bring down the deficit.
Mr Osborne updated his entry in the registry of members' interests yesterday, which lists the income MPs make outside of Parliament, revealing he will earn £650,000 a year for working just four days a month for global investment firm Black Rock.
Industry insiders predict he will make more than £1m annually from Black Rock through the performance of shares he will receive in the New York-based firm.
Although his MP's salary of £74,000 is around £70,000 less than he earned as Chancellor, Mr Osborne has not had to tighten his belt since losing his job as part of Ms May's purge of the so-called "Cameroons".
The MP for Tatton in Cheshire signed with exclusive public speaking agency, the Washington Speakers' Bureau, and has earned £786,450 in the space of just five months delivering after-dinner speeches, according to the registry.
Mr Osborne – who once hoped to go into journalism but found it difficult to break into the profession where the average UK salary is less than £30,000 – will earn a further £120,000 a year as a Kissinger Fellow for a US academic programme, working from home.
Added to his projected earnings from public speaking, his role as a senior adviser at Black Rock and his MP's salary, Mr Osborne is expected to net around £2m in the next tax year. Even if his public speaking engagements were to dry up, he should still comfortably clear the £1m mark.
Calculations show that as a 45-year-old married father of two earning anywhere between £1 and £2 million a year, Mr Osborne should end up with £9.42 a month - or £113.04 a year - more in his pocket following the budget.
This is based on a straightforward calculation which assumes Mr Osborne is paying tax at the higher UK rate, although his fiscal affairs could prove rather more complicated if he is classed as self-employed in any of his roles outside Parliament.
Paying the higher rate of tax, anyone earning £2m will pay £25-a-month less income tax from April, at £885,800 a year instead of the £886,100 they currently pay annually.
But their national insurance contributions will rise slightly to £43,520 a year, up from £43,333.
The calculation does not take account of the earnings of Mr Osborne's wife, Frances, a writer, nor the former Chancellor's savings or pensions, which he is not required to disclose in the registry of interests.
Mr Osborne and his wife own a five bedroom property in Notting Hill – which they rented out for £10,000 a month when they lived in Downing Street – and the MP for Tatton in Cheshire remains a shareholder in the wallpaper firm founded by his father.
The calculation does not take account of Mr Osborne's drinking habits, although he is believed to enjoy the occasional glass of wine, with duty set to increase in line with inflation.
Before the EU referendum, Mr Osborne warned he would impose severe austerity measures, branded a "punishment budget", in the event of a Brexit vote, but instead watched impassively as Mr Hammond delivered his first budget without mentioning the word "Brexit" once.
Mr Osborne tweeted afterwards: "Well done Phil. Sound money and fiscal responsibility are the only secure foundations of a strong and fair economy".
Join our new commenting forum
Join thought-provoking conversations, follow other Independent readers and see their replies