George Osborne's RBS exit plan: £400 share gift for every taxpayer to woo voters
Osborne is looking at selling off Government's stake in troubled, taxpayer-rescued bank
Oliver Wright
Saturday 16 February 2013 01:00 Comments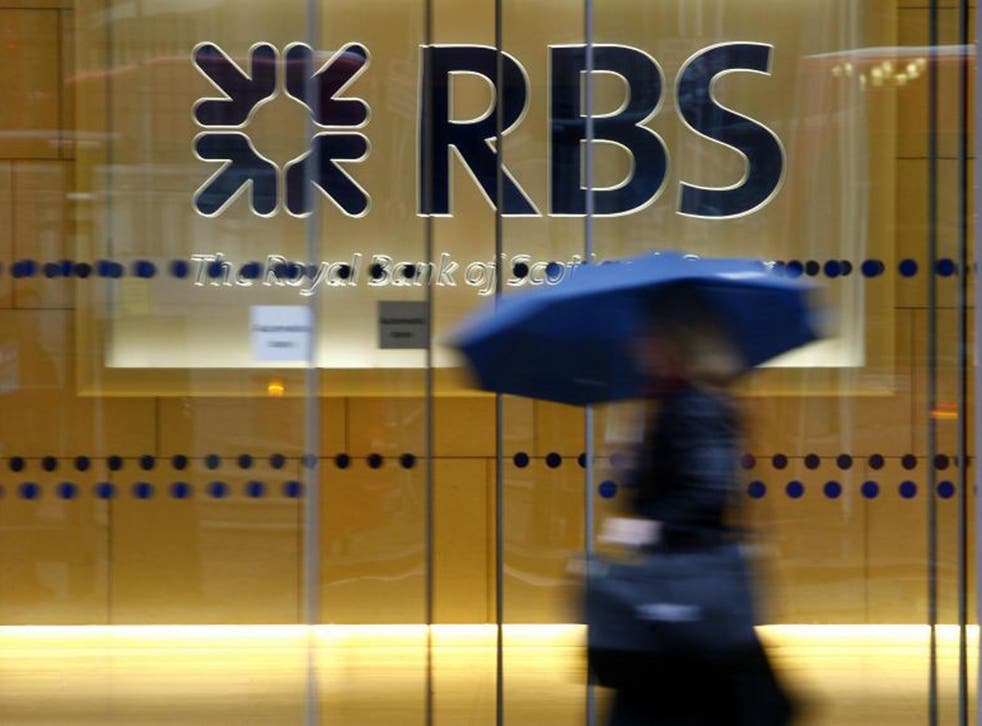 The Chancellor George Osborne has ordered Treasury officials to draw up plans for a Government "give-away" of Royal Bank of Scotland shares to boost the economy – and the Coalition's electoral prospects – by 2015.
Mr Osborne has concluded that continued taxpayer ownership of the bank is politically "untenable" amid rows over bankers' bonuses, interest-rate manipulation and the mis-selling of financial products. Advisers also believe that there is no realistic prospect of the Government recouping its full £45bn investment in the bank and are proposing a scheme to "hand it back to taxpayers" as early as 2015.
Under one plan being developed, every taxpayer or voter in Britain would be given shares in RBS that would be worth, according to one Treasury insider, between £300 and £400 at current prices.
Another option would be for phased disposal or attempts to place the shares in the market – allowing the public to invest their own money in the company but at a discount to the share price at the time. A hybrid scheme could also be developed.
Treasury insiders say the "give-away" option has the advantage of stimulating the economy and providing the Coalition with an eye-catching initiative ahead of the election in 2015.
Any decision to sell off RBS would have to be approved by the Coalition's "Quad" of David Cameron, Nick Clegg, Mr Osborne and Danny Alexander.
But the broad principle is supported by the Liberal Democrats who have previously raised the prospect of an RBS give-away to voters. Last month Vince Cable, the Business Secretary, gave a speech where he admitted that any hope of privatising the bank at a profit looked like a "distant" dream and called for a more radical alternative.
RBS's management say the bulk of its restructuring should be completed by the spring 2014, paving the way to full privatisation. Stephen Hester, the chief executive, has told industry insiders that by next spring RBS will have cleared most of the toxic assets from the bank's balance sheet.
It is possible that by the end of next year the company might even restart paying dividends as losses ebb and profits from the retail and corporate businesses rise.
A senior government source said: "This is something which is being looked at very seriously and officials have been asked to come up with a range of options for us to consider.
"There is a realisation that there is no prospect of RBS's share price rising to the level at which we bailed the bank out and it's not good for the bank or the Government to hold on to our stake indefinitely. Obviously a give-away to taxpayers before the election, who after all paid for it in the first place, is very attractive."
In the past the Tories have dismissed offloading RBS, suggesting in 2011 that the plan was "dead in the water".
But Mr Osborne's view is believed to have changed. He has instructed Sajid Javid, Economic Secretary to the Treasury, to oversee plans for disposal. Treasury ministers are said to have been spending a "disproportionate amount of time" dealing with issues at the bank such as bonuses and more recently the row over Libor fines.
"What people don't understand is that, even though we own over 80 per cent of the bank, we can't just tell them what to do," a source said. "Our only real power is to sack the whole board and that wouldn't inspire market confidence."
They added: "The problem with RBS is that it has an investment arm and that will pay big bonuses. The Government cannot and should not be interfering with that but, while it is state-owned, that is politically toxic."
With Mr Osborne already admitting that austerity and government cuts will continue until at least 2018, an RBS give-away could provide a significant boost to both Coalition partners ahead of the 2015 election.
A Tory source said: "One of the options could be to put it in our manifesto – but then Labour could do that as well. Wouldn't it be much better if voters were getting a check for £400 a few months before election day?"
In 2008 the Government invested £45.5bn in RBS to prevent the bank from collapsing. RBS shares closed last night at 344p, well below the 500p average at which taxpayers bought their 82 per cent stake. Last night's closing price equates to a £14bn loss.
But these losses have already been factored in to the UK credit rating and Government officials believe that, even if the rest of the stake was given away, this would not necessarily adversely affect market perceptions about overall government borrowing.
"What you have to look at is not what was paid for the shares but what are the prospects for them to appreciate?" said a Treasury source. "To get back what we paid for them will take many years and you have to ask yourself, 'Is it worth holding on for that long with all the political headaches that entails?'"
In numbers
500p Average price taxpayers bought Government's stake in RBS
£45bn Size of taxpayers' bailout of the bank
£14bn Current estimated loss to taxpayer in value of Gov't's stake
344p The price at which RBS shares closed tonight
Register for free to continue reading
Registration is a free and easy way to support our truly independent journalism
By registering, you will also enjoy limited access to Premium articles, exclusive newsletters, commenting, and virtual events with our leading journalists
Already have an account? sign in
Join our new commenting forum
Join thought-provoking conversations, follow other Independent readers and see their replies