George Osborne's 'stealth cuts' will force millions to miss economic recovery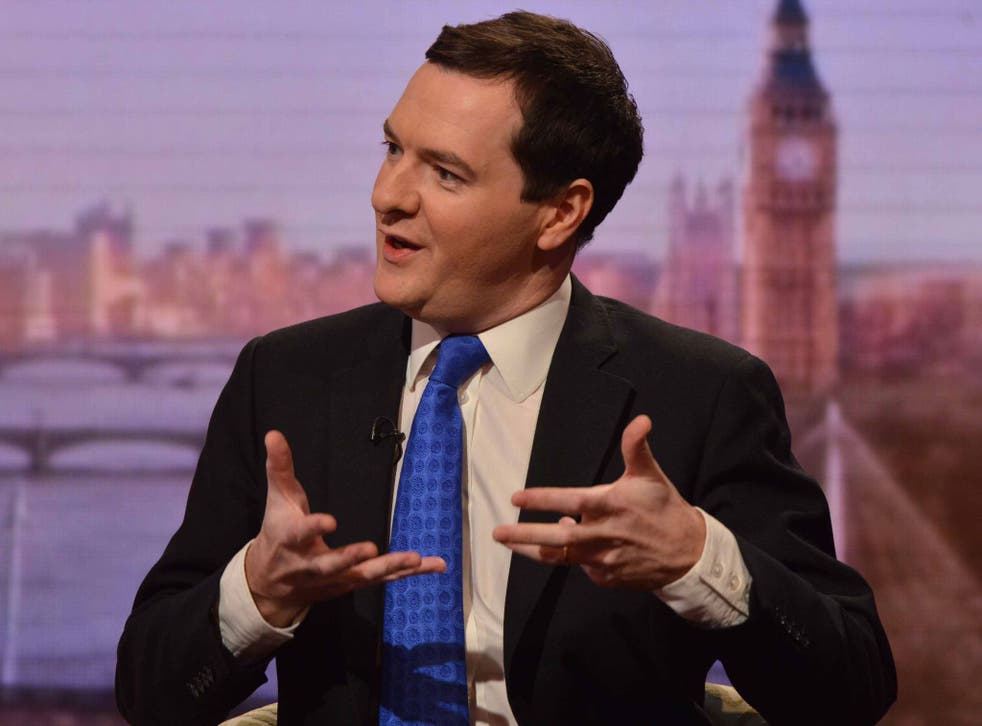 More than three million low-income families risk missing out on the economic recovery even if wages start to keep pace with inflation, according to an analysis for The Independent.
The Resolution Foundation, an independent think-tank which aims to improve living standards for the less wealthy, accused George Osborne of burying a £385m "stealth cut" in the small print of last year's Autumn Statement, which will force the working poor to "run uphill" and earn an extra £1,000 a year just to stand still.
The foundation has analysed the impact of the Chancellor's decision to freeze the "work allowance" – the amount people can earn before their payment under universal credit starts to be withdrawn. The freeze means that even if their wages rise in line with the cost of living, their income will fall in real terms because the allowance does not keep pace with inflation.
In 2017, by when universal credit will be phased in, a couple with children who qualify would need to see their combined earnings rise by £985 to cancel out the income loss arising from this change.
The foundation, which specialises in low and middle earners, warned that the cut will undermine the Government's key aim as it merges tax credits and benefits into universal credit – to "make work pay".
According to the new research, the work allowance freeze will mean that a couple with children would take a £234 hit in 2017. Because they would keep only 24p of every £1 of any pay rise as they lose entitlement to universal credit, they would need to see their combined earnings rise by £985 just to stand still. Similarly, a single parent's earnings would need to rise by £1,770 a year to compensate for their £421 loss. Single people would need a pay increase of £179 in 2017 to avoid the £62 loss from the freeze.
Donald Hirsch, director of the Centre for Research in Social Policy at Loughborough University and associate fellow of the Resolution Foundation, said: "This is not just another 'cut' but something more fundamental which will systematically make it harder for low-income households to benefit from recovery."
After years of falling behind prices, wages are expected finally to rise in line with them this year. But the new research will fuel the debate over whether the Government's strategy will ensure a "fair recovery for all", which will become a key political battleground this year. Labour will claim that the rewards from the years of austerity are not being shared fairly.
Ministers insist universal credit will improve the incentive to work for millions on benefits. They say the rise in the personal tax allowance to £10,000 a year in April will be worth £58 a month to the average worker.
Register for free to continue reading
Registration is a free and easy way to support our truly independent journalism
By registering, you will also enjoy limited access to Premium articles, exclusive newsletters, commenting, and virtual events with our leading journalists
Already have an account? sign in
Register for free to continue reading
Registration is a free and easy way to support our truly independent journalism
By registering, you will also enjoy limited access to Premium articles, exclusive newsletters, commenting, and virtual events with our leading journalists
Already have an account? sign in
Join our new commenting forum
Join thought-provoking conversations, follow other Independent readers and see their replies