George Osborne's London Evening Standard labels Theresa May's manifesto 'most disastrous in history'
The paper mocks the collapse in Ms May's poll ratings since the start of the campaign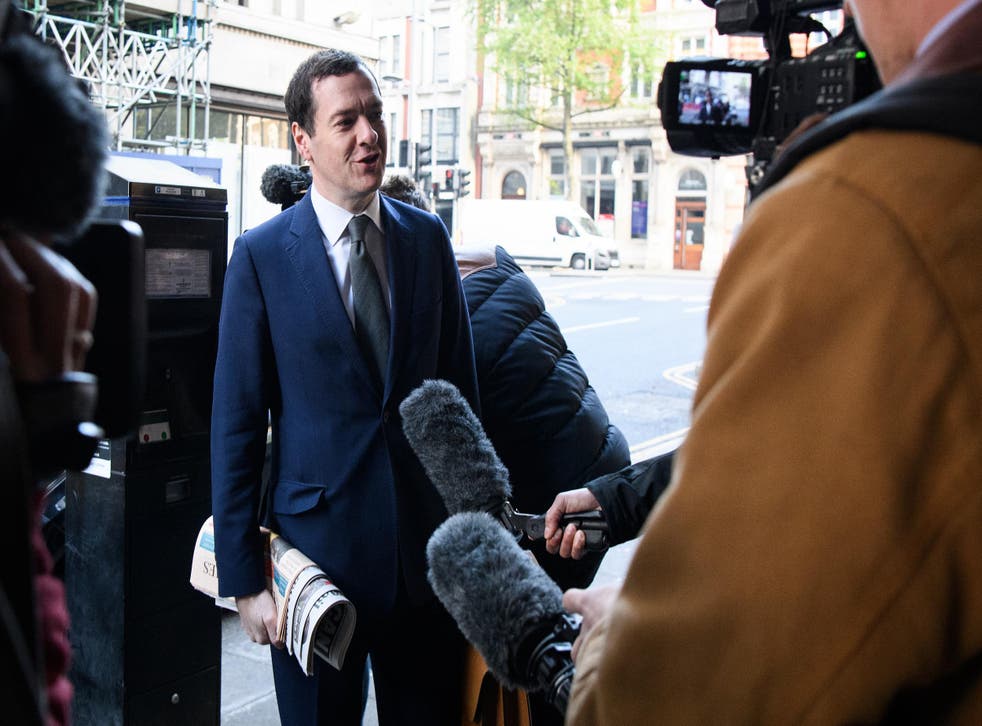 The newspaper run by ex-Conservative Chancellor George Osborne has launched a scathing attack on Theresa May's election campaign, claiming it is based on "the most disastrous manifesto in recent history".
The London Evening Standard derided the campaign's apparent attempt to launch a "personality cult" around the Prime Minister and attacked her handling of Brexit as marred by "high-handed British arrogance".
Its editorial then mockingly suggested the current conversation among Downing Street aides would likely be along the lines of: "Honey, I shrunk the poll lead."
It is the latest broadside to be launched at Ms May by the paper, part of the same group as The Independent, with previous attacks over Brexit and education policy causing a stir.
Mr Osborne took over at The Standard after being sacked from his job by Ms May after she won the keys to No 10 in last year's Tory leadership contest.
The paper's editorial said: "The Conservative campaign has meandered from an abortive attempt to launch a personality cult around Mrs May [sic] to the self-inflicted wound of the most disastrous manifesto in recent history and, after the atrocity in Manchester, shrill attacks on Mr Corbyn's appeasement of terrorism."
It went on: "The result can be summed up by what we imagine to be the conversation around the breakfast table in Downing Street: 'Honey, I shrunk the poll lead'."
UK General Election 2017

Show all 47
The day's edition also carried a front page story attacking Ms May's repeated promise to lower immigration to the tens of thousands, which another of the newspaper's editorials recently said is "economically illiterate", and an inside comment piece criticising her reliance on her two closest aides Fiona Hill and Nick Timothy.
Earlier in the day, as the Prime Minister gave a speech attempting to realign her campaign on Brexit, she appeared in front of rebranded posters which carried the word "Conservatives", more prominently instead of the previously used slogan "Theresa May's Team".
Register for free to continue reading
Registration is a free and easy way to support our truly independent journalism
By registering, you will also enjoy limited access to Premium articles, exclusive newsletters, commenting, and virtual events with our leading journalists
Already have an account? sign in
Join our new commenting forum
Join thought-provoking conversations, follow other Independent readers and see their replies