Germany calls in Britain's ambassador to demand explanation over 'secret Berlin listening post'
Foreign minister summons ambassador to provide explanation after report in The Independent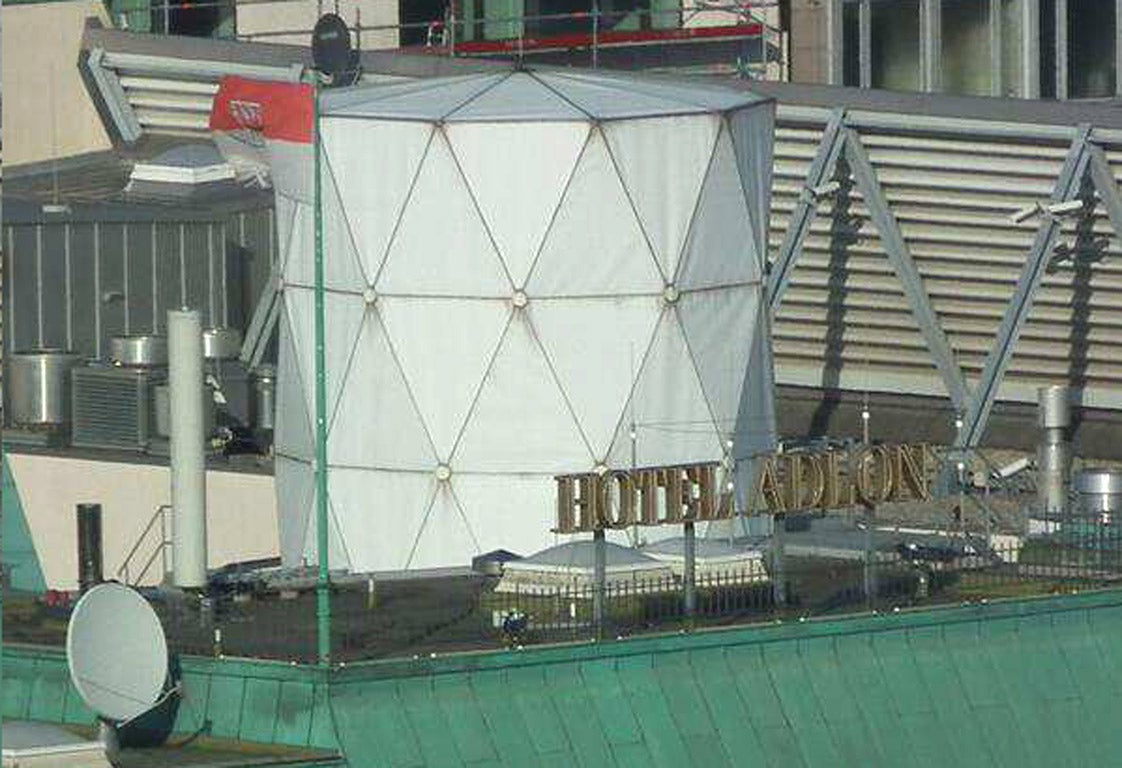 Britain's ambassador has been called in by the German Foreign Minister after The Independent disclosed allegations that a secret listening post is operating from its embassy in Berlin, just yards from the German parliament and Angela Merkel's offices.
Simon McDonald met senior officials and was bluntly warned that any interception of data by intelligence services from a diplomatic facility would be in violation of international law. It is believed to be the first time that Germany has called in a UK ambassador in this way since the end of the Second World War.
Documents leaked by Edward Snowden, the US National Security Agency whistleblower, suggest that the UK is operating an "intercept nest" from the roof of its embassy. After the claims received widespread attention in the German media, the Foreign Minister, Guido Westerwelle, requested a statement from the ambassador.
Mr McDonald, formerly David Cameron's foreign policy adviser and head of foreign and defence policy in the Cabinet Office, relayed the conversation back to London. Last month, Mr summoned the US ambassador, who received an official complaint following revelations about a listening post on top of the American embassy that was intercepting calls from Chancellor Merkel's mobile phone. The US and UK embassies are just yards apart, close to the Bundestag and the Chancellery, Mrs Merkel's prime ministerial offices.
Downing Street sought to play down the scale of the rift, with David Cameron's spokesman insisting Mr McDonald had been "invited", to the ministry. The spokesman said Mr Cameron had an "excellent" relationship with both Ms Merkel and her government, and that it would continue.
But a senior British diplomat who recently worked at the Berlin embassy took a different view of events, calling the spying claims and their aftermath "acutely embarrassing". He said: "The problem is that because one can't discuss what is being done, it's easy to draw the worst possible inference.
"All I can say is that we have excellent intelligence-sharing with Germany and we don't want that to be damaged by this. However, if this leads to better dialogue on this issue, then at least something positive has happened."
The disclosure of the alleged British surveillance operation provoked sharp criticism from British and German MPs of spying practices at the UK Government Communications Headquarters in Cheltenham.
Bernd Riexinger, the co-chairman of the left-wing Die Linke party, said that if the allegations were proven it would seek a European summit to discuss potential financial sanctions against the UK.
Julian Huppert, the Liberal Democrat MP for Cambridge, called for fresh scrutiny of the activities of the intelligence services and described the allegations as "very serious".
"International law is very clear about the purposes for which embassies can and cannot be used," he said. "Although I don't know the facts of this particular matter, I think this shows that it is all the more important to have a debate so that we know where we stand. I think that's in the interest of the intelligence services."
Thomas Oppermann, the parliamentary leader of the Social Democrats and a likely member of Ms Merkel's future "grand coalition" government, said: "Sad as it is, we will have to reckon with being spied on by our friends in future."
Wolfgang Bosbach, a home affairs specialist for Ms Merkel's Christian Democratic Union party, said the disclosures proved it was time for a "no-spy" agreement between Britain and Germany, similar to a deal being negotiated between Berlin and the US.
"Since disclosures about Tempora [a GCHQ-run spying programme that intercepts huge amounts of personal data from internet] we have been aware of the extent to which the British carry out data surveillance," he said. "The latest developments show that we should also reach a 'no-spy' agreement with Great Britain."
Professor Richard Aldrich, a professor of international security at Warwick University, said the kind of activity allegedly carried out by the British in Berlin's political district was "pretty universal". He added: "This stuff is so ubiquitous and we now have documentary evidence to show that Britain regularly runs covert listening stations out of embassies and consulates, as does everybody else."
Sir Menzies Campbell, the former Liberal Democrat leader, said: "It's commonplace for embassies to have direct and secure communications with their foreign offices.
"There is a sense of paranoia breaking out as a result of the Snowden revelations. It has to be accepted that the sophistication of modern technology is not confined to the UK, but is available to Germany and many other countries as well."
From A to B to CIA: How the spy network functions
Data is collected from "spy bases" in US embassies by a special CIA/NSA unit often located on the roof of the US embassy (circled above on top of the US embassy in Madrid). The operational nests in Europe and Central Asia are located in Athens, Baku, Budapest, Frankfurt, Geneva, Kiev, Madrid, Milan, Moscow, Paris, Prague, Pristina, Rome, Sarajevo, Tbilisi, Tirana, Vienna and Zagreb.
Collected data is then sent to a relay facility at RAF Croughton in Northamptonshire. (Pic credit: PA)
The data is then transmitted to the College Park joint CIA/NSA centre (pictured above) in Maryland for analysis and use by America's intelligence agencies. Under Britain's long-standing intelligence-sharing pact with the United States, material can also be transmitted to GCHQ via a high-security link installed during the 1990s. (Getty Images)
Join our commenting forum
Join thought-provoking conversations, follow other Independent readers and see their replies