Gerry Adams arrest: Is it possible to have justice and peace?
The ethical dilemma raised by the arrest of Gerry Adams for a crime that took place in 1972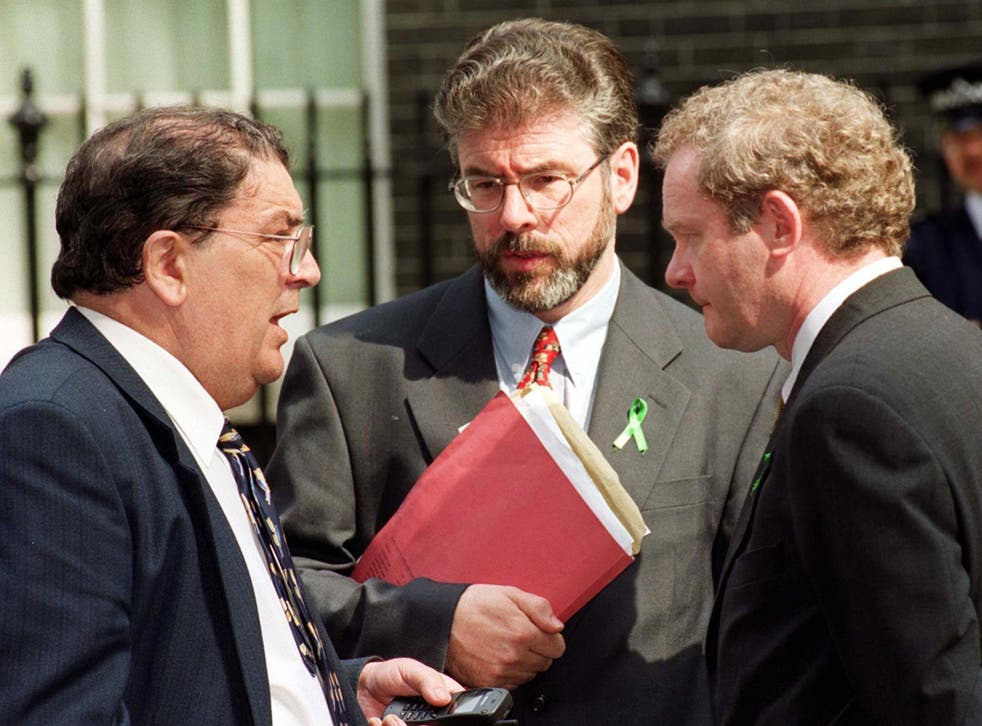 I was once invited by a cabinet minister, along with perhaps 20 other specialists of various sorts, to take part in a round-table conference in the splendour of a castle near Belfast.
The purpose was to examine the issue of dealing with the past and helping victims of the Troubles. Plenty of ideas were aired but complications also arose so that the occasion produced no breakthroughs.
That was more than a decade ago: it didn't work, and since then the issue has continued to bedevil Belfast.
The arrest of Gerry Adams illustrates one possible way of reaching back into the past, using the long arm of the law. It illustrates how tangled the issue of the past can become. For example, loyalist paramilitaries who cheer his detention have in recent years rioted when they themselves have faced sectarian murder charges.
Another complication is the question of members of the security forces, some of whom have been criticised and indicted, in court or in official reports, of offences including killings.
As these examples indicate, this is highly controversial territory politically, legally and emotionally. It is clear that many people differentiate between different types of perpetrators and different types of victims.
Thus some favour a vigorous pursuit of previously violent republicans but strongly oppose the prosecutions of soldiers and police.
At the other end of the spectrum are voices proposing that a line should be drawn under historical cases from past decades. The best thing, this argument goes, is to abandon the idea of prosecutions and concentrate on the future.
While there is much support for this approach there is also resistance to it from victims' groups and others who say that this would amount to a denial of justice. It is galling to be told to forget the past, one victim said bitterly, when a bomb has put you in a wheelchair for life.
Between the two poles of aggressive prosecution and amnesiac amnesty many other ideas have been tried out with, for example, the notion of a truth commission sometimes floated. But it has yet to be explained how one-time combatants such as republican and loyalist gunmen, as well as soldiers, police and MI5, could be persuaded to admit personal involvement in killings and other wrong-doing.
Some families seek apologies from their killers though, as has been said, "saying sorry is necessary but not sufficient". Others are grateful just to learn the authorities are looking into their cases.
Some, perhaps surprisingly, find real consolation simply from receiving information. In the words of a recent report: "For many of the families the need to know more about the circumstances of their case is profoundly important."
The problem of the past has been approached on an ad hoc basis, with investigations carried out by agencies such as the police, Police Ombudsman, and coroners' courts. Some of these have given some comfort, but none has come close to providing a comprehensive path.
Some victims have displayed almost saintly attitudes in overcoming bitterness while others remain, after many years, seething with anger. Some of them are organised into groups who not only seek personal closure but are also immersed in political blame games.
Much more needs to be done to offer counselling to relieve anxiety and deal with mental and sometimes physical pain.
There are people in today's more peaceful Northern Ireland who, decades after some violent incident, still live in homes festooned with strong locks and bolts, and still sleep with shotguns by their beds.
But although this is a bleak picture it is not without hope. Months of talks around Christmas, led by the former US diplomat Richard Haass, failed to reach agreement among the Belfast political parties on this and other issues.
Yet Mr Haass made greater strides than any other initiative in this field in recent years when he produced seven different drafts of a way ahead. Although his proposals were turned down by the unionist groupings they were accepted by nationalist parties.
His ideas included more investigations, a search for an agreed narrative of the Troubles and a form of limited immunity. It is a complex structure but then this is a complex problem, and it is obvious enough that resolving it will be a complex matter.
Register for free to continue reading
Registration is a free and easy way to support our truly independent journalism
By registering, you will also enjoy limited access to Premium articles, exclusive newsletters, commenting, and virtual events with our leading journalists
Already have an account? sign in
Register for free to continue reading
Registration is a free and easy way to support our truly independent journalism
By registering, you will also enjoy limited access to Premium articles, exclusive newsletters, commenting, and virtual events with our leading journalists
Already have an account? sign in
Join our new commenting forum
Join thought-provoking conversations, follow other Independent readers and see their replies