Gordon Brown warns Boris Johnson he faces 'rebellion across country' without urgent anti-poverty measures
'We face a worsening social crisis in the new year,' says former PM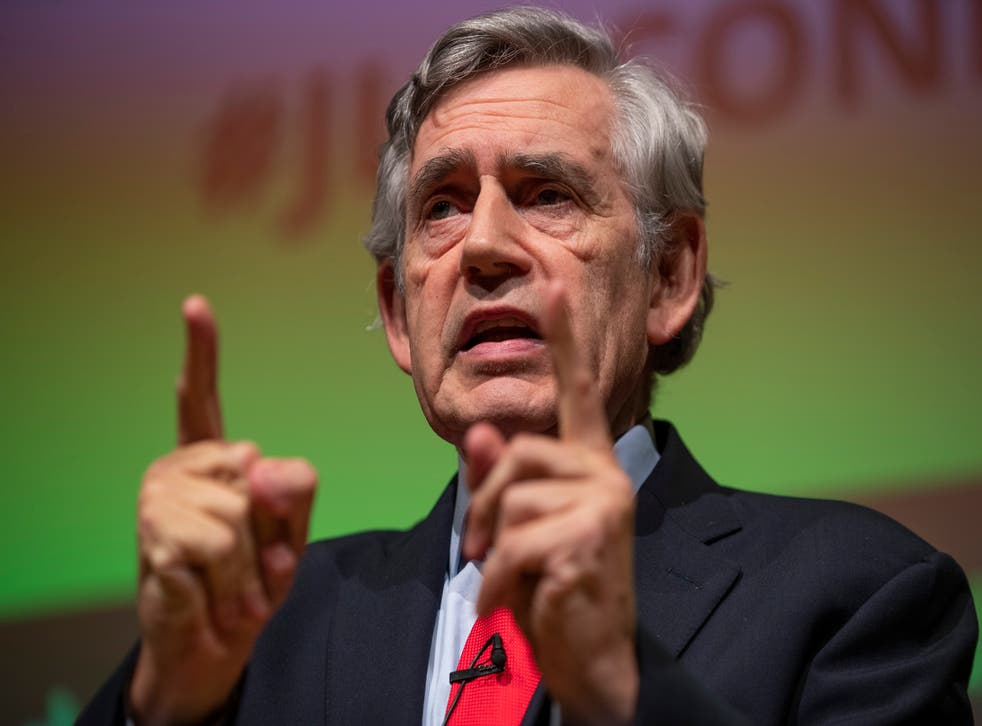 Gordon Brown has warned Boris Johnson he faces a "rebellion across the country" if he fails to introduce urgent anti-poverty measures and extend the uplift in universal credit payments.
The former prime minister said Britain would become "more divided" between rich and poor than at "anytime in this generation", as he also called for the real value of child benefits to be increased.
His remarks came as new research from the Resolution Foundation think-tank claimed that three in ten working age adults had faced a sustained income hit during the pandemic and were now unable to afford basic household costs such as heating.
Speaking at event hosted by the organisation, Mr Brown said the chancellor Rishi Sunak's upcoming statement on the economy must extend the £20-per-week uplift in benefit payments introduced in March at the onset of the pandemic in Britain.
As it stands, the increase in universal credit payments is due to be reversed in the spring, and just last week the prime minister refused to be drawn on whether the government would sign off an extension – despite repeated warnings from campaigners.
"Action is now urgent because March's planned withdrawal of £20 from the universal credit payment will automatically bring 700,000 more people into poverty – 300,000 of them children – as £6 billion of spending power is removed from an already fragile economy," the former prime minister added.
"Add to all this the impact of rising unemployment, rising food prices, and the continuing impact of the two-child limit and the cap of benefits and we face a worsening social crisis in the new year."
Warning of the consequences without action, Mr Brown, the former Labour leader, went on: "I want to be clear with the government if they do not announce there will be a new anti-poverty programme they will face a rebellion across the country.
"Britain will become a two-nation Britain – more divided between rich and poor than at anytime in this generation with anger rising.
"Black Lives Matter - pointing to unemployment and poverty rates that are twice the national average among black and ethnic communities and unemployment four times the national figures among black youth. Supporters of Marcus Rashford and supporters of food banks who can see that despite a welcome package for local authorities, child hunger will continue to rise.
"I say to the chancellor we supported you when you did the right thing when the crisis began, now unfortunately you are behind the curve, you must get ahead of it immediately by promising that £20 weekly support will continue and by raising child benefits to get children out of poverty."
Karl Handscomb, a senior economist at the Resolution Foundation, said that while the government had played a "vital role" in protecting family incomes during the initial economic shock, he added: "As the crisis has persisted, new divides have emerged in how families are coping financially with the crisis.
"For high-income adults, spending reductions have in many cases left family budgets in a better place overall. But that has not been the case for low-income adults, who have instead experienced deteriorating finances. Those that have faced persistent income falls are now facing increasing deprivation.
"With the crisis set to continue for many more months at least, the government should strengthen the social safety net that more families are coming to rely upon by extending the boost to universal credit, rather than withdrawing it before the crisis is over."
Join our new commenting forum
Join thought-provoking conversations, follow other Independent readers and see their replies