Government complacency 'betraying a generation of unemployed', says Gordon Brown
Comments come in report which recommends Rishi Sunak extend the furlough scheme until lockdown ends and then introduce a long-term, part-time wage support scheme to give businesses a boost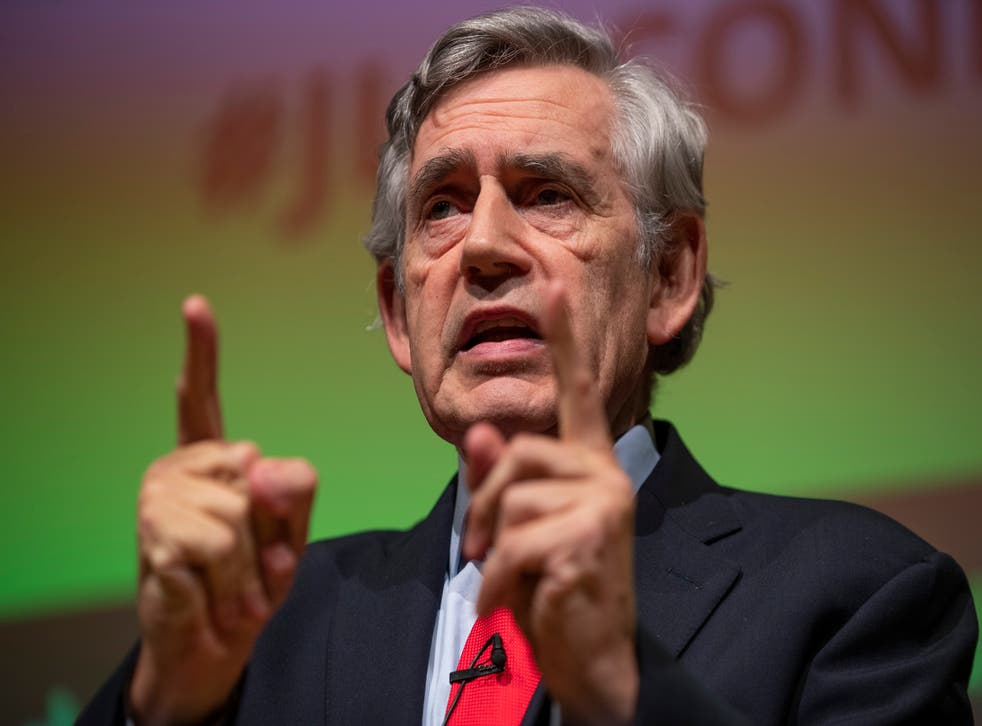 Gordon Brown has added to pressure on the chancellor to scale up and extend job support schemes in his Budget this week or risk "betraying a generation of unemployed".
The former prime minister called on Rishi Sunak to prolong the government's job opportunity Kickstart scheme beyond its current December 2021 end date to "protect the life chances" of a million people under the age of 25 who are expected to be out of a job by the end of this year.
His comments are included in a report by the Alliance for Full Employment (AFFE), which estimates there are now at least 1,000 under-25s in every constituency in Britain classed as long-term unemployed – which includes those without a job for at least six months.
Research by the group shows just 3 in every 1,000 long-term unemployed people under 25 years old have been able to receive help from the Kickstart scheme despite the government's promise to deliver 250,000 job places through the scheme.
Mr Brown also said the chancellor must bring forward the start date of his £2.9bn adult unemployment scheme, Restart, which is due to begin in the summer. If he fails to do so, it will mean access to help for unemployed adults will not be available until winter 2021 when they have been jobless for 18 months, he added.
"Government complacency is betraying a generation of unemployed," said Mr Brown. "The pandemic hit a year ago but the government's failure to move quickly is condemning a whole generation of young people to joblessness and rejection and many to mental depression.
"The government won't release regional data to tell us what's happening on the ground but the research suggests in a city of half a million people like Liverpool or Bristol or Manchester the numbers in the work programmes under Kickstart are a little more than 20 and at best 30 in each place.
"There could be as few as 10 on Kickstart in Newcastle maybe and perhaps just half a dozen in hard-hit Blackpool, currently an unemployment blackspot."
He continued: "And worse even than this shocking blow to young people, is the scandalous failure so far to place just one adult on the government's programme for the long-term unemployed.
"The Restart programme was supposed to offer a job to those [who] have been out of work for 12 months. By the time men and women are offered places this summer and autumn, thousands will have been out of work for 18 months."
Mr Brown urged Mr Sunak to "kickstart Kickstart and restart Restart" and to deliver a Budget with the "ambition and money to outmatch the scale of the looming unemployment tragedy".
Data from the Office for National Statistics shows there are now 470,000 adults and young people officially registered as long-term unemployed. The Learning and Work Institute has predicted the figure could rise to 800,000 and may even surpass a million within the coming months.
The AFFE's report recommends that Mr Sunak extend the furlough scheme until lockdown ends and then introduce a long-term, part-time wage support scheme to give businesses a boost while they restart economic activity.
The chancellor should also consider a short-term incentives for employers to hire more people, and advance parts of the £100bn capital investment programme that can lead to immediate job creation, said the group, among other recommendations.
Mr Sunak will set out his spring Budget on 3 March, and has indicated he will extend emergency support packages as lockdown winds down. However, he did not rule out raising taxes before cutting them ahead of the next election.
Join our new commenting forum
Join thought-provoking conversations, follow other Independent readers and see their replies