Government brings in trouble-shooter to get its Universal Credit benefits programme on track before launch
Government takes action after flagship programme is hit by death of IT head and other staff problems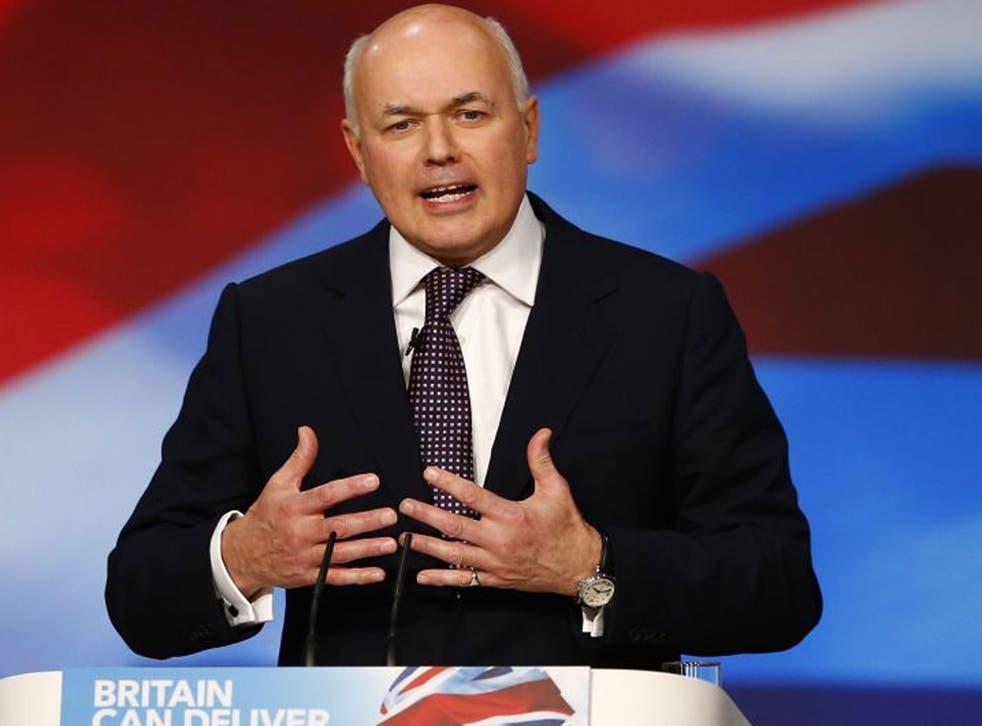 Ministers have been forced to draft in one of the Government's most experienced trouble-shooters to take charge of the troubled Universal Credit programme – amid fears the complex new system could backfire.
With less than two months to go until the project goes "live" in pilot sites across the North-west of England, David Pitchford, executive director of the Major Projects Authority, is to be seconded to the Department of Work and Pensions (DWP) to oversee its roll-out.
He will report directly to Iain Duncan Smith – bypassing the permanent secretary Robert Devereux.
Downing Street is understood to be increasingly concerned that the ambitious project to merge all state benefits into a single payment could prove a costly disaster.
It requires a complicated new IT system linking the Department of Work and Pensions and HM Revenue & Customs to provide "real-time" information about claimants' earnings and automatically calculate what they should receive in benefits.
There are fears that mistakes in the system could lead to some claimants going without money that they are entitled to at a time when the welfare budget is already being squeezed.
Thousands of benefits staff will also have to be trained how to administer the Universal Credit with contingency plans for coping if things go wrong.
Senior Government sources admitted that there had been "significant problems" with the implementation of the new system, but are confident it will be ready to launch in April.
"We were assured by the civil service that this could be done within the timescale but it would be fair to say that there have been issues with delivery," said one minister.
"However, I am now confident that we are in a position where the April roll-out will be successful."
Problems were said to be compounded by the unexpected death just before Christmas of Philip Langsdale, an IT specialist who had been drafted in by the DWP four months earlier from BAA as the department's chief information officer. Mr Langsdale helped to satisfy the Treasury and Number 10 that the complex scheme could be successfully delivered on time. His passing was described as the "most significant death in Government for a long time" by one Downing Street source.
It also emerged last year that two other senior members of staff working on the programme had left their roles – reflecting the switch from the design to the implementation phase, officials said – and a third has been on long-term sick leave.
It is hoped that Mr Pitchford, an Australian – who is highly regarded by both the Minister for the Cabinet Office, Francis Maude, and the Cabinet Secretary, Sir Jeremy Heywood – will be able to ensure the project is on track.
In his current job he is responsible for overseeing the Government's Major Projects Authority – which was set up in 2011 to improve performance after a series of embarrassing failures in delivering big projects.
The authority spends £6m a year to monitor over 200 projects worth £376bn and Universal Credit is currently one of its most high-profile areas of work.
The fact that Mr Pitchford is taking direct responsibility for it shows the depths of the Government's concern that it should work.
"What we need is for the DWP to get a grip off this and that is what David will ensure," said one Government source. "The Americans put a man on the moon in 10 years so it should be possible to start rolling out universal credit in three."
Four Universal Credit "pathfinder" projects will start in April and an initial national roll-out will also take place as planned in October.
Register for free to continue reading
Registration is a free and easy way to support our truly independent journalism
By registering, you will also enjoy limited access to Premium articles, exclusive newsletters, commenting, and virtual events with our leading journalists
Already have an account? sign in
Register for free to continue reading
Registration is a free and easy way to support our truly independent journalism
By registering, you will also enjoy limited access to Premium articles, exclusive newsletters, commenting, and virtual events with our leading journalists
Already have an account? sign in
Join our new commenting forum
Join thought-provoking conversations, follow other Independent readers and see their replies