Government 'using devolution as an excuse' to avoid abortion reform in Northern Ireland, campaigners warn
Exclusive: Theresa May accused of being 'held hostage' by DUP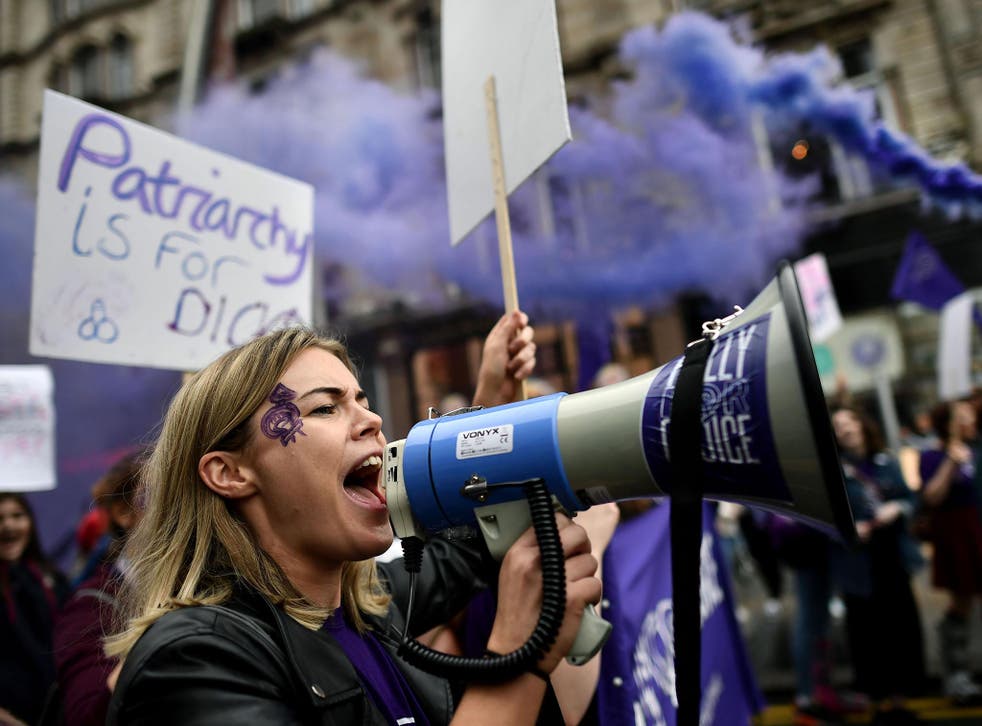 The Government is using "devolution as an excuse" to avoid liberalising abortion laws in Northern Ireland, campaigners claim, saying Theresa May is being "held hostage" by her alliance with the DUP.
Ministers have been accused of "extraordinary" inconsistency in their stance, after parliamentary questions revealed that the UK Government might consider imposing same-sex marriage in the province but that it would not intervene on the issue of abortion.
Northern Ireland has some of the strictest laws on abortion in Europe, as women are banned from getting terminations in all but the most extreme circumstances. Rape and incest are not deemed valid reasons for seeking abortions.
More than 130 cross-party MPs and peers have written to Home Secretary Amber Rudd urging her to relax abortion laws in the province after a key UN committee said forcing women in Northern Ireland to travel for terminations was a "systematic violation" of their human rights.
However, such a move could threaten Ms May's fragile truce with the DUP, a staunchly anti-abortion party who prop up her Government after she lost her majority in last year's election.
Responding to a parliamentary question from Labour, Northern Ireland Secretary Karen Bradley said the Government would allow "a free vote on matters of conscience such as equal marriage" and insisted Westminster's power to legislate was "unaffected", despite the matter being devolved to Belfast.
But when asked the same question about abortion, junior minister Shailesh Vara said it was a devolved matter for "locally accountable politicians to consider".
Labour MP Stella Creasy, who led a backbench revolt that forced the Government to allow Northern Irish women to access terminations on the English NHS, said there was cross-party support for the plans but the questions showed the debate was being stifled.
She told The Independent: "Using devolution as an excuse not to extend equal access to abortion for women in Northern Ireland doesn't wash when the Government have made it clear they are happy to intervene to extend same sex marriage rights.
"The fight for equality has always been about solidarity and I know women's rights campaigners and gay rights campaigners alike will be horrified to see the Government be selective in this way.
"The Government may think they can ignore the women of Northern Ireland but it's clear many parliamentarians disagree – over 140 peers and MPs have now signed up to support this proposal and the numbers are growing every day, with more and more recognising human rights should be equal on all issues across the UK."
The Women's Equality Party also pointed to the DUP alliance and warned the Prime Minister against being "held hostage by calculations about parliamentary arithmetic" on vital issues for women.
A spokesperson said: "A situation where women face "systematic violations" of their rights, as the UN committee noted earlier this year, needs urgent remedy and must not be held hostage by calculations about parliamentary arithmetic at Westminster or the inability to reach a power-sharing deal in Stormont.
"These parliamentary answers show that the Government, in light of the political impasse at Northern Ireland, acknowledges that Westminster has the power to push forward equality, but denies those powers when it comes to women's reproductive rights.
"The Government is putting its fingers in its ears rather than recognising the unnecessary trauma that women in Northern Ireland have to face by travelling to other parts of the UK to access abortions."
Pro-choice campaigners said lives were being put at risk by "antiquated, offensive laws" in Northern Ireland, which they claim deter women from seeking medical help and see some resorting to buying illegal abortion pills online, which induce them to miscarry.
Clare Murphy, director of external affairs at Bpas, an abortion care charity, said: "It seems extraordinary that the Government would think it acceptable to allow a free vote on equal marriage in Northern Ireland if it came before parliament but claim it is out of the question when it comes to women's access to abortion.
"In fact, it is becoming increasingly clear that the Government has both a moral and legal duty to act on the continued criminalisation of women in Northern Ireland."
The UN Committee on the Elimination of Discrimination against Women (Cedaw) recently declared that thousands of girls and women were being exposed to "horrific situations", either by being forced to carry pregnancies conceived through rape and incest to term or having to travel to procure legal abortions.
It said the UK routinely violates the human rights of Northern Irish women by restricting their access to abortion.
DUP Chief Whip Sir Jeffrey Donaldson said any attempt to change the law would "completely undermine the devolution settlement" and pointed out that Northern Ireland's Assembly had voted against abortion for foetuses with terminal illnesses in 2016.
UK news in pictures

Show all 50
He told The Independent: "This is clearly a devolved issue and the Secretary of State was absolutely right. We do not believe it would be appropriate for Parliament to intervene on this matter.
"The irony is the law on abortion in Northern Ireland has a fresher mandate than any other abortion law in the UK, having just been voted on by the Northern Ireland Assembly in 2016.
"I don't see how either of the main parties has a mandate to change the law in Northern Ireland and it would completely undermine the devolution settlement."
Women from Northern Ireland are now able to access free abortions on the NHS in England after more than 100 MPs forced the Government into a U-turn on the Queen's Speech last summer.
The Government declined to comment further, when approached by The Independent.
Register for free to continue reading
Registration is a free and easy way to support our truly independent journalism
By registering, you will also enjoy limited access to Premium articles, exclusive newsletters, commenting, and virtual events with our leading journalists
Already have an account? sign in
Register for free to continue reading
Registration is a free and easy way to support our truly independent journalism
By registering, you will also enjoy limited access to Premium articles, exclusive newsletters, commenting, and virtual events with our leading journalists
Already have an account? sign in
Join our new commenting forum
Join thought-provoking conversations, follow other Independent readers and see their replies