Government invites regimes with 'appalling' human rights records to London arms fair
Exclusive: Government accused of pursuing sales of arms and internal security equipment for UK Plc at the expense of human rights abroad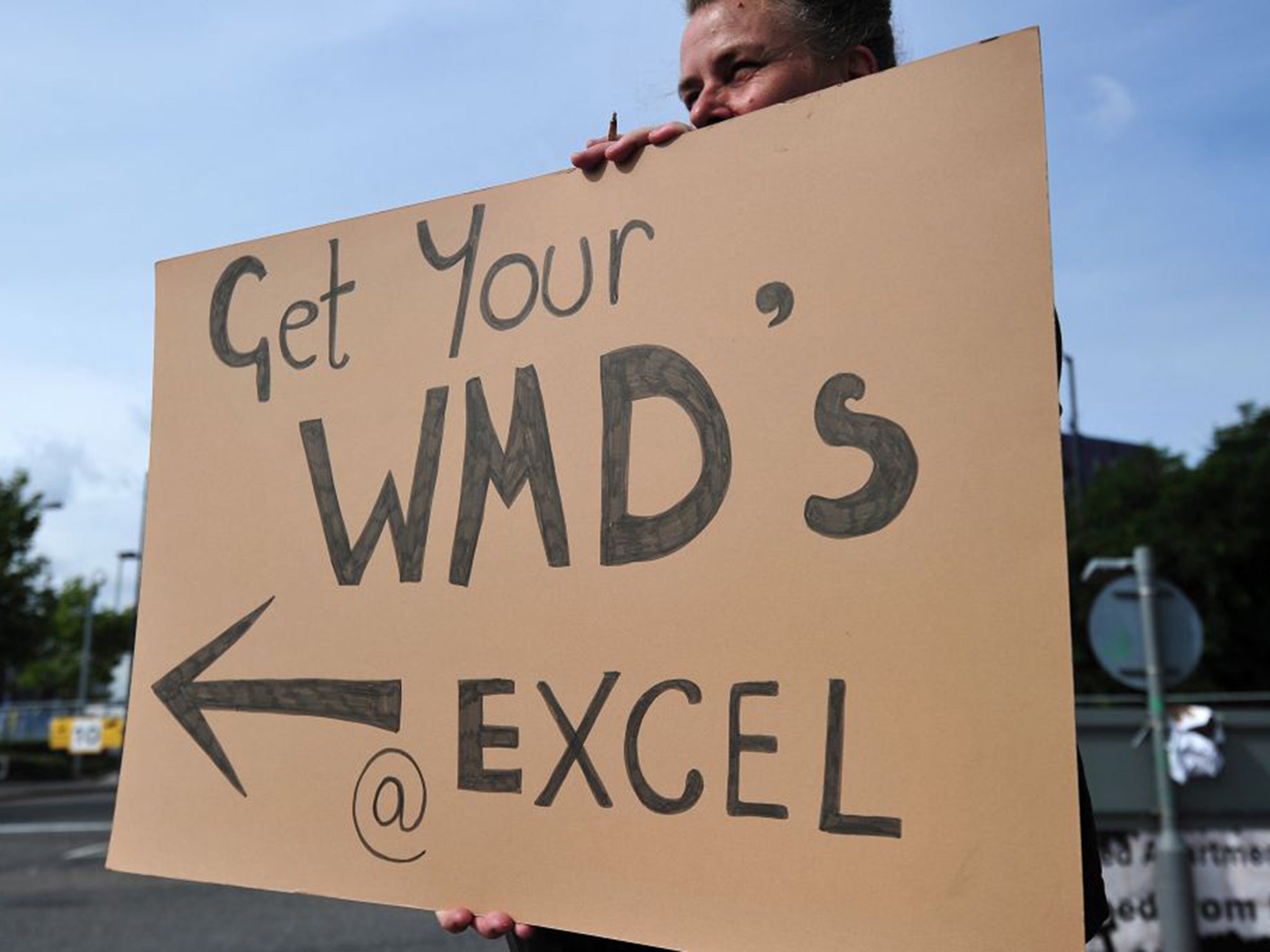 Regimes criticised for "appalling" human rights records have been extended official invitations by the Government to attend the world's largest arms and security fair in London, The Independent can reveal.
The list of countries invited by UK Trade and Investment (UKTI) to attend the Defence and Security Equipment International Exhibition (DSEI) exhibition next includes countries criticised by campaigners for gross infringements of civil liberties, including Azerbaijan, Kazakhstan, Egypt and Thailand.
The invitation to Azerbaijan has been made despite a rebuke from a Government minister over its draconian imprisonment of a journalist for "questionable allegations". Foreign Office minister David Lidington said Britain "will take every opportunity to raise concerns over human rights" in the country.
Three countries asked to send a high-level delegation to DSEI - Saudi Arabia, Pakistan and Colombia - also feature on the Foreign Office's own list of "countries of concern" in the implementation of human rights for their citizens.
DSEI, which is held every two years in London's Docklands, is billed as the largest event of its type in the world. Some 150 foreign government delegations are due to attend the exhibition next week in the ExCel centre, including some 2,800 VIPs ranging from senior generals to defence ministers.
Defence manufacturers from around the world attend the event but it is also a global showcase for British-made military and security hardware with the aiming of boosting exports for the UK's burgeoning defence sector.
Figures released this summer showed that British companies secured export deals for weaponry worth £8.5bn and security equipment worth £3.4bn in 2014, cementing the UK's position as the second largest exporter of defence equipment behind America.
But campaigners accused the Government of pursuing sales of arms and internal security equipment for UK Plc at the expense of human rights abroad by rolling out a red carpet to repressive regimes. UKTI said invitations were only issued after a "stringent process of scrutiny and approval".
Information released under the Freedom of Information Act seen by The Independent shows that 61 countries have received official invitations to attend DSEI from the Defence & Security Organisation (DSO), the arm of the UKTI dedicated to the sale of military and security equipment.
Andrew Smith, of the Campaign Against Arms Trade (CAAT), which obtained the figures, said: "The list includes a whole roll call of authoritarian regimes and dictatorships with appalling human rights records.
"This isn't just giving them military support, it is also giving them a fig leaf of political legitimacy. A lot of these arms can be used for internal repression and to commit human rights abuses."
Countries which were not invited to the previous 2013 event but asked to attend this year include Azerbaijan and Egypt.
Along with Kazakhstan, all three countries have been criticised by organisations including Human Rights Watch and Amnesty International for human rights abuses. Allegations include arbitrary arrest, repression of free speech, torture and indefinite detention.
Among those who have sharply criticised Azerbaijan, the oil-rich Eurasian state governed by strongman president Ilham Aliyev, is the British government itself. Mr Lidington said last week he was "deeply troubled" by the sentencing of dissident journalist Khadija Ismayilova to seven and a half years' in prison after a flawed trial on charges ranging from fraud to incitement to suicide.
Mr Lidington said: "We call on Azerbaijan to abide by its international commitments to respect the rule of law while taking concrete steps to improve their human rights record."
Other regimes invited to send delegations are Thailand, whose military government has repeatedly postponed elections, and Bahrain, criticised for jailing dissidents and its failure to prosecute alleged torturers.
Two other countries on the list - Saudi Arabia and the United Arab Emirates, which figure among Britain's most lucrative defence export markets, are leading the ongoing bombardment of Houthi rebels in Yemen. Oxfam called on the Government to halt all arms exports to Saudi Arabia, saying Britain is "quietly fuelling" the conflict by replenishing stocks of weaponry.
Amnesty International accused the Government of operating double standards. Kate Allen, director of Amnesty UK Director, said: "It seems the height of hypocrisy for the UK government to invite human-rights abusing countries, who they are openly critical of, to an arms fair."
DSEI, which attracts some 1,500 exhibitors offering products from fighter jets to hunting knives, describes security equipment as one of "four core components" with exhibitors "providing a broad spectrum of security, counter-terrorism products, equipment and technologies for police and paramilitary organisations".
UKTI said inviting foreign delegations to events such as DSEI was part of its work to boost the British economy but underlined that it did so within the confines of the UK's arms export rules.
A spokesperson said: "A country would not be invited where that would be contrary to the UK's international obligations. Respect for human rights is a mandatory consideration in the process."
The organisers of DSEI, which saw two exhibitors expelled in 2013 for allegedly marketing torture equipment in breach of British law, said responsibility for inviting official delegations rested solely with the Government.
They added that rules to ensure compliance with arms control legislation had been tightened over the last two years. A spokesman said: "We take compliance at DSEI seriously and are constantly refining our processes in order to ensure that they are as robust as possible."
DSEI official delegation invitation list
Azerbaijan
Ruled by President Ilham Aliyev, who inherited power from his father, Azerbaijan has been accused of escalating its repression of dissidents, arresting or imprisoning dozens of opposition figures and journalists.
Bahrain
The Gulf country was condemned for its repression of pro-democracy protests and its security forces continue to be accused of using excessive force to quell protests.
Colombia
Concerns remain about violence and use of force in remote areas where conflict remains with rebel groups.
Egypt
The government of former general Abdel Al Sisi has effectively banned protest and hundreds of political opponents have been sentenced to death or life imprisonment. Calls remain for security forces personnel to be prosecuted for the deaths of more than 1,000 people during protests.
Kazakhstan
Basic freedoms such as the right to assembly and freedom of speech and religion remain heavily restricted. Opposition figures continue to be imprisoned after unfair trials.
Pakistan
Despite successful elections in 2013, Pakistan remains plagued by violence and allegations of torture and extra-judicial killings. According to the Foreign Office's annual human rights report: "Severe and wide-ranging violations and abuses continued unabated, with little apparent prospect of improvement."
Saudi Arabia
Activists and human rights defenders remain subject to long terms of imprisonment under severe laws nominally drawn up to counter terrorism. Peaceful demonstrations are forcibly dispersed
Thailand
A military coup has resulted in the prosecution of hundreds of political opponents in military courts and draconian prison terms. Assemblies of more than five people are banned.
United Arab Emirates
Security forces have been accused of using torture against detainees while the government is alleged to use detention to quell political dissent.
Ukraine
Both government troops and Russian-backed rebels stand accused of violating the laws of war, including the use of cluster munitions.
The others
Algeria, Angola, Australia, Bangladesh, Belgium, Botswana, Brazil, Brunei, Canada, Chile, Colombia, Denmark, Estonia, Finland, France, Georgia, Germany, Ghana, Hong Kong, India, Indonesia, Iraq, Italy, Japan, Jordan, Kenya, Kuwait, Latvia, Lebanon, Lithuania, Malaysia, Mexico, Morocco, Netherlands, New Zealand, Nigeria, Norway, Oman, Peru, Philippines, Poland, Qatar, Romania, Singapore, South Africa, South Korea, Spain, Sweden, Switzerland, Trinidad & Tobago, Turkey, USA.
Join our commenting forum
Join thought-provoking conversations, follow other Independent readers and see their replies