Government ministers meet flooded locals 20 minutes late and on the wrong side of a collapsed bridge
The scene appeared worthy of BBC political comedy The Thick of It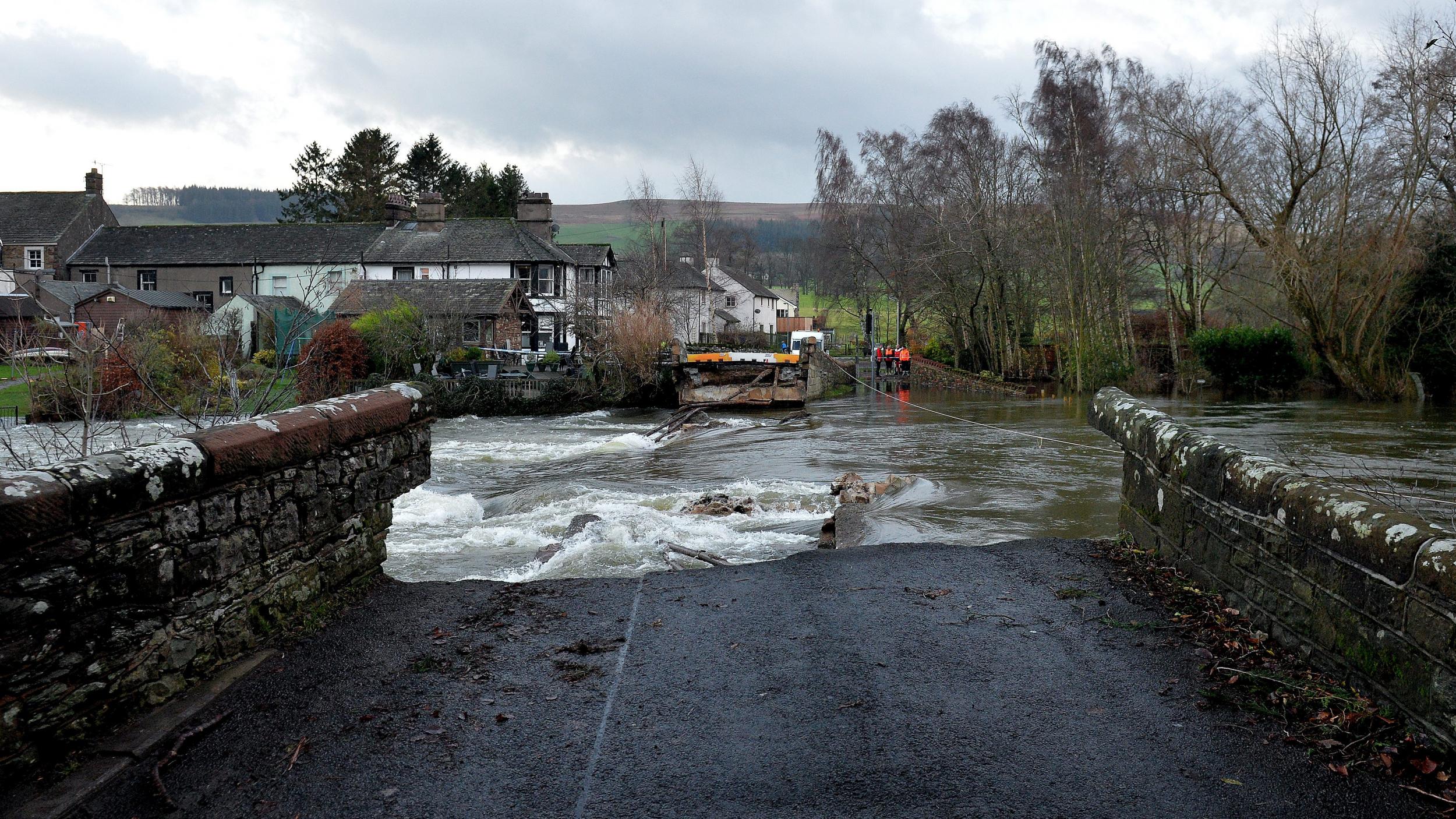 Seemingly determined to prove their incompetence to already derisive Cumbrians, a delegation featuring members of two government departments had to make a 20-mile round journey after allegedly finding themselves stranded on the wrong side of the collapsed bridge.
Floods Minister Rory Stewart, Transport Secretary Patrick McLoughlin and an extensive entourage had been due to meet residents of the villages of Soulby and Pooley Bridge to discuss efforts to rebuild the local community in the wake of the recent floods.
But in a scene worthy of BBC political comedy The Thick of It, the group appear to have found themselves stuck on the wrong side of Pooley Bridge and faced with a dilemma over whether to try and swim across the swollen River Eamont or to make a rather embarrassing call for help.
Discounting the fact they were already 20 minutes late to the meeting before realising their mistake, the delegation purportedly thought better of taking to the water in the standard Westminster uniform of dark suits and lace-up shoes and made frantic calls on their mobile phones.
Writing of the alleged incident on Facebook, local resident Leeroy Fowler said: "So the whole village turned out yesterday afternoon to attend a meeting with our member of parliament Rory Stewart and the Secretary of State along with the British Transport minister to discuss the future of our village."
"They turned up 20 minutes late on the wrong side of our washed away bridge. A local farmer had to make a 30 minute journey via quad bike to get them here whilst the entourage made the 20 mile journey via road to get to where this picture was taken. You couldn't make it up," he added.
The confusion could be explained away by the fact Pooley Bridge only recently collapsed, with incredible footage taken on December 6 showing the structure crumbling into the fast-flowing River Eamont. That excuse loses its credence under examination, however, as the local MP is none other than Rory Stewart, who is known to have visited Pooley Bridge at least once since it collapsed.
A spokeswoman for the Department for Environment, Food & Rural Affairs poured cold water on Mr Fowler's claims however, saying the delegation had always intended to visit the other side of the bridge to examine the extent of the damage. She added that Mr Stewart had only made informal arrangements to meet locals and therefore wasn't late for a scheduled meeting either.
Join our commenting forum
Join thought-provoking conversations, follow other Independent readers and see their replies