Government's flagship work scheme in crisis after Poundland 'slavery' case ruling
Andrew Grice
Tuesday 12 February 2013 21:34 Comments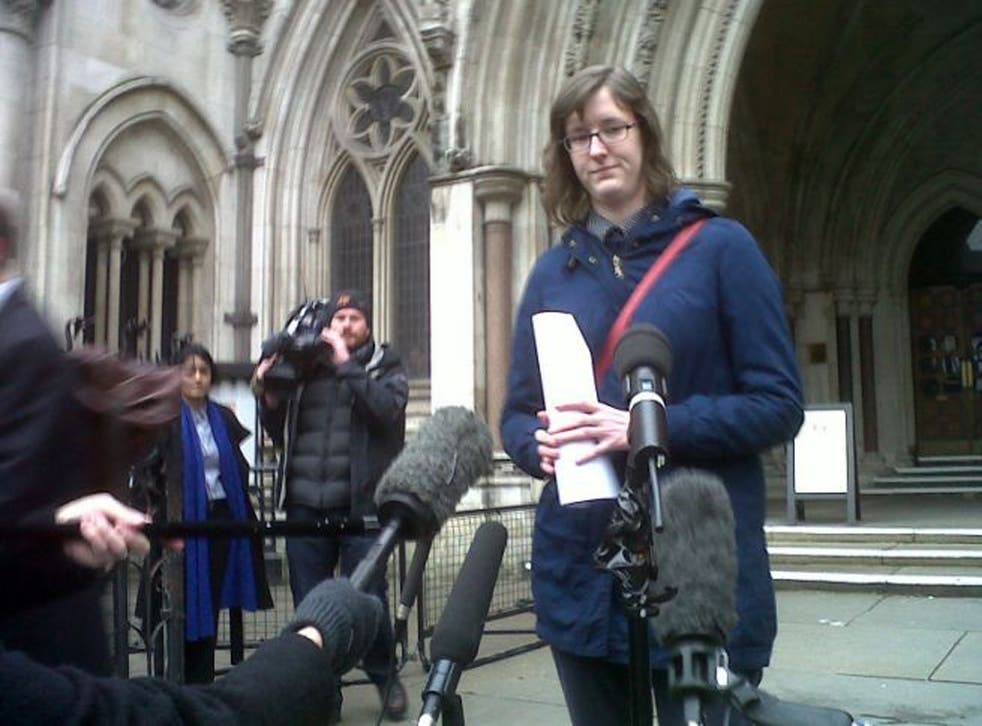 The Government has suffered an embarrassing setback when the Appeal Court upheld a 24-year-old graduate's claim that its back-to-work schemes were legally flawed.
Cait Reilly, 24, claimed a mandatory work experience scheme for the jobless, which required her to work for nothing at a Poundland store, breached laws on forced labour.
Although the Court did not support that claim, it said the regulations allowing benefit payments to be docked if people refused to take up work placements were unlawful because they were not specific enough.
The Government moved quickly to limit the damage. It dismissed lawyers' statements that the ruling could result in refunds for unemployed people who had seen their benefits cut. It tabled emergency regulations in Parliament allowing its welfare-to-work schemes to continue unchanged and is seeking leave to appeal against the ruling in the Supreme Court.
Miss Reilly, a geology graduate, and a 40-year-old jobless HGV driver Jamieson Wilson, from Nottingham, both succeeded in their claims that unpaid schemes were flawed because the rules did not comply with the Act of Parliament giving the Department for Work and Pensions the power to introduce them. They lost their original case but won part of it on appeal.
In November 2011, Miss Reilly was told to stop doing voluntary work at a local museum to work unpaid at the Poundland store in Kings Heath, Birmingham, or she would lose her jobseeker's allowance. Mr Wilson was told that his allowance would be stopped after he refused to take part in the community action programme, working unpaid for 30 hours per week for six months.
After the ruling, a delighted Miss Reilly said: "Those two weeks were a complete waste of my time, as the experience did not help me get a job. I was not given any training and I was left with no time to do my voluntary work or search for other jobs. The only beneficiary was Poundland, a multimillion-pound company. Later I found out that I should never have been told the placement was compulsory. I don't think I am above working in shops like Poundland. I now work part-time in a supermarket. It is just that I expect to get paid for working."
Tessa Gregory, of Public Interest Lawyers, who represented both claimants, said the Government had been sent back to the drawing board to make fresh regulations . "Until that time, nobody can be lawfully forced to participate in schemes affected such as the work programme and the community action programme," she said.
But ministers vowed to overturn what they saw as a technical breach. Mark Hoban, the Employment minister, said: "We have no intention of giving back money to anyone who has had their benefits removed because they refused to take getting into work seriously." He was "disappointed and surprised" at the Court's decision. "We do not agree with the Court's judgment and are seeking permission to appeal" he said.
Frances O'Grady, the TUC general secretary, said: "This blows a big hole through the Government's workfare policies. It is pointless to force people to work for no pay in jobs that do nothing to help them while putting others at risk of unemployment."
Jim McCarthy, CEO at Poundland said: "Poundland recognises the importance of offering work experience to people looking to get back into work.
"We have been working in partnership with the Job Centre Plus over the last few months to launch our own work experience programme for those considering a career in retail. Our work experience programme is completely voluntary – no one has their benefits taken away from them at any point during the process. This programme replaces any involvement with the Department of Work and Pensions prime providers and their work experience schemes.
"We currently have people taking part in work experience placements across 71 of our stores, and since launching the scheme, 20% have been offered a job with us."
Welfare-to-work: A brief guide
Iain Duncan Smith's department has come up with a variety of back-to-work schemes, including Mandatory Work Activity, which requires jobseekers to do one month's work for no wages. Some have been deprived of their benefits payments if they do not. The judgesw' ruling does not quash the MWA scheme.
The Work Programme is mainly for long-term unemployed, who can be compelled to work for months at a time without wages.
Cait Reilly was sent to work at Poundland as part of a Sector-Based Work Academy scheme. Participants are made to work for up to six weeks without wages and get a guaranteed job interview at the end of it, but not necessarily a job.
Register for free to continue reading
Registration is a free and easy way to support our truly independent journalism
By registering, you will also enjoy limited access to Premium articles, exclusive newsletters, commenting, and virtual events with our leading journalists
Already have an account? sign in
Join our new commenting forum
Join thought-provoking conversations, follow other Independent readers and see their replies